Overcome Depression Affirmations
Use this unique affirmations album to become better equipped to overcome your state of depression and open yourself up to a happy, fulfilling life.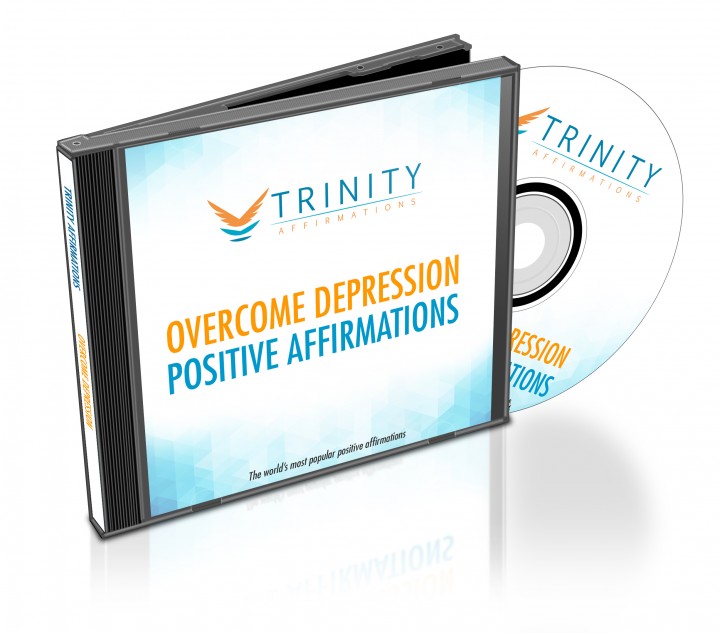 Do you often have a feeling that your life is almost unbearably empty and meaningless?
Do you often hear that you're too negative about everything?
Do you have to make an extremely great effort to do even the smallest thing such as standing up and taking a glass of water for yourself?
Do you want to overcome your depression and to rediscover purpose and happiness in life?
Depression is vicious. No matter what the real world experience is, the meaning you bring to it makes you spiral down into negativity and lethargy. A depressive state brings depressive thoughts and feelings and it can be so overwhelming that you don't even feel powerless anymore - the nastiest thing about depression is that it makes you lose the will to do anything about it.
Yet, there are people who are hungry for life. There are people who feel there's a purpose, who can feel real joy and a connection to the world, there are people who care about so many things that make life worth living.
They have no trouble getting out of bed in the morning, because they know what they do that day will matter.
They don't need to put in the extra effort to smile. They aren't faking those smiles - they feel like smiling and laughing and having fun.
Don't you want to feel like having fun? To feel like it all the time, naturally, on your own?
Affirmations certainly can't put a smile on your face overnight, but that's not the point anyway - you can do it yourself and then lose the will to smile. You're doing that already. But affirmations can do something better: they can help you to start a chain reaction in your mind which will make laughing and enjoying life your permanent state!
What to Expect
By continuously penetrating your mind, affirmations will help you to gradually change your automatic urge to see everything through a "depressive lens" and plant the seeds of a new, positive outlook on life. They will:
Transfer your focus in life from the bad things that happened in the past to the great things that will happen in the future. This simple change of focus will automatically make you feel like you can accomplish more in life and awaken within you the desire to go out and do it. You will make a shift from a passive observer of your life, to someone who is actively participating in it and creating it through their actions, driven to go further and to do more.
Make you realize that there are a lot of things you can do for yourself even when the circumstances aren't so great. Adopting the attitude that there is always a solution even when you don't see it right away, will naturally lead you to taking positive action in your life. You will no longer be letting bad things become a reflection of your life - you will easily come up with ways to come out of difficult life experiences and you will become a stronger and more optimistic person because of it.
Enhance your drive to socialize and to have fun! Affirmations will help you to peel off the layers of lethargy and anxiety and to become a lot more social and outgoing. You will feel invigorated and you'll be driven to experience all the great, fun things you've been depriving yourself of so far!
Download our free app for iPhone/iPad today and listen immediately after your purchase- just search the App Store for Trinity Affirmations.
This is the first step to rediscovering your life, so make it now - download this album and break free from depression once and for all!
Present Tense Affirmations
I find it easy to stay positive
I only focus on the positive things in my life
I am happy
I have a strong mind
I find it easy to think only positive thoughts
I am free from negative thoughts
I am happy with who I am
I am free of depression
I just naturally stay positive
I find it easy to stay happy
Future Tense Affirmations
I will beat depression
Each day I am finding myself more happy
I am finding myself less depressed
I am turning into someone who stays strong no matter what
I will be free of negativity
I will only focus on the best of life
I will only think positive thoughts
I am turning into a positive thinker
I will learn to love myself
I am turning into someone who enjoys life
Natural Affirmations
Being free of depression is my natural rite
I find thinking positively easy
Beating depression has made me a stronger person
I have overcome depression
I am nothing but happy
I constantly remind myself that life is great
I have and always will love who I am
People see me as someone who enjoys life
If there is one thing I enjoy it is life
Being free of depression is the greatest thing ever