Hungry for Life Affirmations
Remember what it feels like to have fun in life, to rejoice every new day and gain an unstoppable desire to get the best out of life with help of this life changing affirmations album.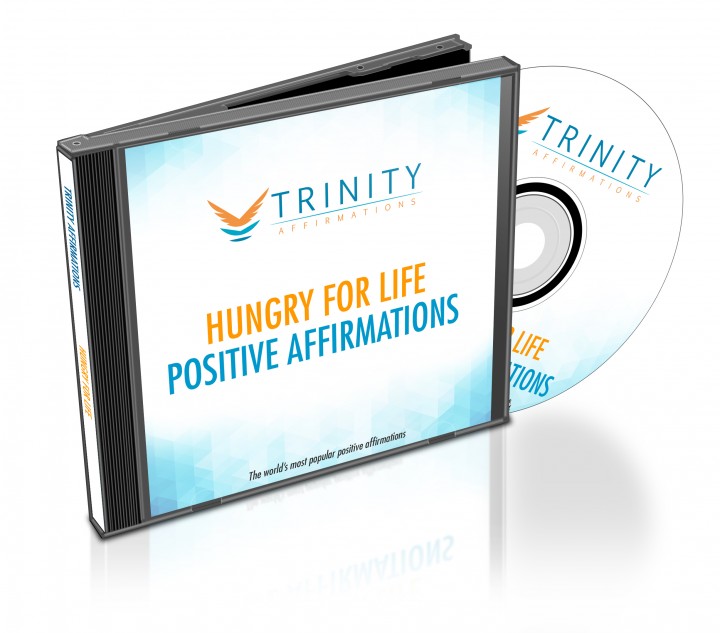 Have you lost passion for life?
Is your life boring, do you think something's missing from it, does your future look depressing?
Do you want to make your life more exciting and to find all new things to look forward to, every day?
Life gets tough. It can easily become a routine, it can get depressing, it can make you never want to see another living soul again.
It happens. But you only have one and you shouldn't let it slip away. It's allowed to have a bad day, even a bad week, but then it's time to snap out of it and to move on, to explore new things, places and people, to make the most out of it and to have fun with it.
This may not seem likely to you right now as your mind has been playing these depressing, monotone images for a while, hypnotizing you into believing that it's all the same, that there's nothing to look forward to, that nothing will ever change.
But you know what? You can make it change!
It's possible to re-discover a passion for life and to enjoy it to the fullest once again! You just need to change the recording that's playing in your mind – to make it play positive, encouraging, colorful thoughts that will remind you of how many wonderful things there are out there, when you get out of your home and go looking for them!
That's what this affirmations album was created for, to help you to put this positive spin on the world and your life. The statements on it will constantly "remind" your brain to look at the good side of life, until it eventually becomes a habit and something that you just naturally do.
What to Expect
The album was designed to help you to:
Become more social and outgoing. You will lose the need to keep things to yourself and not to socialize. You will understand that others can be fun and that you can be fun with them and you'll start enjoying the company of others more.
Reconnect with your personal power. You will discover that you control your life and the direction it will take and you will want to take it into your hands. You will learn to find the thrill in deciding what your life will be like and to act on that feeling.
Become more of an action taker. You will become driven to explore the opportunities, to experience new things and to pursue your dreams with passion and excitement. You will notice new doors opening and you'll be eager to go through them.
Download our free app for iPhone/iPad today and listen immediately after your purchase- just search the App Store for Trinity Affirmations.
If you're tired of seeing how your life passes you by, then this album can really be a transformational experience for you. Download it now and discover the hunger for life that you've been craving and make it a fun and enjoyable experience for you and others around you
Present Tense
I enjoy life
I am social
I have fun
I see life in an exciting way
I am passionate for life
I crave life's entertaining moments
I am easy-going
I take open opportunities to my advantage
I see the silver linings
I bring a colorful touch to my atmosphere
Future Tense
I will live life to the fullest
I will seek free moments for enjoyment
I will be open-minded
I will be daring and bold
I will stop pushing life away
I will stop taking advantage of life's indulgences
I will stop missing out
I will encourage myself to be engaged
I will learn from new experiences
I will stop fearing rejection
Natural Tense
I naturally put myself out there
I am always attuned to the pleasures of life
I accept my life for what it is
I always have a good time
I always make the best out of any situation
I simply have a strong love for life
My passion for living is overwhelming
I am naturally focused on being myself
I always look for ways to brighten the day
I am fearless when it comes to letting loose