Tournament Poker Affirmations
Play out of your skin at that poker table and walk out a winner with the help of this unique tournament poker affirmations audio.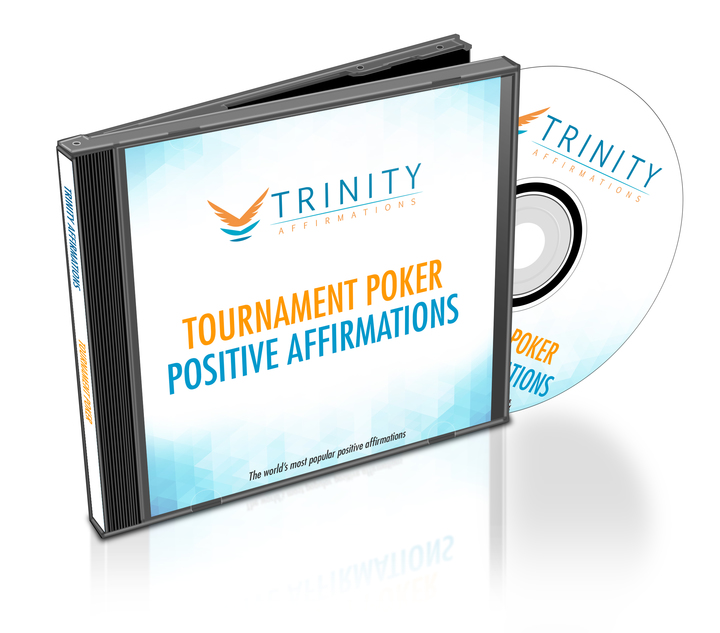 Do your emotions and poker ticks give away your cards and cause you to lose?
Do you lack mental endurance and patience when playing in long poker tournaments?
Do you want to become a true poker expert?
Don't you wish you have a super poker power that forces all the other players out?
James Bond is playing poker against the chief villain in 2006's Bond movie, Casino Royale. Final hand. Bond has the perfect poker face. He's cool-headed, calm. His nerves are made of steel and no movement, no nervous look or tick give his hand away and then he dares and challenges his scared faced enemy. All or nothing. Without so much as a smirk on his face to betray his hopes of winning the game, he takes it all – $115.000.000.
Can you imagine YOU are James Bond in this scene?
Now, you may argue that you're not a trained secret agent with a licence to kill. But that's not why Bond walked off with the large prize.
So why did he?
He understood the key to winning the game of poker has little to do with the cards. Or luck. But everything to do with the mind.
If you want to shine at the poker table you have to develop a powerful state of mind. Beside being knowledgeable and skilful, you have to be able to read other people's emotions, yet not show your own, to plan your strategy and stick to it, but also "think on your feet" when needed.
There's no room for self-doubt at that final round. Your nerves need to be of steel.
If you want to be the big winner at a poker table, you need to think and feel like a professional poker player.
These tournament poker affirmations are custom tailored to help you do just that. Repeating them will enable you to see yourself as a confident, cool poker player who plans ahead, but never gives away his strategy. With this unexpected ace up your sleeve, it will be you who takes it all.
What to Expect
Here are the 3 main ways how this album will transform your mind:
You will become more confident poker player. Listening to the tournament poker affirmations will motivate you to invest more time and effort into breaking deeper into the game. The more you listen, the more you'll feel like a pro and consequently behave like one too. From tournament to tournament, you will notice you control your emotions better. Your opponents won't be able to tell when you're bluffing and you will be more prone to play aggressively when appropriate.
You will keep calm and stay focused under the pressure. The powerful tournament poker album will make you enjoy poker tournaments all the way. Even the stressful and unpleasant aspects, such as long hours, won't bother you as much. As a result, you will be prepared and patient, well-adjusted to pressure and focused on the game at every step of the way.
You will adopt a professional poker player state of mind. Assuming you have already studied the game of poker and its nuances, the only thing that differentiates you from the best poker players in the world, is your state of mind. This powerful audio is designed to boost your poker playing skills and confidence. Listening to it will pave your way to playing the final hand alongside the top tournament players.
Download our free app for iPhone/iPad today and listen immediately after your purchase- just search the App Store for Trinity Affirmations.
Download your MP3 tournament poker album now and stop relying on your luck when playing poker. You know you're better than that. Listen to these affirmations regularly and get that winning streak!
Present Tense Affirmations
I have many poker skills
Poker is fun
I am excellent at poker
The thrill of poker compares to nothing else
I live for a good poker tournament
I take the right amount of risks
I am knowledgeable and wise when it comes to poker
Poker is my favorite hobby
Winning poker is well worth the stakes
I trust my abilities as a smart player
Future Tense Affirmations
I will better my poker game
I will focus more on poker
I will concentrate on winning
I will invest my time in poker tournaments
I will practice my poker strategy
Poker tournaments will become more enjoyable
I will become a poker expert
I will mentally train myself for poker
I will perform well online or in person
My poker skills will increase drastically
Natural Affirmations
I was born to play poker
Poker is my game
Poker is more than a hobby to me
I live for the excitement of poker tournaments
Others see me as a professional poker player
I am naturally good at bluffing
I win at every poker game I play
I've always been good at poker
I was made to play poker
Tournament poker is my natural rite