Cash Poker Affirmations
Become a cash poker superstar and start winning big time with help of this simple but powerful audio album.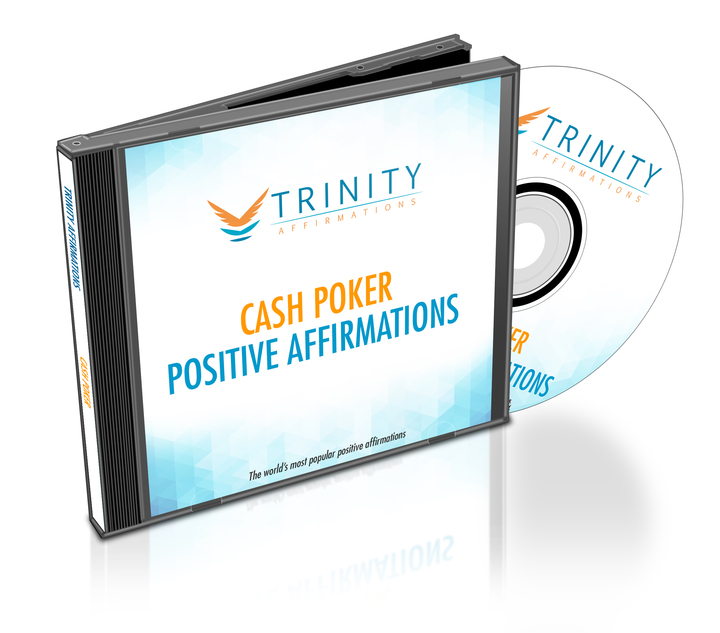 Do you have to deal with bad runs far more often than you would like to?
Do you find it difficult to control your emotions and avoid "being read like a book", but struggle with reading your opponents' bluffs?
Do you feel you're attracting suck-outs on you?
How would you like to build a winning poker player state of mind and raise your game to the top?
Outsiders think cash poker is a game of luck: "If the cards aren't strong enough, there's no way in the world you can strategize to win. And if it ain't your day, you may end up losing a significant amount of money."
You know better, but sometimes even you wonder if maybe they are onto something.
Yes, there is bluffing. You're not that bad at it and every now and then you can read your competitors' ticks and tells. You're not the all-time loser either and you certainly enjoy the game.
But you wish more. If only there was a way for you to improve your concentration, patience, ability to withhold your emotions and yet be able to guess the cards behind the mood of your fellow players.
The fact is – there is.
If you're serious about investing a little time and effort into improving your cash poker skills, then these positive affirmations can be the game changer for you. Literally.
Listening to them will alter the way your mind is wired. You'll start paying more attention to the strategy, both of your opponents and yours, instead of worrying about your losses all the time. The affirmations will train your mind to control your facial expressions and your hands in live poker matches. Also, you'll learn to tune the timing of your moves, which is even more relevant if you're playing online.
The change won't happen overnight, though. Cash poker affirmations aren't magic. They are a tool. A powerful one too. But they only work if you use them consistently. Still, once you make them part of your routine you'll realize the way you approach the game has evolved. You'll notice you, yourself have become a different player and the results will kick in.
What to Expect
This album will transform the way your poker mind works in 3 main ways:
Listening and repeating the affirmations regularly will boost your motivation to make it among the high-level cash poker players. We all know life gets hectic. Although you have your heart set on becoming better at poker, reality often gets in the way. Well, this simple method will help you take care of your progress. It will motivate you to study the game and successful poker players and as a result, improve your playing skills.
You'll always be in control. Cash poker affirmations album will improve your focus. You'll stop losing track of the cards played. You'll be psyched up to wait for your momentum, instead of placing impatient bet and thanks to the improved ability to control your emotions, whether you're on a winning or a losing streak, you'll be able to stay calm and play smart.
Finally, listening to this MP3 will help you build confidence. It's simple, really. When you start losing in poker, you feel bad. You see yourself as a loser and predict more loses. But with the help of these affirmations, you will become so confident in your poker playing skills that these negative beliefs and waves of self-doubt will stop bothering you once and for all. When you begin to consider yourself a winner that's what you're going to be.
Download our free app for iPhone/iPad today and listen immediately after your purchase- just search the App Store for Trinity Affirmations.
Don't wait another minute! Download this unique transformational audio now, reset your mind and play cash poker like an expert!
Present Tense
I am sure of my poker skills
I am an expert at bluffing
I use all of my knowledge in the game
I keep my head in the game
I wager my money wisely
I am protective of my bets
I am a powerful cash poker player
I love cash poker
I am a confident cash poker player
All of my bets are rational
Future Tense
I will read my opponents strategically
I will utilize all of my abilities to their full power
I will view each possible angle
I will monitor my spending amount
My skills will develop to their full potential
I will plan my moves out
I will play the cards that I have
I will refrain from taking major risks
I will know when to leave the table
I will take appropriate chances
Natural Affirmations
I was born to play poker
I am naturally intuitive at poker
Poker allows me to be myself
I instinctively know when to back down
I always invest wisely in poker
I have obtained all cash poker skills
I live for cash poker
Cash poker is fantastic
I am just a genius at cash poker
I am naturally knowledgeable at poker