Improve Concentration Affirmations
Use this powerful affirmations recording to improve your concentration and to be as engaged in any task you're given, just as you are with an intriguing novel or movie.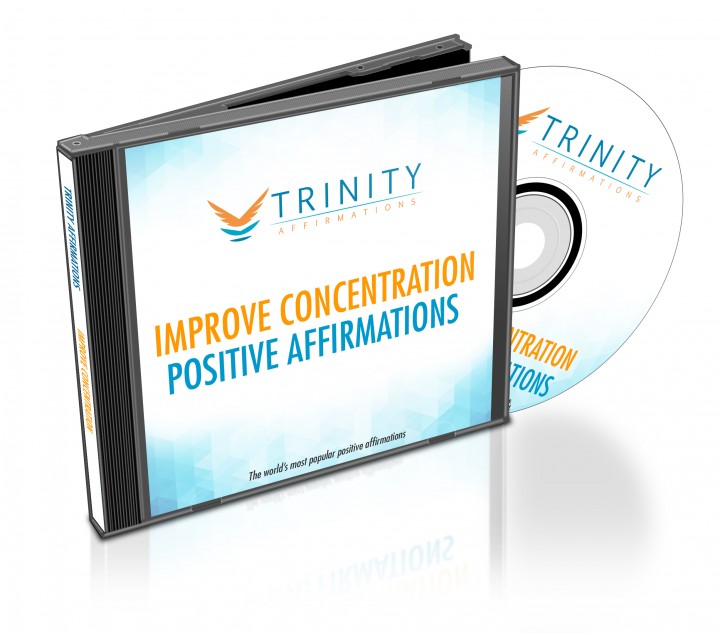 Do your thoughts tend to wander off when you least want them to – when preparing for an exam or being engaged in an important discussion?
Are you generally unable to concentrate for a longer period of time?
Do you easily get distracted from the task at hand (especially if it's something you hate doing, but you know you have to)?
Do you want to increase your ability to focus and to stay focused for as long as it takes to get the job done, no matter how dull or unpleasant it may be?
Have you ever wondered how it is that you can spend entire hours watching a movie and can't make yourself sit still and do your job for longer than 15 minutes? And why is it that, when watching a movie, you get upset when something interrupts you, while when working on an important but unpleasant task any distraction is welcome?
We do the things we enjoy with ease and we can stay focused on them for as long as it takes. Now imagine if you were able to stay focused just as well on the things you don't enjoy, the things you find boring or unpleasant. Imagine if you weren't procrastinating, how much more would you be able to do and how much time would you have to do the things you enjoy without feeling guilty?
Sounds tempting?
Fortunately, it's quite possible to achieve this level of focus and productivity and this album can be a powerful aid.
Affirmations work to stimulate the chosen areas of your mind and to "encourage" your mind to come up with the ways to improve your concentration and to stay concentrated until the task is done. Your mind does all the work, but it needs to be shown that it's really important to you and that it's time to get busy – it simply needs a clear direction and affirmations will provide it in the most natural way.
What to Expect
This album will help you to become more focused by:
Removing the resistance you feel towards performing the tasks you don't enjoy. When you let go of thinking upfront how you hate doing this or that, it becomes a lot easier. Affirmations will help you to detach yourself emotionally from an unpleasant task, removing the resistance and turning it into something you just do. With resistance gone, you might even develop an affinity for the task that will make it more enjoyable.
Increasing your motivation to get things done. Instead of thinking about how hard it will be, you will stay focused on the task itself and on the goal of it, which will make you better equipped to stay focused for longer periods of time.
Stop your mind from wandering: right now you're practically looking for something to distract you and affirmations will help you to eliminate this need. By removing resistance there will be nothing to run away from, no need to look for something else to do and your studying or work will just flow until it's done.
You can use this album as a short-term boost when you need to increase your level of concentration for a short period of time, but you can also use it to stimulate lasting changes that will happen with regular use.
Download our free app for iPhone/iPad today and listen immediately after your purchase- just search the App Store for Trinity Affirmations.
Use this album to become a more productive and successful person that finds it easy to concentrate on any given task. Download it now and let the change begin!
Present Tense
I am able to overcome distractions
I concentrate easily
I act quickly
I complete tasks easily
I enjoy finishing tasks
I am focused
I am very productive
I have great grades
I pay attention to detail
I am successful
Future Tense
I will complete tasks
I will stay focused
I will enjoy completing my work
I will have a clear mind
I will absorb information easily
I am learning to avoid distractions
I will be productive
I will get great grades
I will succeed in the workplace
I am increasing my willpower
Natural Tense
Concentrating comes easily to me
Focusing feels natural
My willpower is strong
My mind is clear
Information flows easily into my mind
Finishing tasks comes naturally
My concentration level stays high for a long time
My productivity level is high
Others consider me to be dedicated
Taking action quickly comes naturally