Improve Chess Skills Affirmations
Develop the correct mindset to transform your chess abilities and become the best chess player you possibly can, with the help of this transformational affirmations mp3.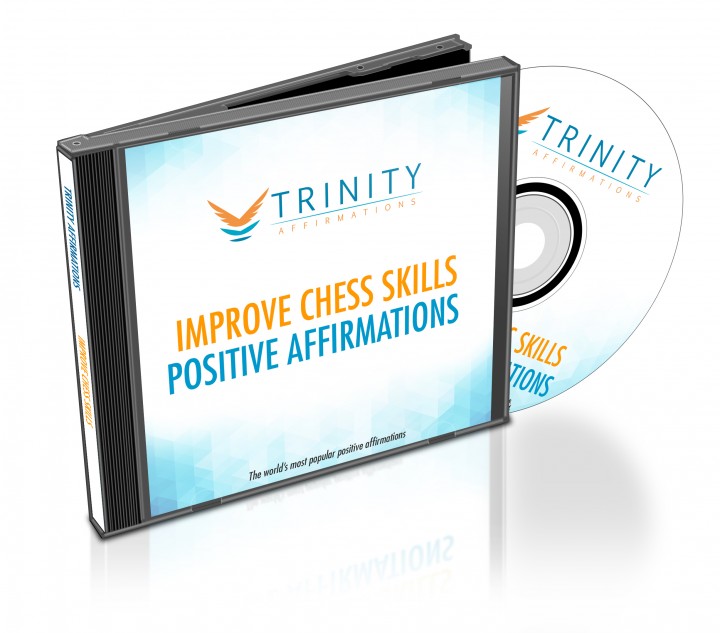 Are you planning on entering a chess competition or tournament?
Do you want to improve your game but lack motivation to practice?
Do you want to fine tune your chess playing strategies and skills and to become a master in chess?
Imagine what it would be like if you could see ahead multiple possibilities and moves, if your mind has been trained to foresee numerous possible moves and force check-mates, if you could develop a kind of a "sixth sense" about your game. Can you imagine this?
For some players this seems to come naturally because their subconscious mind is tuned into their game. It's not really the sixth sense, it's just that they're using the advantages of mental power that you too can benefit from with help from affirmations.
Your mind is a powerful thing and this album can help you to unlock its potential. Affirmations will send powerful messages about your chess playing abilities to your subconscious, overriding the resistance of your conscious mind and planting the seed that will create within you more mental growth and better play.
What to Expect
With regular use you will notice that the effects of affirmations are building up, because your mind will be programmed to come up with the ways to enhance your game, using its own power to:
Provide internal motivation to work on improving your game. When your play becomes a strong desire, when you become really enthusiastic about it, when your mind is constantly focused on the benefits and dreams of playing better, you get a burning desire to practice as often as possible and a passion to do it.
Make you more alert and logical when playing. Your concentration will improve, you will be better equipped to clearly see future possible moves and how to counter attack. Your increased focus and attention will give you a better ability to predict with more probability what your opponent might do and you will be prepared for it.
Block off the outside world. Your mind will be 100% focused on chess and you will stop allowing things to distract you from your play. You will be completely in it, giving your best every time you play.
With increased mental stamina and focus your chess style will be closer and closer to perfect. Your mind will open to new moves and tactics and you will simply start living and breathing chess.
Download our free app for iPhone/iPad today and listen immediately after your purchase- just search the App Store for Trinity Affirmations.
Download this album now to improve at chess and give yourself the best chance to play like a true master!
Present Tense
I have good chess skills
I am very good at playing chess
I am dedicated to improving my chess skills
I understand chess and have the skills necessary to master it
I look forward to playing chess
My understanding of chess strategy is strong
I am highly motivated to study chess tactics
I practice chess strategies every day
I am constantly improving my chess skills
I am a great chess player
Future Tense
I will look forward to playing chess
I will enjoy learning about new chess strategies
I am developing better chess skills
I will eagerly learn new chess strategies to improve my skills
I will understand more and more about chess
I will study new chess tactics with ease
I will grow better and better at learning new chess strategies
I will become more effective at mastering chess skills
I will practice chess strategies to improve my play
I will become more dedicated to improving my chess skills
Natural Tense
Learning new chess strategies comes naturally to me
My chess skills are becoming stronger each day
Being motivated to practice chess comes naturally to me
Adopting new chess tactics comes easily to me
Each day, I become a better chess player
Practicing new chess skills is enjoyable
Studying chess is an important and fun part of my daily life
Each day I find myself looking forward to using new chess skills
Understanding chess strategy is easy for me
Every day, I learn new chess strategies