Enhance Common Sense Affirmations
Make better use of your common sense and learn to properly react to everyday situations with the help of this powerful affirmations album.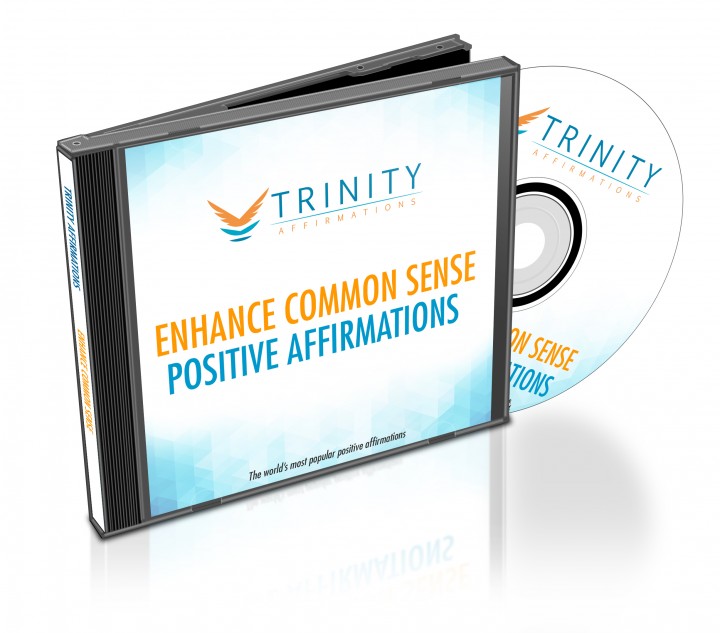 Are you "book smart" but you wish you were getting less of "What were you thinking?" in your everyday life?
Do you keep getting yourself in embarrassing situations that you later think about as something you could have easily avoided?
Are you tired of making "stupid" mistakes?
Do you wish to become more prudent in your judgments, more attentive when it comes to simple things and to instinctively know how to react in an unfamiliar situation?
It's difficult to tell exactly what common sense is, but perhaps Mark Twain's definition is the simplest and most comprehensive one:
Common sense is the simple knack of seeing something the way it really is and doing something the way it should be done.
Common, because it's available to us all, but not all of us use it equally. There are too many distractions nowadays so people tend to overlook what's right in front of them, consumed by other thoughts or over complicating things which are simple in essence.
There's no way to teach someone common sense, but if you need to improve yours there is something you can do: get in touch with your second-nature instincts and don't let yourself be sidetracked – unblock your basic, primal problem solving tools and rely on them to provide simple and correct answers.
Easier said than done when you're not used to using your instincts, but this album can help you to rediscover them and to learn how to use them.
What to Expect
Affirmations will stimulate your mind to seek for the ways to reconnect with yourself on a deep, instinctive level and imprint new thinking patterns that will help you to:
Acknowledge your intuition and focus more on natural thought. You will become more open to following your first impulses and initial reactions, as they're often the most logical choice. You will free your mind from distractions of everyday life and learn to use your own perception of things to your advantage.
Be more confident of your judgment. As you start listening to yourself more, you will stop second guessing your choices and you will be less tempted to over think things. You will tap into your personal power and you will know exactly what to say and do in any given situation.
Start paying more attention to detail – you will be more aware of the world and people around you and this simple matter of being alert, will significantly reduce your chances of making "errors in judgment" again.
Download our free app for iPhone/iPad today and listen immediately after your purchase- just search the App Store for Trinity Affirmations.
Leave socially awkward situations behind you – download this album and enhance your common sense so that you can find the simplest and most straightforward way through any situation!
Present Tense
I use common sense to my advantage
I see answers that are in front of me
I am able to block out mental distractions
I navigate my mind to my advantage
I am in control of my thoughts
I have unbiased judgement
I have foundational beliefs
I solve irritating problems
I digest information smoothly
I gather logical information
Future Tense
I will utilize more common sense
I will have sound perception
I will remove all mental obstacles
I will focus on finding the answers
I am concentrating more on natural thought
I will follow my instincts
I will acknowledge my intuitions
I will come to conclusions more efficiently
I will be more confident in my impulses
I will trust my initial reactions
Natural Tense
Using common sense is how I naturally think
My mind is free of distractions
I naturally follow my hunches
I always follow-up on my first responses
Others see me as focused and strong-minded
I can easily find right answers
I naturally turn to common sense
I rely on common sense for solving problems
My accuracy level is high
I am confident in my instincts