Improve Critical Thinking Affirmations
Use this affirmations album to develop the mindset that will enhance your critical thinking skills and enable you to be more logical and practical in all sorts of life situations.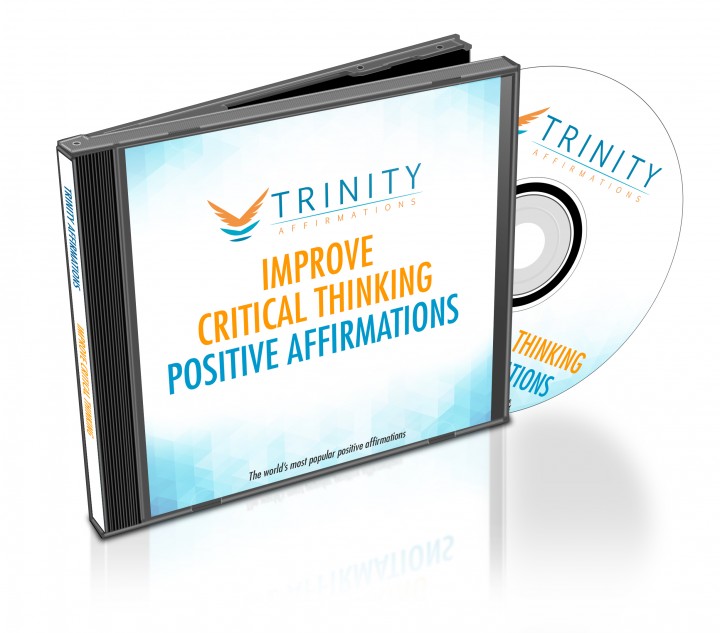 Are you often unsure about what's the right choice and course of action?
Are you easily influenced by others' opinions?
Does your job require a more analytical and practical approach?
Do you want to become a critical thinker who is able to raise vital questions and problems, who is able to analytically assess relevant information and who thinks open-mindedly, confident of his judgment?
Critical thinking is an invaluable skill to have, as it allows you to make decisions that will have a positive impact on your life, helping you reach your goals faster without damaging other areas of your life.
A critical thinker is rational and impartial: he knows how to separate facts from opinion and how to withhold personal judgment or biases, staying calm in any situation.
Most of us don't possess this kind of self-discipline: we let our emotions influence our decision-making process, or we're simply too lazy to examine the issue from all sides. It's the way our mind works, because it was trained that way, we trained it that way.
But if you want to develop your critical thinking skills, you can train your mind to work in a different way and these affirmations can provide an invaluable support in the process.
It will take effort and practice to change the way your mind has been working for so many years and you will need all the support you can get to adopt it as a natural part of you. Affirmations will help you to develop the mindset that will open your mind to the new ways of dealing with the facts presented to you and keep you motivated and focused on turning critical thinking into a habit.
What to Expect
These affirmations will support your desire to develop the process of critical thinking by:
Constantly reminding you of the importance to examine the issue from all the angles. You will soon notice that you're less tempted to approach any problem "the lazy way" – instead, you will be driven to gather as much information as possible and to analyze it so that you can be sure that the choice you make is the best one.
Making you less sensitive to the way you personally feel about the issue. Affirmations will help you to exclude your emotions from the decision-making process – you will simply become detached from them when it comes to making the right choice, ensuring that your final decision is impartial and completely rational.
Improving your confidence in your judgment and in your decisions. As your analytical abilities improve, you will become much more confident of your choices. In the interest of analytical approach you will still be consulting others, but you will no longer seek their approval because you will have faith in your own judgment, more and more as your choices continuously prove to be right.
When you develop your critical thinking, you will become closer to the "work smarter, not harder" mantra, able to achieve your goals with no detour and with maximum efficiency.
Download our free app for iPhone/iPad today and listen immediately after your purchase- just search the App Store for Trinity Affirmations.
All areas of your life will benefit from this new mindset, so download this album and open up new possibilities for your development and success.
Present Tense
I am a critical thinker
I ask the right questions
I gather relevant information
I interpret information efficiently
I always use critical thinking to analyze a situation
I form strong opinions
I communicate well with others to formulate solutions
I am a strong-minded individual
I carefully select answers to puzzling questions
I impose intellectual questions
Future Tense
I will form my own unbiased opinions
I will know when to ask the right questions
I will exclude outside influence when solving a problem
I am developing my critical thinking skills constantly
I will be more open-minded in recognizing solutions
I will skillfully gather information and formulate my own opinion
I will self-monitor and self-direct my thoughts
My thinking skills will improve in quality
I will become a stronger intellect
I will come to sensible solutions
Natural Tense
I naturally pinpoint accessible solutions
I self-monitor my reasoning
I break down complex situations on an advanced level
Others see me as a decided, logical thinker
I am organized and conclusive in thought
My mind is naturally inquisitive
I am constantly asking intelligent questions
I just naturally have an open mind
I am open to all ideas and solutions
I consistently process information