Become More Decisive Affirmations
Use this unique affirmations album to become more equipped to make the right decisions at the right times.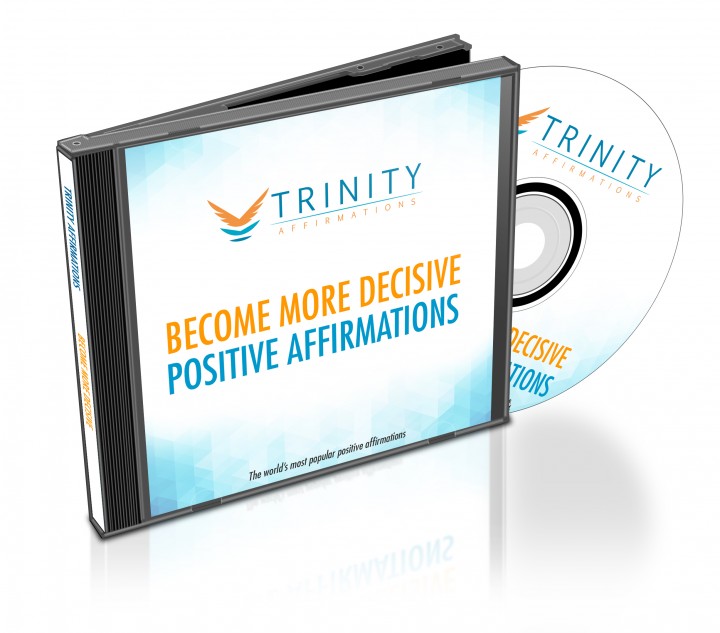 Do you avoid decision making at all costs?
Do you rely on your gut instinct rather than on analyzing the situation?
Do you often make impulsive decisions?
Would you like a way to become a better decision maker who confidently operates on a sound decision making framework?
Did you know that almost every single human being is prone to be irrational when making decisions? We tend to subconsciously trick our minds to decide in favor of the choices that later prove to be completely wrong; we get emotionally attached to one choice and we unconsciously work on finding the reasons to support that choice instead of impartially analyzing the big picture.
Think about this: if you had perfect information and if you knew all possible outcomes that your choice could produce - you would always be making the right choices, right?
This will hardly ever be the case, but you can influence one important factor that has a great impact on whether the choice you'll make will be right or wrong: your own judgment. If it was impartial, the number of wrong decisions you'd be making would be significantly lower.
Where exactly is the problem?
Your mind has adopted the thinking patterns that say it's OK to base your decision making on your gut instinct and emotional attachment. It's the easier way, as an objective and impartial analysis of the situation requires significant mental effort on your part. In other words, your mind is lazy when it comes to making decisions - but you can change that!
With this affirmations album, you can train your mind to pay more attention to detail, to exclude emotions and to objectively analyze all aspects of the decision-making process.
It's simply a matter of focus: when you prioritize the benefits of making the right choice, then you will be more careful and you won't allow yourself to go with the first thing that "feels right" just because you're too lazy to think it through. These affirmations will do exactly that for you - they will re-wire your current focus on "let's just get done with it" to "this is important to me and I'll take all the time I need to make the right choice".
What to Expect
After listening to this affirmations album you will notice that:
You aren't putting it off for later… or never. As you become focused on the benefits of making the right choice, you will understand that there's no reason to procrastinate on it. You will simply be ready to deal with decision making because you'll feel equipped for it.
You are less tempted to favor one choice over another based on nothing but your gut. Your emotions will no longer be playing the most important role in the process - instead, you will be naturally guided by evidence and impartial logical thinking .
You're more confident that you made the right choice. You will be in a position to objectively analyze the outcomes of every choice and there will be no need to second guess your decisions. You will learn to choose for yourself and you will trust yourself in doing it.
Download our free app for iPhone/iPad today and listen immediately after your purchase- just search the App Store for Trinity Affirmations.
Act now - download this album and become a better decision maker! Take your life into your hands and make sure that your decisions are well based, all the time!
Present Tense
I am good at making decisions
I think through all of my options carefully
I invest an appropriate amount of time in the thought process
I analyze all possible outcomes
I am in tune with what I need
I am aware of many components when making decisions
I am mindful of how my decisions will affect my surroundings
My choices are right
I have confidence in my decisions
My decisions are final
Future Tense
I will logically think all problems through
I will look into all possible solutions
I will make decisions more carefully
I will stop looking to other people for answers
I will find strength in myself to make decisions
My decisions are becoming more appropriate
I will let my atmosphere determine change
I will stop letting others take control of my life
I will learn to choose for myself
I will be more self-aware
Natural Tense
I am naturally good at making decisions
My choices are always the right way to go
I simply know what to do
I'm just naturally decisive
I trust myself in making decisions
I always know what I'm talking about
I am a leader when it comes to making decisions
I know how to narrow down the choices
I make up my mind easily
I naturally find the best solutions