Overcome Fear of Failure Affirmations
Time-Limited Offer!
Save 30% for the next 00:00:00
Overcome fear of failure and start pursuing success in life using this powerful affirmations mp3.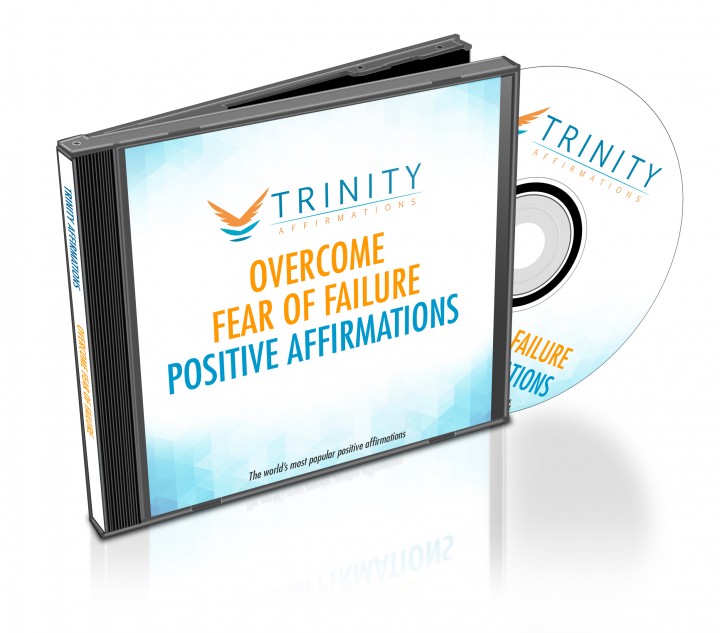 Do you have a big dream that you have never tried to pursue?
Do you often think about what could go wrong with your project?
Are you quick to give up when you encounter a setback?
Do you want help with overcoming fear of failure and becoming someone who is fearless when faced with a challenge?
Do you know what the main difference is between people who follow through with their plans and you? It's just one thing: those people have faith in their project, their vision is so strong and bright that they just don't see the option to fail. As far as they're concerned, that option doesn't exist.
And you - possibilities of failure are something you seem to be born to explore. Even if the conditions were almost ideal, you would find dozens of things that could go wrong. And your big projects are too big to play with, so you keep waiting for absolutely perfect conditions to start working on them. Or even when you do get the courage to start the project, the first setback will stop all your actions.
You're using the not-absolutely-perfect conditions and the obstacles (which are often imaginary) as an excuse to not give your best because if you did and you failed, it would crush you.
Have you ever thought about what you could do if there really was no fear of failure if you had an undeniable proof that you'll succeed? How hard would you be trying then?
Exactly. But get this: there are no guarantees. Ever.
And those other people still dare to pursue their dreams - and reach the goal line. Don't you think it's time you got rid of the fear and passionately dove in, realizing those big projects? That's the only way you'll ever be able to succeed.
This affirmations album was designed to help you overcome this deep, paralyzing fear that you may even not be aware of. Your thoughts are now so focused on the possibility of failure that it eventually becomes all you see.
It's a thinking pattern you've adopted a while ago. But if you decide that you want to change it - you can!
The statements on this album affirm the opposite of failure - that you are fearless, positive and determined to push through every challenge and to come out of it victorious. They act as a powerful aid to your efforts to overcome this fear by supporting the positive images of success that you want to build in your mind.
What to Expect
Regular listening to this album will allow you to:
Be more confident of yourself and of your project. Your lack of confidence in your abilities is the main cause of your fear; once you regain it, you will notice that you're not so worried about the future of your project, that you're not over-thinking it and that you are able to just move on with it.
Become action-oriented and eager to succeed. You will gain a boost in enthusiasm that will push you through challenges. The image of you succeeding will be so strong in your mind that you will see no other option than to make it happen.
Think more creatively about how to overcome the obstacles. As you broaden your perspective, you will understand that there is more than one way to achieve your goals and your mind will open itself to noticing other opportunities as well.
Download our free app for iPhone/iPad today and listen immediately after your purchase- just search the App Store for Trinity Affirmations.
Stop sabotaging yourself - overcome fear of failure and make success the only option in your mind by making use of this album, today!
Time-Limited Offer! Save 30% if you buy within the next 00:00:00
Present Tense
I am fearless
I take action now
I am liberated from fear of failure
I am confident and determined
I keep pushing until I succeed
I stay persistent even when faced with failure
I accept challenges with enthusiasm and confidence
I embrace failure and am made stronger by it
I always take action without hesitation or fear
I always push through failure and find a way to succeed
Future Tense
I will overcome my fear of failure
I will accept failure and learn from it
Every day I grow more confident
My mind is becoming highly focused on success
I am becoming more positive and determined
I will work hard and stay persistent when things get challenging
I am transforming into someone who is naturally fearless in the face of failure
I am finding it easier to take action without hesitation or fear
I will grow stronger and more determined if I fail
I am turning into someone who is naturally confident and fearless
Natural Tense
I am naturally fearless
I can easily overcome any failures or setbacks
Being confident comes naturally to me
I easily stay persistent and push through setbacks
I just naturally persist when things get tough
Staying positive and learning from failure helps me to achieve massive success
People look to me for confident leadership when things get rough
Being positive and motivated is normal
Gaining strength from difficulty is something I do naturally
I always succeed in spite of setbacks