Online Poker Affirmations
Use this transformational affirmations audio to crush all your online poker opponents and start winning every game.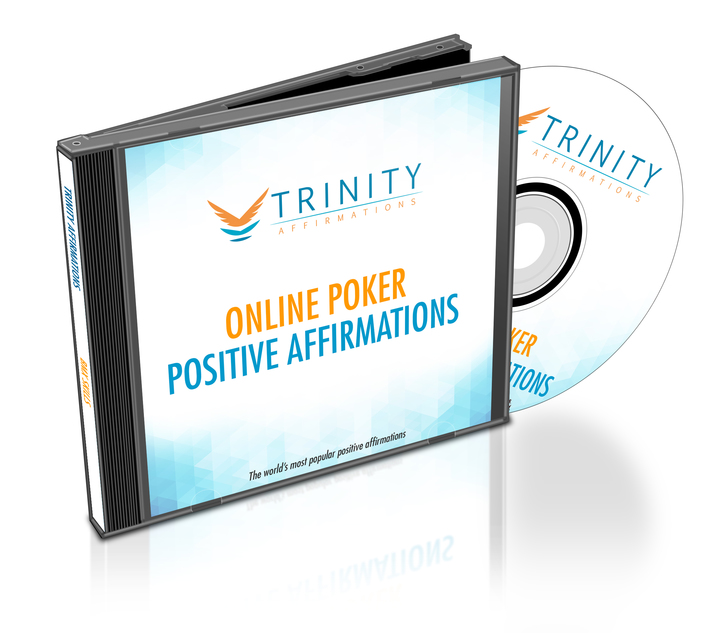 Do you want to stop being a victim of bad beats?
Do you often wait too long to call it quits and lose the profit you've made?
Do you find it difficult to keep track of all the tables you're playing at?
Do you want to build up a mindset of a cool and analytic online poker player and turn pro?
You may have started playing the online poker for the sake of thrills. But the more you engaged the more you loved it. You invested time and effort to get to know the different aspects of the game. The fact is, online poker became your thing. It's what makes you tick now.
The problem is, you're not as good as you'd like to be.
You end up being a loser in heads-up situations, you can't keep up with the pace of the game and you have trouble controlling your frustration when you're on a tilt. Also, is pulling that river bluff off every once in a while really too much to ask?
Just admit it. You want to be the winner. And, you're so ready to start making the big bucks.
But how?
Well, if you have learned and researched all about the game, the only thing you gotta do is to develop the winning poker player mindset.
This is exactly where our positive online poker affirmations step in. Listening to this powerful album will help you keep your head in the game at all times. Repeating the affirmations will increase your ability to focus, and you will soon become this cool analytical poker player because the affirmations will help you strengthen your confidence too.
The end result? You'll be capable of dealing with any online poker challenge before you know it. Along with cashing in big chunks of money.
What to Expect
Affirmations will rewire your thought and behavior patterns and instill a new set of beliefs, which will:
Help you stay focused, place timely bets, play it cool. In a word, you will become a confident poker player. A professional. The self-doubt will stop draining your energy, and you will increasingly rely on your judgment. No one will be able to tell if you're bluffing because you waited too long or hurried to place your bet. You'll stop feeling nervous and frustrated when playing, no matter the circumstances and you'll be turning (almost) every situation to your advantage.
Allow you to outplay the toughest gamers out there. Knowing the tricks of the trade and the strategies to beat the most vicious players is simply not good enough. You have to be positive you can do it, for real. You have to trust that you'll be able to handle the pressure. You need to challenge those tough nuts and believe you can see through their moves, despite the fact that you can't actually lay your eyes on them.
Help you keep up with the game flow at every table you're playing. The possibility of playing multiple tables at once is one of the greatest perks of the online poker. But it sure isn't easy to keep track of all the players and all the hands at the same time. Our online poker affirmations are designed to beef up your motivation and keep your negative emotions (should they arise) from messing up your game. Listening to the album will make your moves analytical, instead of driven by emotions and thanks to the regular encouragement, you'll be able to play at the top level, at as many online poker tables as you're comfortable with, simultaneously.
Download our free app for iPhone/iPad today and listen immediately after your purchase- just search the App Store for Trinity Affirmations.
Don't let yourself lose another game. Download this powerful affirmations audio now and start playing online poker like a pro.
Present Tense
I am a fantastic poker player
I am confident in my abilities
I think about my moves
I focus on the game
I love the game of online poker
I keep the game under my control
My mindset is trained for online poker
I raise the stakes steadily
I know the aspects of the game inside and out
I have superb concentration skills
Future Tense
I will pay more attention to poker
I will develop the focus necessary for online poker
I will simply enjoy the game
I will play with high intensity
I am becoming the best poker player online
My poker skills will develop wonderfully
I am a rising online poker star
I will hone in on my poker skills
My poker intuition is improving
I will stop stressing about online poker
Natural Tense
I always win online poker games
I live and breathe poker
I am the most superior online poker player
No one can match my poker skills
My mind is designed for poker
I am a poker master
Online poker comes naturally to me
I live for the suspense of poker
Online poker is important to me
I am a natural at online poker