Become a Surgeon Affirmations
Pursue the career of a surgeon with complete focus and confidence and make sure that you've got what it takes with the help of this powerful affirmations album.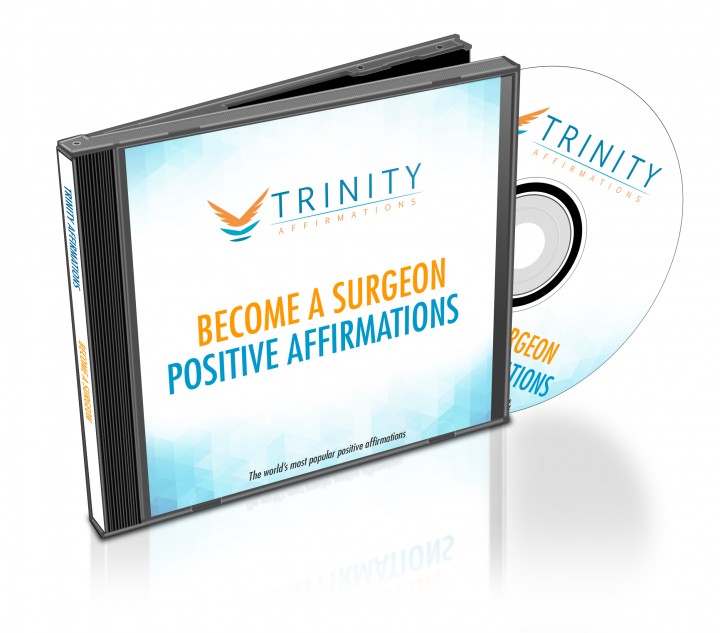 Are you preparing for a career as a surgeon?
Is being a surgeon something you really want but you're not sure you've got what it takes?
Do you want to make sure that you'll make it, no matter what?
No matter whether you're just finishing high school or you've decided that you're ready for a total career change, the great thing is that you now know what what you want to do professionally.
However, if you have any doubts in your skills and in your ability to become a professional, it may get rough. In order to become a good, successful surgeon you will have to learn a lot of new things and to practice your skills and if you doubt yourself, you can easily begin to question your choice – and whether to quit.
The only way not to get distracted is to mentally prepare for the challenges and difficulties. There will be some, it's natural, but with the right mindset you can easily overcome them and become a successful surgeon who loves what he or she does and who's great at it!
We have created these affirmations to help you stay focused on your goal and to achieve it no matter what. They will work to instill within you the mindset that will push you forward – to develop your skills and abilities and to become a fantastic surgeon who is driven to succeed no matter what.
What to Expect
With consistent use of these affirmations you will notice that:
You're much more focused on becoming a surgeon than you used to be. The idea was probably vaguely present in your mind so your thoughts and efforts were diluted, which is why you haven't been able to follow a clear direction and to advance as fast as you wanted to. Affirmations will help you clear the clutter and focus on what's important so there will be no detours and no time wasted.
You're motivated to work on improving your skills and on expanding your knowledge. You will stop being impatient and you'll start enjoying every moment of your progress. You will be driven to try new things and to practice the ones you already know, you'll be motivated to explore on your own and to become the best surgeon you can possibly be.
Your belief in your abilities is growing stronger each day. You will notice that self-defeating and limiting thoughts are losing their power over you and that you're much more confident of yourself. Soon you will feel almost like being a surgeon is what you were born to do and that there's no limit to what you can achieve in your career!
Download our free app for iPhone/iPad today and listen immediately after your purchase- just search the App Store for Trinity Affirmations.
Stop struggling with your career – download this album now to acquire the mindset of a surgeon and effortlessly and naturally become one!
Present Tense Affirmations
I am a fantastic surgeon
I love what I do
I am an expert in my field
I always keep my cool
I am level-headed under pressure
I am confident in my abilities
I help people every day
I have the best job in the world
I can handle crisis
My training is top-notch
Future Tense Affirmations
I will focus more on the job at hand
My skills as a surgeon will only improve
I will be sharp and focused in the operating room
My skills will become more fine-tuned over time
I will believe in my own abilities
I will do the best job I can possibly do
I will handle stress with ease
I will respect the human body
My knowledge will expand over time
I will be dedicated to my work
Natural Affirmations
I was born to be a surgeon
I am incredibly intelligent in my field
I am patient and intent on my work
I have the natural abilities of a surgeon
There is no other job I'd rather have
I want nothing more than to excel at my job
I am constantly exceeding my own expectations
Being a surgeon is what I was meant to do
I have a sharp, concentrated mind
I'm perfect for the job of a surgeon