Organization Skills Affirmations
Organize your life and gain a natural ability to stay efficient and attentive using this transformational affirmations mp3.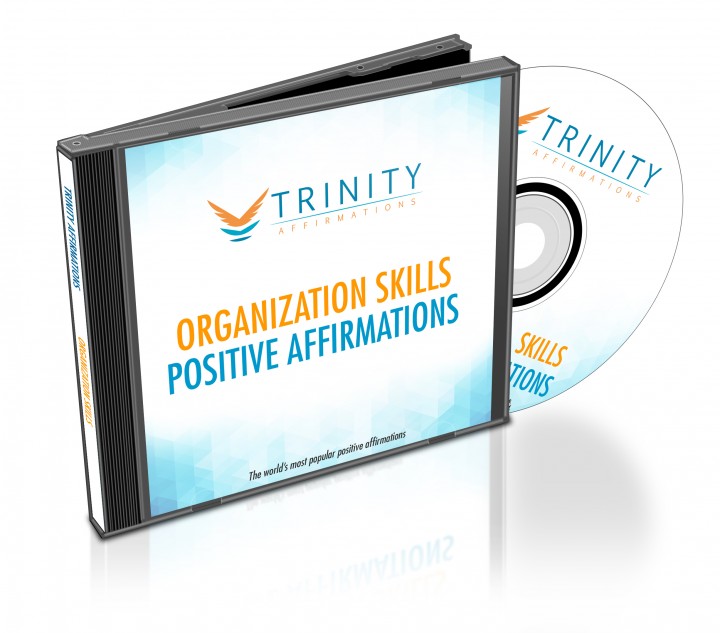 Is your life disorganized and hectic?
Does your life seem overwhelming because you can't give it the necessary balance?
Are you under a lot of stress for not being able to efficiently juggle your tasks?
Do you want to become more organized and to take control of your life?
The ability to organize your time and your tasks isn't something people are born with - it's a skill, one that's best to be learnt and practiced since childhood, but it's never too late to adopt it. Ironically, people often don't take time to organize because they think that getting organized will take them time that they could use to do something else in their disorganized way and it just goes on and on…
If you want to stop wasting time and become more productive you have to put a stop to this and make an effort to have a more organized life, you have to organize your mind first and make it more efficient.
Affirmations can help you to stay on track and to put your mind in order. They aim to keep you focused on better managing your time and efficiency until this behavior becomes a habit, something natural to you.
What to Expect
This album will support your efforts to become more organized in three main ways:
You will be more focused on organizing your personal and professional life. You will start paying more attention to the way you organize your tasks and how to make the best use of your time. Regularly thinking about it and not planning as you go will help you to maintain order in your schedule.
Your mind will be clearer and you'll gain better day to day focus. The way your mind works plays a crucial role in organizing your life. Affirmations will help you to get a grasp of your thoughts and to efficiently store them, so that you become less stressed about the amount of things you have to do - the chaos will disappear from your mind and you will gain back control over it.
Finally, affirmations will help you to become more productive. When you organize your time well and you stick to the schedule you made for yourself, you will stop procrastinating and you'll be able to do a lot more in less time than before. You will finally have the time to the things you want to do, instead of constantly chasing after the things you have to do.
Download our free app for iPhone/iPad today and listen immediately after your purchase- just search the App Store for Trinity Affirmations.
Take the first step towards becoming better organized - download this album now and make sure you have constant support on your way to forming this new habit that will improve your life tremendously!
Present Tense
I am highly organized
I keep my work space tidy
I live a clutter free life
I am efficient and attentive
My mind is clear and focused
I always show up on time
Others see me as a reliable and organized person
I organize my mind and my life
My life is completely organized
I am totally organized, in control and free from worry
Future Tense
I am finding myself to be more organized each day
Organizational skills are changing my life for the better
I will keep my house tidy
I will live a clutter free life
I am beginning to manage my time much more efficiently
I am getting my entire life in order and on track
It is becoming easier to organize my life
I will organize my desk and get more work done
I am starting to see the benefits of being an organized person
Life is becoming so much easier now that I'm organized
Natural Tense
Being organized is easy
My ability to organize improves my productivity
Staying organized and on top of things makes my life run smoothly
I organize my life so that I can relax, knowing everything is in order
I find it easy to keep my life organized
Being highly organized and efficient is just the way I am
Organizing my time and maintaining control over my life comes naturally to me
Others know they can always count on me to be on time
I enjoy the feeling of having a tidy house
Consistent planning and organizing helps me to succeed