Overcome Disease Affirmations
Overcome any disease through the power of your mind and positive thinking with the help of this mind enhancing affirmations album.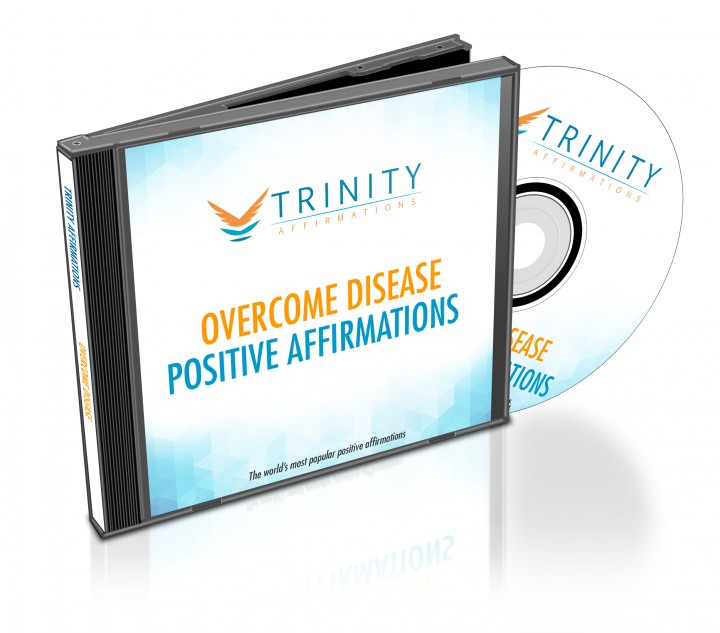 Are you suffering from kidney, renal or any other disease?
Do you think that medications and treatments aren't working as fast as they should be?
Do you want to speed up your recovery and to move forward from an unhealthy state to get into the best health of your life?
Going through a disease and the treatments can be a confusing, lonely and exhausting process which may easily make you experience doubt, anxiety and fear, if you're not sound and calm in mind.
That's why integrating positive affirmations into your full health recovery plan is very important. With a firm belief that you're getting better with each passing day, you will be able to better manage emotional and physical pain associated with your disease.
The more you are in control, the more relaxed you get, the better you will be equipped to fight your disease.
Our subconscious works in mysterious ways and the power of a well-managed mind-body connection has been proven over and over again. Positive thinking focused on your healing process won't cure your disease, but it will stimulate your mind to find the ways to overcome it the easiest and quickest way possible – simply put, it will enhance your natural healing mechanisms and boost your immune system.
What to Expect
This album will help you to:
Move past the fear and depression. Negative emotions related to the current state of your health, prevent you from receiving the full potential of your mind's healing power. Affirmations will help you to eliminate these and to be free to move on to healing.
Lessen the pain your disease is causing. This album will enhance the ability of your mind to block out pain and to feel less troubled by other symptoms of your disease. Your mind will simply learn to tune out and not to focus on it as much, reducing the pain you feel to the minimum.
Improve the communication between your mind and your body to boost your immune system and to fight your disease from the inside. This will greatly improve the effects of your medicines and your treatment and speed up your healing process!
Download our free app for iPhone/iPad today and listen immediately after your purchase- just search the App Store for Trinity Affirmations.
Your mind is one of the greatest resources you have at your disposal when you need help healing from a disease, so make the best use of it – download this album and experience the wonderful effects a calm and positive attitude will have on your healing!
Present Tense
I do everything to live a healthy lifestyle and take care of myself
I do everything to live a long and healthy life
I always eat foods that are nutritionally beneficial and good for my body
I have the fittest set of lungs and a really healthy heart
I love to exercise every single day and look forward to staying energetic all the time
I am always happy and cheerful with everyone around me
I wake up fresh and happy, looking forward to living the day as full as possible
I have a spirit, mind and body that are at constant peace
I am always smiling to reflect the joy and passion I have for living a healthy lifestyle
I am the best example of what it means to be fit and healthy
Future Tense
I will create a fitness routine that gets me into the best health of my life
I will eat healthy and exercise regularly to live a long and healthy life
I will have a mind, body and spirit that are in tune and in peace with each other
I will become the living example of what it means to be fit and healthy.
I will love and enjoy working out every single day of my life
I will infect others to want to be healthy because of my passion for good health
I will be jumping up and down, full with energy
I will develop a mind that is always at peace
I will get healthier and healthier as time passes
I will always be happy and healthy
Natural Tense
Eating healthy is a way of life that I enjoy every single day
I love going to the gym and working out
Being healthy isn't just what I say but what I do every single day
Every single meal that I eat is healthy and nutritious
I love to buy healthy and natural foods that will help me live a long and healthy life
I'm never tempted to eat junk food
I love being an example of a healthy and fit person for the people around me
People love and want to get to know me because I set a good example of healthy living
Everything I do helps push me to live a healthier life
I love to snack on exotic fruits and fresh vegetables