Present in the Moment Affirmations
Start living in the now and experience life to the fullest with the help of this powerful affirmations mp3.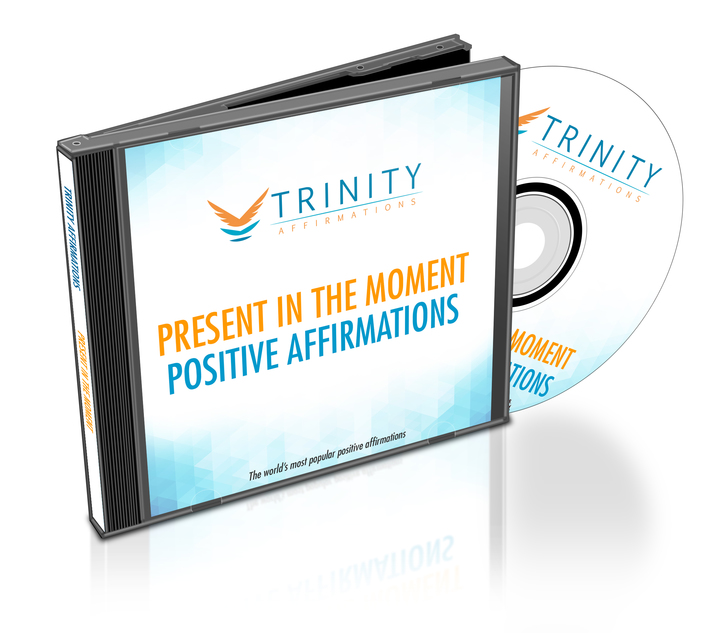 Do you often find it difficult to focus on your job, or to stay present in the conversations?
Do you worry too much? Are you under a lot of stress, or emotionally disbalanced?
Are you having trouble to conquer your self-defeating beliefs?
Do you want to become fully aware of your choices and options, to stop experiencing life through your thoughts and to start living it to the fullest?
Mindfulness, or living "in the Now" became a popular concept in the West thanks to the author Eckhart Tolle. Millions of people have reported (and still are) that his book, The Power of Now, has changed their lives in the most unexpected way - they have started living their lives, actually living them instead of letting the events, moments and years pass them by.
Most people just have the impression that their lives are full and meaningful because there's so much going on there: so many people, events, so many emotions, good or bad, heads constantly filled with thoughts about the past or about their future plans…
But all these thoughts and emotions really keep them prisoners: their attention gets so caught up in them that the moment that's actually happening just slips by them. They rarely get to know their moments, and they rarely can notice and exploit their potential.
It drains their energy, they become less aware of all the options they have because they're stuck in the past (which is gone), "live" in the future (which always stays in the future) or they're just so caught up in a certain way of looking at things and reacting to them that they miss so many opportunities - they have failed to recognize them because they missed the moment that offered something different.
How many of your moments are gone, never to come back?
If you want to reconnect with your life and to use the power of the present moment to reach peak performance and personal growth, if you want to improve your physical and mental health and to relate well with others, then use these affirmations to practice mindfulness and to make the best use of each and every moment of your life.
What to Expect
With the help of this album you will:
Let go of past hurts more easily, and stop waiting for that day in the future when everything will be OK. Affirmations will help you fully focus on the moment you're living now and overcome any obsessive thinking that was distracting you from it. You will learn to let go of your worries, to get in touch with your true self, to present and more in control of your life and your growth.
Your concentration will improve and you will be much more productive. Mindfulness will bring more focus, awareness and creativity to your life. You will notice that you're less and less prone to procrastination and that you're able to get more things done in less time.
Your social skills and your relationship with yourself will develop more than you ever thought possible. As you get to know yourself better, you will notice that you're also paying more attention to others: you will no longer be shy or socially awkward because you won't be burdened by "what ifs" anymore - you will become more relaxed, free, and open to new experiences and you'll finally see what it looks like to live your life to the fullest.
You only have one life, so make it the best it can possibly be - download this album and start living in the now, now!
Present Tense
I am completely aware that the only thing I really have is the present moment
I now release all past hurt as I have learnt what was for me to learn
I am now letting go of all worries, expectations and attachments
I am taking back control of my life by becoming aware of it
I am mindful of every moment of my life
I am free to change my experience and my life whenever I want
I can easily handle the moment that is happening right now
I am fully present in my body and in my life
I am exactly where I am supposed to be and I am perfectly safe
I recognize my self-worth and I allow myself to enjoy this end every moment of my life
Future Tense
I will release all struggle that comes from my past and I will forgive all past experiences
I will be making a conscious choice to live in the joyful now every moment of every day
I am going to shape my life according to my own needs and desires
I will allow myself to relax and enjoy the present
I will constantly increase my awareness of the present moment
I am going to pay attention to my body several times each day until I expand my awareness of the present moment
I will set myself free by forgiving myself
I look forward to every moment of my wonderful life
I will open my eyes to the infinite possibilities that every new moment brings along
I am going to actively participate in every moment of my life
Natural Tense
It is so liberating to live in this moment, right now
Everything I do is a fulfilling experience
Future is only a hope and projection and this knowledge helps me to do my best now
All answers are within me now
My thoughts naturally stay in the present
Being totally present in each moment opens me to exciting and inspiring new experiences
This moment is a chance for a new beginning
Actively experiencing my life brings me joy and fullfillment
All my hurts are in the past, all my fears are in the future and I am now letting go of them as this moment is only peace and joy
Life is just fine