Self Enlightenment Affirmations
Expand your spiritual awareness and tap into the unlimited powers of your core being with the help of this powerful affirmations mp3.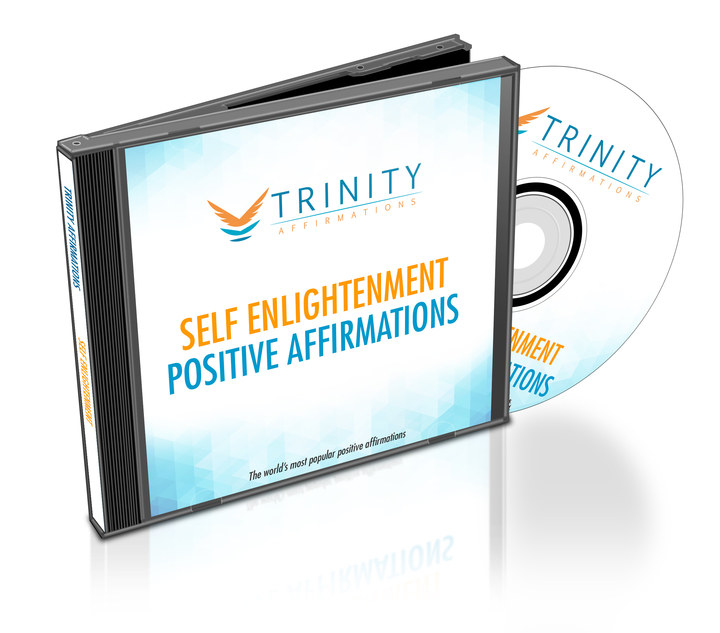 Do you feel that there's more to life than this, but you found no means to discover what it is?
Have you started your spiritual journey but you need help with achieving a permanent state of self-realization?
Do you have a constant feeling that you were meant for something bigger?
Do you need help on your path to self-enlightenment?
Each and every one of us was meant to be happy, to learn and to grow during this experience we call life. You are supposed to be the best possible version of yourself, in touch with who you are and what your purpose is and it's no wonder that you feel less than great when you drift away from it.
Instead of freely learning and developing, you get caught up in the web of daily worries, ego games and self-imposed limitations, which prevent you from following your true path. That's why most of the time, many of us don't realize how beautiful and great we really are - and that's why we need something to help us get back on track.
This realization is something you already possess, but it's buried deep inside and you need to learn from scratch how to establish this connection with your higher self.
That's why we have created this album. Affirmations, as simple as they are, have the power to "push" your subconscious mind in the right direction and to stimulate it to reach the depths where your intuition lays and where you know who you are and why you are here.
What to Expect
This album will help you:
Powerfully declare your intent to achieve fundamental self-realization, self-empowerment and self-healing. These declarations of intent will send a powerful signal to your inner self that you're ready and willing to open yourself up spiritually and to tap into your personal power, so that your subconscious mind can and should get busy helping you achieve that state more efficiently.
Clear the clutter coming from your ego and other forms of conditioned thinking. As you're probably aware, many of your inner voices are in fact different manifestations of your ego and limiting beliefs, which you've acquired throughout your life and which have nothing to do with your true being. Affirmations will make you more aware of what they are and help you cut straight through these influences, so that you can be sure that the guidance you receive is flawless.
Get to know who you really are and what your path is. Self-realization is the basic prerequisite for true enlightenment and you'll discover that the closer you are to your higher self, the better you can influence the course of your life because you'll finally have a direction and the means to get where you're headed!
Download our free app for iPhone/iPad today and listen immediately after your purchase- just search the App Store for Trinity Affirmations.
The path to enlightenment is long and this album can be your first step in the right direction and your support along the way. So download it now and let the journey begin!
Present Tense
I am now choosing to have inner peace
I am discovering the true nature of my being
I am tuned into the energy higher than myself and I am deeply perceptive of it
I am pure joy and light
I am now letting go of any thoughts, feelings and sensations that make me feel unease
I now focus on becoming enlightened
I feel a great sense of gratitude and well-being within me
I connect with infinite wisdom, abundance and joy with every breath I take
I am focused, centered, safe and at peace right now
I deeply believe in my purpose and in my ability to achieve it
Future Tense
I will be connected to the source of divine well-being and infinite wisdom more and more deeply each day
I am transforming into someone who has unconditional love for all beings
I will easily overcome the limitations I have been imposing to myself
I am becoming more and more my true self
I will be making conscious choices in order to achieve true enlightenment
I will willingly let go of all imbalances, fears and attachments
I will forgive myself and everyone and let the past stay in the past
I am going to commit myself to keeping my awareness in balance
I am transforming into someone who is their own best guide and healer
I will let go of my ego and all the weaknesses that come with it
Natural Tense
My faith in myself and in my purpose is divine
Building and maintaining loving relationships with everyone in my life comes naturally to me
People feel comfortable and safe around me as I send them only the thoughts of love
My true self is and has always been free of fear
Now that I know how to get in touch with my higher self I will cherish this relationship and work every day on strengthening it
I intuitively recognize the manifestations of my ego and am able to completely ignore them
My own enlightenment makes me able and willing to help other people become the best versions of themselves
My life is filled with joy, peace and wisdom and I am grateful for experiencing it every day
Every day I am becoming more and more truthful to myself
The inner stillness I am experiencing now has helped me face and overcome all my fears