Snowboarding Skills Affirmations
Unleash the power that mental strength and fortitude can have on your snowboarding progress, with the help of this positive affirmations album.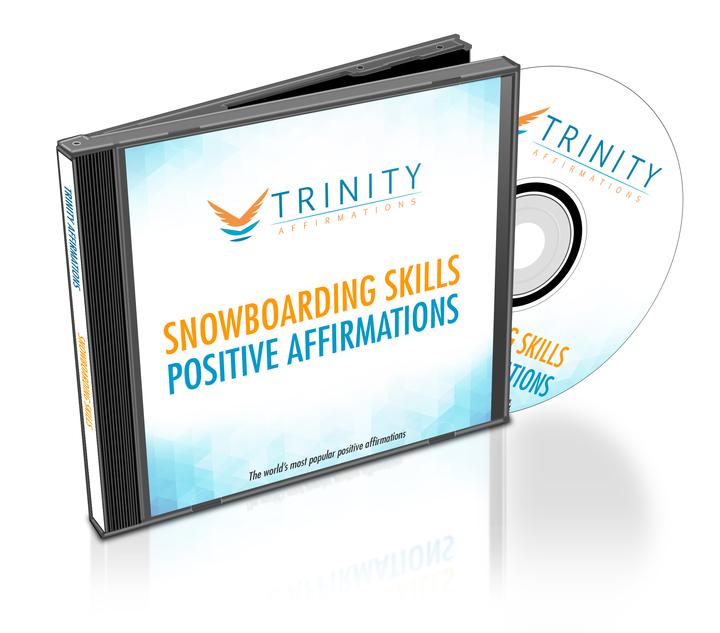 Are insecurity and self-doubt preventing you from showing your true riding skills?
Are you unable to break through your snowboarding plateau?
Is fear sometimes getting the best of you, making you too anxious to perform to your potential?
Do you wish you could have unshakable self-confidence, perfect control and the impenetrable focus of a superstar snowboarder?
To be good at snowboarding you need to possess a combination of both technique and the muscle strength and flexibility, to keep yourself well balanced and able to glide your way down the slope in a perfect fluid motion.
However, as pro riders often insist, to excel at snowboarding you also have to work on developing your mental strength.
Your mindset affects every aspect of your performance. It impacts your awareness and concentration, as well as your assurance to commit to a trick or buckle under pressure and fall. Most of all, your mental strength affects the speed at which you progress. No wonder that today's top snowboarders and Olympic medalists use mental performance strategies to improve their ability and competition results.
Now you can benefit from developing the same winning mindset with the help of our simple, yet effective affirmations!
Positive thoughts can boost your drive and reaffirm your belief in yourself and your abilities. If you practice affirmations regularly you will develop the resilience and fortitude you need to confront the negativity and fear that slows you down and have the confidence and unshakable conviction that you can meet all the challenges before you, to reach all your on-snow goals.
This mp3 album is specially designed to enable you to harness the pressure and calmly handle the most intense situations. It will enable you to increase your concentration and focusing capabilities, in order to maximize your technical skills and build upon your natural potential, so that you can break through your self-imposed limits and take your performance to the next level.
What to Expect
Incorporate positive affirmations into your snowboarding experience and gain that mental advantage you need to push your performance up a notch. Repeat them over and over again and you will soon discover that:
You easily overcome fear and trepidation to take on new and daring snowboarding challenges. Snowboarding is an exciting but risky activity, with an injury rate almost double that of any other alpine sport. It's perfectly normal to get anxious, however, if you fumble and hesitate instead of committing to that high jump that scares you, you actually stand a higher chance of getting hurt. You need to learn how to convert that fear into joyful energy and spirit that pushes you forward, instead of stopping you in your tracks. Affirmations will help you master the strong emotions that hold you back and boldly embrace new challenges to keep on pushing your personal limits.
You easily bounce back from past failures and have supreme confidence in your skills and abilities. When you keep telling your brain that you are going to fail, your body starts to believe those negative thoughts and underperforms every time. If you keep obsessing over mistakes and crushes and allow self-doubt and insecurity to take control of your mind, you will never be able to achieve your snowboarding goals. You have to change the message your body is receiving, by practicing our positive and empowering affirmations. They will help build up your resilience to always maintain self-confidence and a firm belief in your abilities and have the resolve and drive to excel and make your snowboarding talents truly shine.
You have laser-sharp focus and absolute control over your performance. When you are hurtling down a steep slope at a breakneck speed, your mind needs to be clear of all the clutter that clouds your senses and fully immersed in the present moment. You need to be able to tune out all distractions and concentrate your complete attention on the sequence of actions you need to take to make a smooth run or a flawless trick. Affirmations will rewire your brain to easily reach that heightened level of awareness when your mind is completely focused and in the flow. With your mind and body perfectly in sync, you will be able to consistently tap into your true potential and reach beyond your imagined limitations.
Download our free app for iPhone/iPad today and listen immediately after your purchase- just search the App Store for Trinity Affirmations.
Ability to achieve your goals comes from deep within you! Download this album and bring out the best in you, to become the star snowboarder you always dreamed of.
Present Tense
I am a great snowboarder
I am a fast learner when it comes to snowboarding
I can traverse, glide and sideslip with ease
I am excellent at keeping my balance
My snowboarding abilities are finely-tuned
I enjoy being out on the slopes
My weight transfers are smooth
I am able to stand back up after I fall
I stay focused on my body form
I readily learn new techniques
Future Tense
I will practice hard
I will dedicate my time to snowboarding
I will pay more attention to my landings
I will improve my balance with every run
I will work on perfecting my technique
I will always find inspiration to stay out in the snow
I will refine all of my tricks
I will always give snowboarding my all
I will always make new goals for myself
I am becoming a more talented snowboarder
Natural Tense
Snowboarding comes easily to me
I am a natural snowboarder
I was born to snowboard
Staying balanced comes automatically to me
Snowboarding is perfect for me
I belong out on the snow
Good snowboarding technique is instinctive to me
Landing a trick feels natural
I quickly pick up new tricks
I have a natural awareness of my surroundings on the slopes