BMX Skills Affirmations
Acquire the mindset that will make you stretch your limits and reach your full BMX potential, with the help of these powerful affirmations.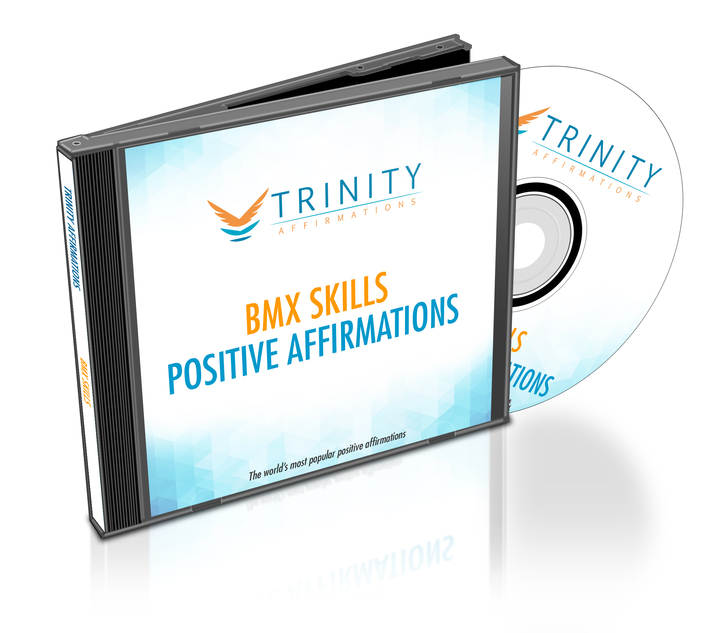 Do you find yourself buckling under pressure when it matters the most?
Is fear holding you back from performing up to your maximum ability?
Is your skill level stuck on a certain plateau that seems impossible to shift?
Do you wish you could maintain sharp focus, always remain in total control of your riding and have the self-confidence to nail every trick you attempt?
BMX is an intense, breathtaking endurance test of physical strength and supreme agility and with a high risk of injury, it's not for the faint-hearted! In addition to having an excellent level of overall fitness, hand-to-eye coordination and spatial awareness, riders have to possess the sharp concentration required to execute demanding moves and make quick reactions.
To be a star BMX rider you have to be capable of maintaining your composure and calm in most high-pressure situations and tuning out all distractions, keep your focus on smoothly executing the next trick. This requires not just perfecting your bike control but developing an exceptionally strong mindset.
Because your mindset has an impact on every aspect of your BMX performance.
It has a crucial effect on your psychological preparedness to cope and manage stress and the ability to raise the level of awareness and concentration needed for performing strenuous and often dangerous actions. Most importantly, your mindset has a comprehensive influence on the speed at which you progress.
If you wish to develop firm control of your mental processes, our simple yet extremely powerful affirmations, can put you on the right path and start you on your journey.
If you practice affirmations regularly you will find it easier to develop the resilience and fortitude you need to confront the fear that hinders you and have the unwavering self-confidence and unshakable conviction that you can reach all your set goals.
These strong, positive statements will boost your drive and reaffirm your belief in yourself and your abilities and increase your ability to concentrate, in order to maximize your biking skills and bolster your natural potential, so that you can break through your self-imposed limits and take your performance to the next level.
What to Expect
Incorporate affirmations into your BMX experience and gain that mental advantage you need to kick your performance up a gear. Make listening to this mp3 album a part of your routine and you will soon discover that:
You easily conquer all your fears and anxiety and boldly let go of all hesitation to unleash your true potential. As a BMX rider, you inevitably confront fear and failure every time you get on your bike. But if you keep falling hard and injuring yourself you can get discouraged and become reluctant to take risks and dare yourself to expand your list of tricks. Practicing affirmations will enable you to knock down those mental blocks that obstruct your progress and develop the courage and fortitude to step outside your comfort zone and readily embrace new challenges. They will instill in you the resilience and drive you need, to ramp up your riding intensity and extend the variety of your technical maneuvers to push your limits another step further.
You are self-assured and supremely confident in your ability to succeed. There are days when you just can't get the hang of that handle spin and attempting to jump over a gap ends with you crashing face down in front of riders you try hard to impress. It's easy to get disheartened, start judging yourself harshly and doubting your skills and talents. With the help of this affirmations album, you will be able to reprogram your mind to embrace a positive attitude that will restore your confidence and self-belief and prevent self-limiting thoughts from holding you back. Repeat affirmations often and they will enable you to tap into your natural potential and acquire that winning mindset you need to become the top-notch rider you always dreamed of becoming.
You have a strong focus on the moment and maintain your composure under pressure. Needless to say, BMX is an extremely challenging, high-intensity sport and you need to develop a mindset to remain calm and collected in stressful circumstances. Affirmations will give you the mental control you require to be able to ignore all irrelevant factors that distract your attention and fully concentrate on the present moment and sequence of actions you need to take, to make a smooth run or a flawless trick. You will be able to effectively harness pressure and turn it into a positive force, that will propel your riding performance to another level.
Download our free app for iPhone/iPad today and listen immediately after your purchase- just search the App Store for Trinity Affirmations.
Gain that extra edge you need to bring out the best in you! Download this album today and become a star BMX rider!
Present Tense
I am a strong BMX athlete
Bicycle motocross is my passion
I love doing tricks on my bike
I land all of my tricks
I know how to perform well on my bike
I have well-defined skills for motocross
I can expand on my tricks with ease
I enjoy being on my bike
I welcome the challenge of learning new tricks
I perform well under pressure
Future Tense
I will be a great BMX athlete
I pick up new skills with every practice
I will focus more on BMX
I will perform to my best abilities
I will study my technical movements to improve
I am becoming more focused
I will always set my sights high
I will embrace the challenge BMX has for me
I will push myself to perform better
I will focus on landing more tricks
Natural Tense
I naturally know how to adjust my body on my bike
I'm a natural at balancing on my bike
I am proud of myself when I land a trick
I know when to push myself
Others see me as a skilled BMX athlete
I have raw talent for BMX
Being on my bike is the most natural thing in the world
I am intuitively focused on my technique
BMX is a major part of my life
I have extraordinary coordination