Mountain Biking Affirmations
Gain the mental toughness you need to improve your mountain biking performance and reach your maximum potential, with the help of this powerful affirmations album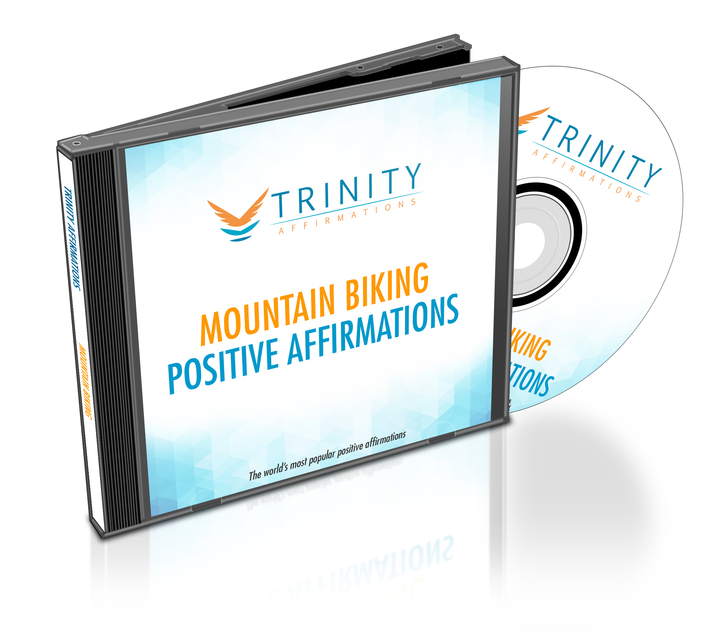 Are anxiety and fear preventing you from taking on new challenges?
Are you disappointed with the speed of your progress?
Are you easily distracted and find it difficult to concentrate on the trail?
Do you wish you could have a winning mindset, laser-like focus and supreme self-confidence of the top mountain bikers you admire?
Mountain biking is a very demanding sport and requires a combination of total fitness, endurance and a great sense of balance. Riders dedicate a lot of time and effort to develop their physical strength and stamina but often neglect the fact that mountain biking is also extremely mentally challenging.
All professional bikers agree that the right mindset is just as important as physical fitness in pushing for a peak performance. If you are looking to kick your riding up a gear and speed up your progression then you need to start working on your mental strength.
Top riders have supreme self-confidence and unwavering focus, that enables them to fearlessly tackle rough terrains and rush down steep descents with perfect precision and control. They possess incredible mental powers to persevere in the face of failure and riding over all obstacles in their path, concentrate on reaching their set goals and taking their skills one step further.
Affirmations can give you all the tools you need to develop a mindset of a pro mountain biker and ride to your true potential!
They will reprogram your mind to deflect negative thoughts that lead you to lose confidence in your abilities and empower you to maintain razor-sharp concentration when it counts the most.
No matter whether you are just a biking enthusiast or competing in the professional race circuit, affirmations will give you that extra edge you need to excel in this sport you love so much. Practicing affirmations will boost your confidence and drive to take your performance past self-imposed limits and on to the level you always dreamed of.
What to Expect
Gain a strong and resilient mindset with the help of our simple, yet highly effective affirmations. Practice them regularly and you will soon be able to:
Conquer your fear and harness the pressure to progressively outperform yourself. Injuries are a given factor when mountain biking. As a result, bikers sometimes experience a high level of anxiety that depletes their energy and drive and creates a mental barrier that is difficult to overcome. Affirmations will train your mind to handle the fear that holds you back and help you develop the resilience to easily bounce back from bad rides or injuries. With this new found mental strength, you will readily embrace the challenge of exploring new and more daring trails and routes and always have the tenacity of spirit to step outside your comfort zone and keep on pushing your limits.
Bounce back from mistakes and remain supremely confident and in total control of your ride. Sometimes fatigue, a bad fall or a disappointing performance can leave you discouraged and demoralized. You begin to doubt your bike riding skills and start telling yourself you will never be able to ride that treacherous trail or win that important race. Practicing affirmations will enable you to prevent self-sabotaging thoughts from eroding your confidence and robbing you of your willpower and determination. You will be able to summon up positive, encouraging statements that will reinstall a firm belief in your abilities and give you the self-confidence you need, to propel your performance to another level.
Keep your mind clear and maintain your composure and iron-clad focus regardless of the circumstances. In high-tension, exhilarating endurance sports like mountain biking, mental preparation and a sharp focus are absolutely crucial. This mp3 album will enable you to ignore all distractions around you and become fully immersed in the present moment. Affirmations will rewire your brain to easily reach that heightened level of awareness, so that you can concentrate intensely on actions you need to execute. With your mind and body in tune, you will consistently reach that optimal performance state that will enable your natural biking talent to truly shine.
Download our free app for iPhone/iPad today and listen immediately after your purchase- just search the App Store for Trinity Affirmations.
Download this mp3 album today and massively speed up your progress to become the star mountain biker you always aspired to be!
Present Tense
I am a strong Mountain Bike rider
I perform every time I hit a trail
I am confident in my ability to ride
Mountain Biking is my passion
I have a great understanding of my bike
My technical skills are brilliant
Every ride is a new challenge I will beat
I love riding my Mountain Bike
Hills and headwinds are my personal trainers
I and my mountain bike work together like a well-oiled machine
Future Tense
I will perform well on my Mountain Bike
I will increase my performance levels
I will increase my stamina and fitness on the bike
I will welcome new challenges and seek to complete them
I will develop my Mountain Biking skills
I will seek advice and guidance from other riders
I will interact with others from the Mountain Bike community
I will try out new trails and routes
I will sustain full concentration when Mountain Biking
I will respect the dangers the sport poses and seek to remain safe when riding
Natural Tense
I am extremely proud of what I have achieved
I have an incredible knowledge of the sport
Mountain Biking is a huge part of my life
My coordination is incredible
I have a natural understanding of different terrains
I naturally know how to balance on my Mountain Bike
I have a raw talent for Mountain Biking
I was born to Mountain Bike
I know how to push myself to the limit
I know when my body needs to rest