Wakeboarding Skills Affirmations
Use this unique affirmations album to develop the powerful mindset of a true wakeboarding champion and take your skills to the level you aspire.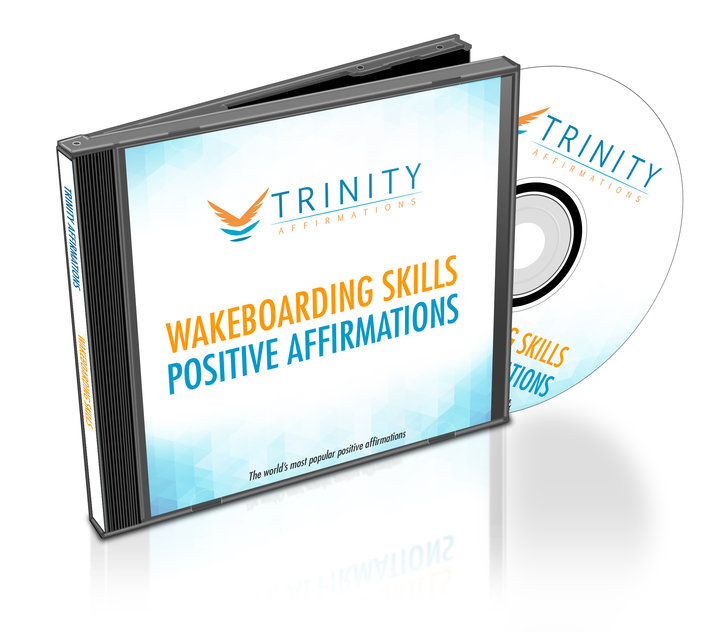 Is your anxiety getting in your way of reaching your wakeboarding goals?
Are you easily distracted and find it difficult to concentrate on the water?
Is your skill level stuck on a certain plateau and not budging?
Do you dream of having the courage and tenacity to tackle the most daring tricks with the ease and confidence of a pro rider?
Combining skills and techniques required for water skiing, snowboarding and surfing, wakeboarding is a fast, exhilarating high endurance test of strength and agility and you need to come prepared! Besides having an excellent level of fitness, flexibility and coordination, wakeboarders have to possess the mental concentration required to make quick responses in reaction to the ever-changing energy of the wake beneath their feet.
To be a standout rider you have to be capable of holding firm control of your thought processes and remain calm and relaxed regardless of the circumstances around you. As you gain speed and momentum towards the wake, you have to be able to disregard all distractions and focus on launching yourself high in the air and smoothly executing the next trick.
This requires a incredible mental strength and an iron-clad concentration.
Do you wish to be able to ride the big wakes, with the wind in your face and the spray at your feet and perform cool jumps with absolute confidence in yourself and your wakeboarding abilities? This affirmations album will help you do just that!
It is especially dedicated to help riders acquire the mental techniques needed to confront their fears and doubts and ignoring all obstacles, keep exploring their potential. Whether you are a beginner or competing in the professional tournaments, these simple yet powerful statements, will re-energize your drive and invigorate your efforts to excel.
They will empower you to maintain your concentration and keep your composure under pressure so that you can take your wakeboarding skills to a level you never imagined possible.
What to Expect
With a new, strong mindset you will be able to define your wakeboarding goals and feel driven to follow the course to reach them. Keep listening to it and soon you will find that:
You have a strong focus on the moment and remain cool under pressure. Wakeboarding is an extremely challenging, high-intensity activity and you need to mentally prepare yourself to calmly respond to stressful situations. Affirmations will make it possible for you to maintain clarity of mind, so that you can get perfectly in tune with the rhythm of the wake and be fully immersed in the moment. They will calibrate your brain to effectively manage stress and minimize all distractions, so you can maintain full control of your performance and land that goal trick every time.
You conquer your fears and abandon all hesitation to unleash your true potential. After they keep failing and falling hard several times, riders can get discouraged and become fearful of trying out new moves. They become reluctant to take risks and stick to the tricks they already have in the bag, which hinders their progression. Practicing affirmations will enable you to develop a strong resilience to easily bounce back from past mistakes and remain driven to keep challenging yourself. They will instill in you the courage you need to amp up your riding intensity and extend the variety of your maneuvers and push your limits another step further.
You are self-assured and supremely confident in your ability to succeed. Dwelling on negative and self-defeating thoughts can completely throw off your performance and hold back your chances of winning wakeboarding competitions. With the help of this affirmations album, you will be able to reframe your thought process to embrace a positive attitude, that will restore your faith in yourself. Repeat the affirmations often and they will help erase the self-limiting beliefs that are holding you back from tapping into your natural potential and give you that winning mindset you require, to become the top-notch rider you always dreamed of.
Download our free app for iPhone/iPad today and listen immediately after your purchase- just search the App Store for Trinity Affirmations.
Take action now - download this album and get that extra push you need to develop your wakeboarding skills and achieve your maximum potential.
Present Tense
I am a great wakeboarder
I love wakeboarding
I am confident out on the water
I hit all of the inside turns
Being on the water is fun for me
My transitions are smooth
My deepwater start is perfect
I know how to focus my eyes when I'm on the board
I am conscious of my body movements on the board
I give wakeboarding all of my efforts
Future Tense
I will pick up tricks more efficiently
I will land more tricks on my blindside
I am becoming more focused on the water
I will always be encouraged to get back on the water
Wakeboarding will become a priority for me
I will keep high goals for myself
My balance is improving
I am growing in skill every time I go on my wakeboard
My basic skills are developing into more advanced tricks
I am enhancing my talent with every practice
Natural Tense
I feel confident on my board
Wakeboarding is my natural rite
I'm comfortable with myself on the water
Balancing on my board comes naturally to me
Everything makes sense when I'm wakeboarding
I consistently pick up tricks with ease
Being a talented wakeboarder is important to me
Wakeboarding is a positive thing in my life
I am naturally myself on the water
I am meant to wakeboard