Rollerblading Skills Affirmations
Develop the perfect attitude to enhance your rollerblading abilities with the help of this transformational affirmations album.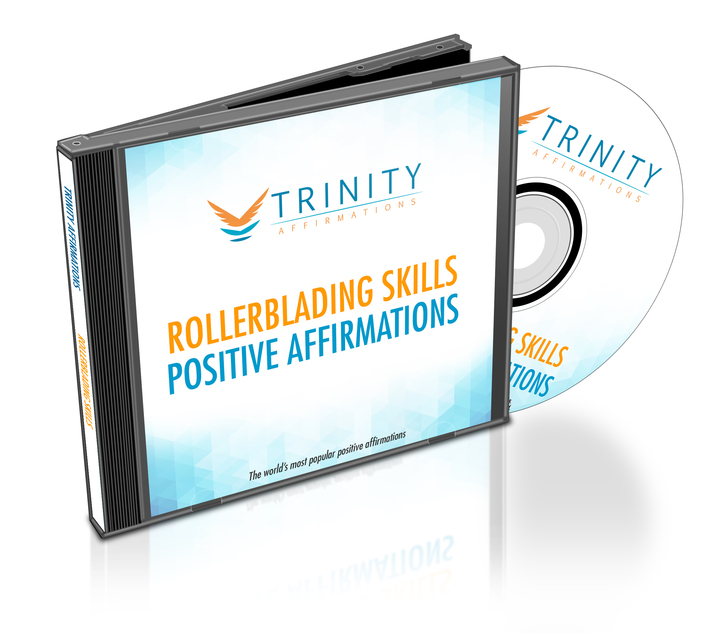 Is your concentration failing you when you need it the most?
Do fears and self-doubts prevent you from skating to your potential?
Are you stuck in a slump and unable to push your performance to another level?
Do you wish you could have the easy confidence, graceful movements and superlative self-control of the superstar rollerbladers you admire?
Rollerblading is one of the most exciting and exhilarating action sports that require athletic prowess and a great sense of coordination and balance. Serious skaters religiously work on building up their physical stamina and perfecting their technical skills like jumps, spins and flips.
However, if you want to take your rollerblading skills to the next level, then you have to be willing to take your training beyond where most skaters go and start working on your mental strength.
Do you watch star skaters who are able to perform a variety of advance tricks and connect them in a fluid line with effortless grace and wish you could replicate their creativity and focus? Or look with admiration as they propel themselves fearlessly up in the air and do smooth grinds with casual ease and wish you could have their nerve and confidence?
This positive affirmations album can help you develop a winning mindset to overcome all mental obstacles to becoming the skater you always dreamed of becoming!
It is specially designed to reprogram your brain to deflect discouraging thoughts that lead you to lose you self-belief and confidence in your abilities and empower you to stay in control of your performance.
Practice affirmations regularly and you will be able to thrive under pressure and maintain unwavering concentration and focus. That way you will get that additional boost you need to break through your self-imposed limitations and reach your true potential.
What to Expect
Listen to this mp3 regularly and you will soon discover that:
You have strong motivation and the powerful resilience of a star rollerblader. Perfecting a trick means repeatedly launching yourself into the air, knowing you are going to fall dozens of times and with each attempt, risk physical pain and emotional heartache. Affirmations will rewire your brain to think of falling on a new jump, not as a failure, but a springboard toward success! You will acquire the resilience you need to smoothly bounce back from mistakes and failed tricks and have the power to silence that whiny voice that keeps telling you to give up. That way you will be able to energize your internal drive and persevere in your pursuit of excellence.
You have iron-clad focus and impenetrable concentration. In order to perform technically demanding rollerblading stunts, you need to be able to ignore different distractions that compete for your attention and be fully immersed in the moment. With the help of our positive affirmations, you will be able to develop a strong mindset to absorb pressure and keep your nerves steady, in order to get you in the zone where your body and mind are in perfect sync. You will be able to lock your focus on the present task before you and have the concentration to repeatedly nail that trick and land smoothly every time.
You have supreme self-confidence and determination to achieve your optimum performance. Sometimes skaters get overwhelmed by watching others perform the tricks with apparent ease and frustrated with failed attempts to copy them. They start telling themselves that they will never be as good or as fast and start questioning their abilities and skills. Affirmations will enable you to avoid getting stuck in a rut of self-pity and doubt and empower you to always be confident and self-assured, no matter the circumstances. Practice them and you will easily push aside those negative, self-deprecating thoughts that hold you down and make your legs shake and clear your mind for positive and encouraging messages that will enable you to glide flawlessly towards your goals and not just reach them, but surpass them!
Download our free app for iPhone/iPad today and listen immediately after your purchase- just search the App Store for Trinity Affirmations.
Are you ready to take action and push your rollerblading skills through the roof? Download this album and get the mindset of a true champion.
Present Tense
I am talented at rollerblading
I find it easy to stay on my feet while rollerblading
I am balanced on my skates
I am naturally skilled at rollerblading
Rollerblading comes easily to me
I am an excellent roller skater
I am committed to improving my rollerblading skills
I always pick myself up after I fall
I effortlessly pick up new tricks
I am devoted to improving my skills in rollerblading
Future Tense
I am becoming more passionate about rollerblading
I will increase my coordination
I will always be encouraged to pick myself up when I fall
I will always practice hard
I will stay focused on my goals for rollerblading
I will always skate with intensity
I will keep my balance on my skates
I am turning into a fast skater
I am becoming more coordinated and focused
I will dedicate my time to improving my rollerblading skills
Natural Tense
Rollerblading comes naturally to me
I find it easy to roller skate and not fall
Being on my roller skates is the most natural thing in the world
Staying balanced on my skates is easy for me
Picking up tricks is simple and natural
Rollerblading is my natural way of life
Rollerblading is a positive thing in my life
I am seen as someone who can roller skate effortlessly
People see me as someone who never gives up
Being a talented roller skater is important to me