Think and Grow Rich Affirmations
Adopt the mindset of the most successful and richest people in the world and start working your way to wealth with the help of this transformational affirmations mp3.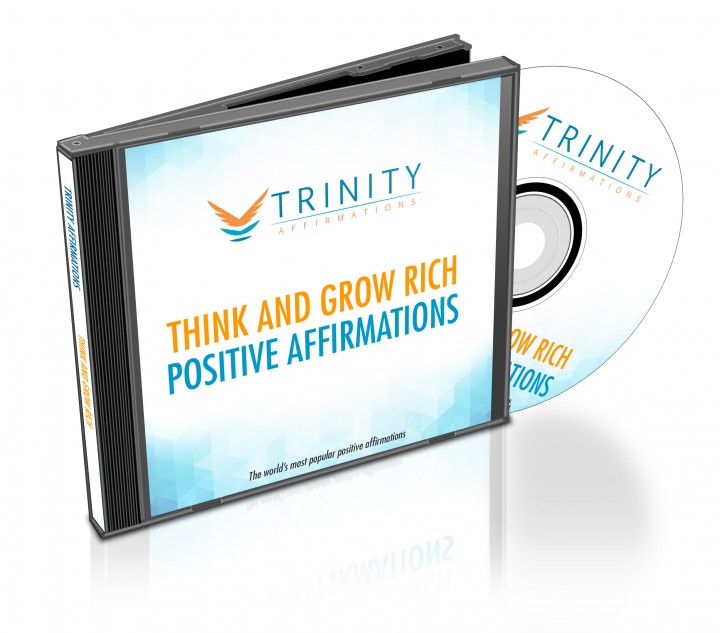 Do you want to become rich and successful?
Do you think about becoming rich and successful but you have never found the time to think it through?
Do you already have some ideas but you haven't started to seriously work on them?
Do you want help with focusing your thoughts on success and laying the groundwork for your path towards it?
This audio album is based on the book Think and Grow Rich by Napoleon Hill. This success classic, based on the interviews with some of the most successful people of that period, contains the key ingredients that made them so different than the average Joes and reveals the mindset of those who were totally dedicated to becoming nothing less than excellent in their fields.
Are you aware of how much your mindset defines you? Your set of beliefs determines not only your outlook and mental attitude, but also your behavior: the goals that you will put your focus on and the drive to work on achieving them, they will come from your mindset and your mindset only.
In other words, you can dream about becoming rich and successful all day long - unless your mind has made it a priority, it's not going to happen.
That's why we have created this album - to help you acquire the right mindset that will practically program you for success. These positive statements will penetrate your mind and gradually reshape your thought patterns, eliminating all negativity and limiting beliefs that are right now keeping you on the level of "wishing to be rich and successful" and instilling within you the mindset of someone who is devoted to becoming rich and successful.
What to Expect
These affirmations are designed to do three main things:
Give you a millionaire mindset. This may come as a wake up call or it can happen more gradually, but you will understand that the concept of trading your time for money and working for someone else isn't the path to wealth. You will get a burning desire to work for yourself and to put all your efforts into creating your own business.
Focus your attention and your thoughts to becoming wealthy. The main difference between those who succeed and those who don't is what they focus on. If your thoughts are scattered over several goals, chances are that you won't achieve any. This album will help you to fully focus on becoming rich and to set a purposeful direction in your life.
Give you a motivational boost to keep pushing towards your goal. As your beliefs about money change and you start viewing it as something you're entitled to, you will get a strong drive to take action to reach your goals faster. You will be open to every opportunity that comes your way and you will be ready to jump on them.
Download our free app for iPhone/iPad today and listen immediately after your purchase- just search the App Store for Trinity Affirmations.
Download this album now - acquire the mindset of wealthy people and let it guide you to your own wealth. Your beliefs create your reality, so change your thoughts to create the reality you want!
Present Tense
I am highly driven and motivated to succeed
I am fully dedicated to growing my wealth
I am on the path to abundance
I have the ability to make large amounts of money
I am already rich
My mind is focused on achieving great wealth
I have unbreakable confidence in myself
I have the will and the desire to reach unlimited heights of success
I will think positively and create a wonderful life for myself
I am fully capable of achieving whatever I set my mind to
Future Tense
I am becoming rich
I am making more and more money
I am starting to effortlessly attract money
My belief in myself is growing stronger and stronger
I will succeed at all costs
I will become rich and successful no matter what
Others are starting to notice how driven and full of purpose I am
I am becoming intensely focused on making money
I am transforming into someone who effortlessly builds wealth
I am developing the attitude of an extremely rich and successful person
Natural Tense
I naturally attract money
Making money is easy for me
I deserve to be rich
Wealth and success are normal for me
Others see me as someone who just naturally attracts money
I enjoy making money
Financial abundance is a normal part of my life
I believe deeply that I am a successful person
I have enormous confidence in myself
Having a positive attitude towards money is an important part of who I am