Commitment Phobia Affirmations
Overcome fear of commitment and finally experience the joys of intimately connecting with your partner on all levels, with the help of this mind enhancing affirmations album.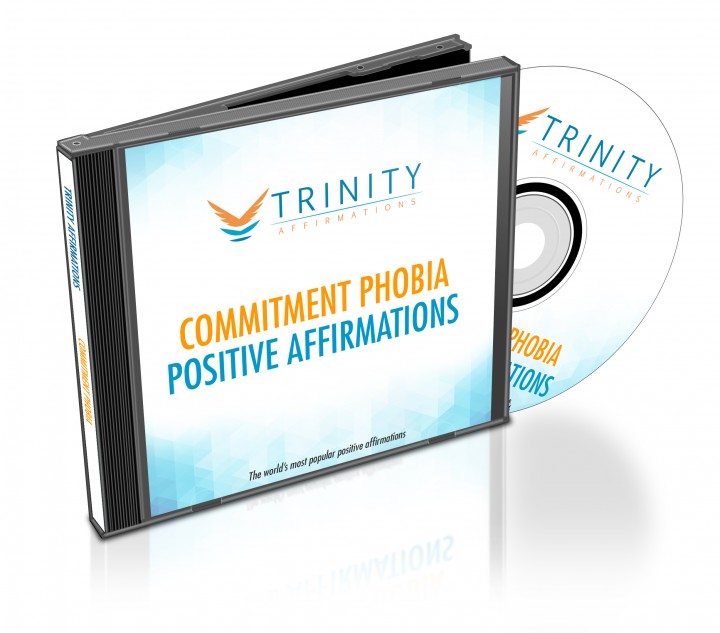 Are you the kind of person who prefers to keep their options open, but it's now standing in the way of a possibly great relationship?
Have you been so badly hurt in the past that you're now sincerely afraid to give in to your feelings and to commit to someone?
Do you find it difficult to trust your partner?
Do you want to overcome commitment phobia and to create a healthy relationship based on mutual trust and respect?
Cold feet and uncertainty are normal, especially when it comes to big decisions that can have an impact on a huge part of your life, but if you're recognizing a pattern that you've been following from one relationship to another, or if you just can't make yourself to commit to your present partner even though you know you love him/her, then it's time to do something about it or you can spend your entire life regretting the chances you've missed.
If your partner is ready to commit and you're not, you're sending a very bad signal. Are you really willing to risk (yet another?) relationship because you don't want to face your fear of commitment?
If your partner isn't giving you a single reason to distrust them, then you need to accept that the problem is within you – and you need to make a commitment to yourself that you will solve it. To yourself first, before you commit to anything or anyone else.
This album will help you to make and keep this commitment. It will support your decision to overcome your phobia of pledging yourself to a relationship and allow you to let go of your fear on a subconscious level.
What to Expect
It won't be as easy as running away, but if you stick to it after a while you will find that:
Your fear of commitment is gradually melting away. Affirmations will help you to uncover its true causes and to let go of the past that hurt you. You will understand that it's OK to put your faith into your partner and into your future together and you will stop being frightened of a serious relationship.
You have broken the "what if" pattern. The unending series of "what ifs" could be the reason why you prefer to stay free and keep your options open, but it's actually a trap that makes you always look for something else and miss what's right in front of you. This album will help you to break free from this pattern and free you up to make the most of the opportunity of a great relationship that's been waiting for you to accept it.
You have overcome your intimacy issues. You will become more relaxed about getting to know your partner and letting them get to know you. You will overcome your insecurity and you'll finally be able to create a healthy and rewarding relationship.
Download our free app for iPhone/iPad today and listen immediately after your purchase- just search the App Store for Trinity Affirmations.
This album will allow you to finally let go of fears and inhibitions holding you back, so download it now and allow yourself to experience the joy of belonging to someone and having someone of your own.
Present Tense
I am completely committed to my partner
I do not dwell on my past relationships
I am no longer frightened of being in a relationship
I believe in my ability to have a successful relationship
I am not afraid to introduce my partner to friends and family
I respect myself and my partner very much
I remain calm when my partner talks about commitment
My relationship makes me feel safe and loved
I am finding it easier to relax more in relationships
The more committed I become, the less stressful my relationship is
Future Tense
I will become more committed to my relationship
When the right person comes along commitment will not be an issue
My commitment to my partner increases every day
I am transforming into a positive and committed individual
The more committed I become, the more my relationship improves
Every day my relationship improves
Others are beginning to notice how committed I am becoming
I am beginning to realise that my fear of commitment is hindering me
I will become more open about my feelings
I will overcome my fear of commitment
Natural Tense
Others see me as an individual committed to my relationship
Commitment is easy
Being committed to my partner comes naturally to me
I do not constantly wish I was single
Since I have been committed my life has improved
My relationship is the most important thing in the world to me
My friends are envious of how committed my partner and I are to one another
Speaking about relationship issues with my partner is normal
I enjoy being in a relationship
I have the power to control whether my relationship works out or not