Karate Training Affirmations
Enhance your ability to master karate and become the best you possibly can with the help of this unique affirmations audio.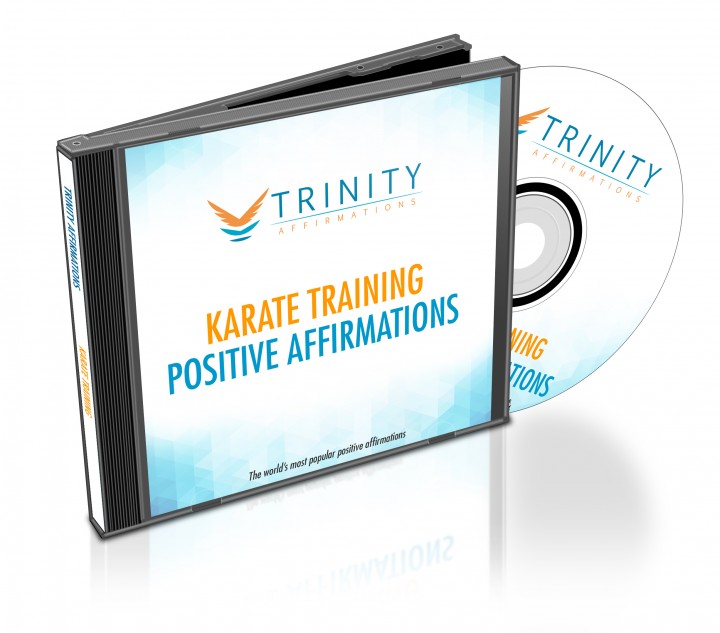 Are you trying to master karate but can't make yourself stay disciplined and practice as much as you should?
Do you sometimes think that you'll never be able to master it?
Have you already achieved some level of mastery, but need additional help to push yourself beyond your limits?
Are you looking for a way to take your skills to the next level?
Karate isn't only about skills and technique. A large part of it involves being mentally prepared for the challenges ahead of you: it takes practice and dedication to master any martial art and karate is no different.
You also have to believe in yourself and in your ability to develop your skills to the maximum – otherwise you can easily find yourself skipping training or not giving your best, because you'll lack the belief that mastering karate is within your reach.
These affirmations are designed to help you acquire the mindset needed for success in karate. It all begins in your mind and this is your chance to make sure that your mind will support you every step of the way.
What to Expect
These affirmations will help you to:
Improve your focus while you're training. You will notice very soon that you're more concentrated on the moves and postures and that you're more precise and focused while practicing. You will no longer be wasting your time during your training sessions – every minute of it will be meaningful and every move will get you a step closer to perfection.
Your motivation will skyrocket and you will become driven to become the best you can possibly be. Your mind will be so focused on turning you into a karate master that you will train harder and more often than before. You will stop making shortcuts and the results you'll see, will in turn motivate you to work even harder.
You will develop a "never quit" mentality. You will become more assertive and confident in your skills. You will stay calm and analytical, able to impartially observe your karate technique and stances even under pressure. You will develop the mindset of a true karate expert, who is completely dedicated to his training and confident that he's got what it takes all the time!
Download our free app for iPhone/iPad today and listen immediately after your purchase- just search the App Store for Trinity Affirmations.
Overcome any barriers to achieving karate greatness – download this album now and see what you're actually capable of!
Present Tense Affirmations
I am skilled at karate
I already have my black belt
I kick and punch with fierce accuracy
I maintain perfect posture
I always win spars and fights
I am more skilled than my opponents
I am confident
My mind is focused and clear
I always train with passion
I am a karate master
Future Tense Affirmations
I will master karate
I will win spars and fights easily
I will earn my black belt
My technique is improving rapidly
My punches are becoming stronger
I will unleash powerful kicks
My speed and accuracy are continually improving
My concentration is developing steadily
I will stay focused during a fight
Others will recognize me as a karate expert
Natural Affirmations
Karate is easy for me
Karate training is fun
Winning comes easily to me
I love karate, it is my passion
Maintaining proper form feels natural to me
I can punch and kick at lightening quick speeds
My motivation to train is sky high
Karate is the most important thing in my life
It is normal for me to win every fight I'm in
Concentration and focus come naturally to me