Make New Friends Affirmations
Use this affirmations mp3 to grow your social circles and open yourself up to meeting new and interesting people you've always wanted to know.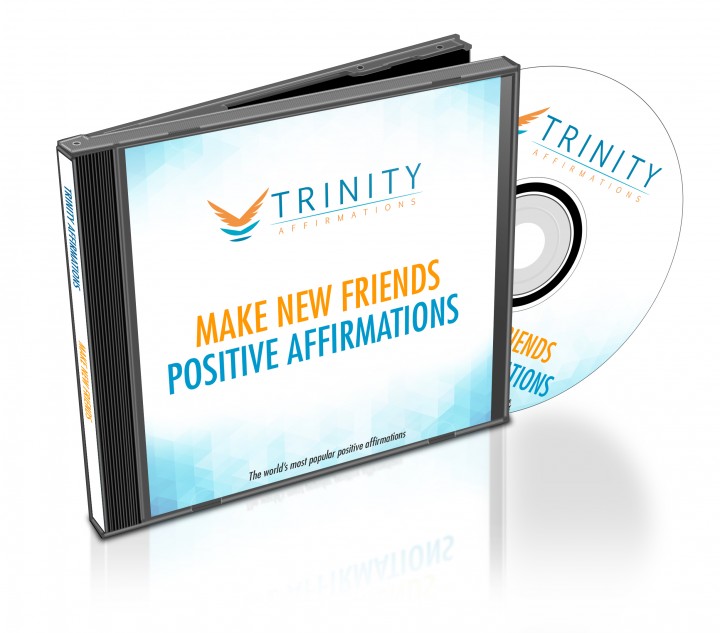 Do you think you have isolated yourself a bit too much and need a kick start to get back into the social game?
Do you feel the need to add more people into your circle?
Do you feel uncomfortable when you start a conversation with a stranger you find interesting?
Do you want to gain the mindset of someone who makes new friends easily and to grow the number of quality people you're spending time with?
Having old friends is a wonderful thing, but being open to making new friends is something we all should strive for. New people in our lives give us new perspective and help us grow, they move us in directions that we perhaps wouldn't even discover without them and can be valuable in all sorts of life areas, from personal to business.
Some people are naturally open to making new friends, while others have some kind of resistance towards it. But no matter whether you're a naturally shy person or you have suffered some kind of trauma that has put you out of the game for a while, these affirmations will help you to get back and to start really connecting with people and making them like you with almost no effort!
What to Expect
Affirmations will help you to create the mindset that will give you that radiant and relaxed personality that others respond to the best – they will act to alter your current thought patterns and to create within you a new set of thoughts and beliefs that will help you to:
Open yourself up to opportunities of meeting new people and connecting with them. Soon after you start using this album you will notice that you enjoy socializing much more than you used to and that you feel no fear of approaching someone you find interesting.
Become more relaxed and outgoing in social situations and attract people to you. You will develop a positive outlook on life and relationships and it will show in your behavior. All tension that you may have felt before will start melting away and you will become the kind of person that others are naturally drawn to, a relaxed, funny and outgoing person that others won't be able to resist.
Be more confident when talking to strangers. You will stop feeling self-conscious and questioning yourself all the time. Affirmations will help you to simply be you and to stop caring what others think of you – your confidence will be coming from within, giving you a solid ground for creating real, healthy relationships based on mutual respect and interest in each other.
This album has a double effect: by helping you to become more confident and outgoing, you will transform the way you feel about yourself and open yourself up more, but it will also affect the way others react to you. This set of character traits that you will acquire is shared among those who attract others to them, something that people just naturally respond to, so making new friends will be a lot easier from now on.
Download our free app for iPhone/iPad today and listen immediately after your purchase- just search the App Store for Trinity Affirmations.
Don't wait any longer – download this album now and let your transformation begin!
Present Tense
I am confident
I can easily hold a conversation
I am friendly and outgoing
I am a good listener
I connect well with others
I can easily talk to someone I don't know
I am always willing to make new friends
I am easy to approach
I project positive body language
I find it easy to be in social situations
Future Tense
I will make more friends
I will talk to more people
I will make an effort to make eye contact
I will take the time to have conversations with people I don't know
I will make more of an effort to put myself in social situations
I will avoid conflict whenever I can
I will find it easy to keep an open mind
I will be judgement free
I will be a better listener
I will respect others points of view
Natural Tense
I enjoy taking the time to talk to new people
Every day I grow more confident
Talking to people I don't know is easy for me
I enjoy meeting new and interesting people
Making new friends has enriched my life
I naturally project inviting body-language
Being someone who can talk to anyone had added value to my life
Listening to others and really understanding what they are saying is something I truly enjoy
Being able to talk to someone without judging them has made me a much happier person
Making new friends is a fun thing to do and it has opened up my world immensely