Enjoy Socializing Affirmations
Use this transformational affirmations album to overcome shyness and stop feeling drained by socializing with others – adopt the mindset that will make you enjoy it without holding back.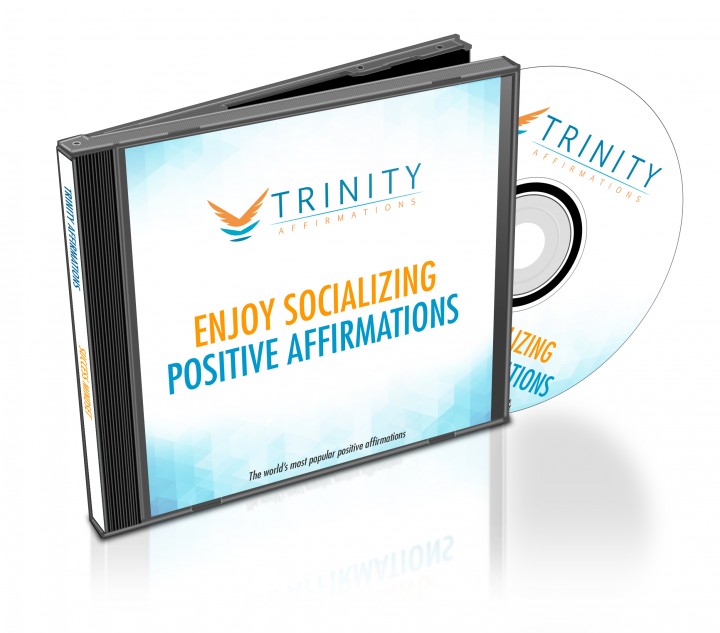 Do people around you think you're too shy?
Do you prefer to keep to yourself or stick to people you know well at parties, instead of meeting someone new?
Does socializing drain your energy or annoy you?
Do you want to change your outlook on socializing and to feel comfortable in social situations?
Meeting new people, being able to effectively communicate with them and to make them like you are precious skills that can make you popular in society in no time and bring you tons of valuable opportunities for connecting with potentially interesting people, on a personal or professional basis. They are actually indispensable in today's world if you want to make it.
You know that, but you're still unable to make yourself relax and enjoy this kind of situation. Others can tell when you're not relaxed: you become tense and behave awkwardly, so they start avoiding you, making the experience even more unpleasant to you.
If you want to get into the arena where you can win friends and influence people, you want to do it with ease, to make it natural, not only to make it look natural and the only way to get there is to adopt the mindset that will make socializing really appealing and enjoyable in your mind.
This album can help you with that. Affirmations work to instill within you a new set of beliefs that, with time, really becomes a natural part of you! They will plant the thought patterns that will make you a more social person directly into your subconscious, making it a part of your personality so that no social interaction ever feels like an effort to you again.
What to Expect
This album works in two ways:
Affirmations will change your beliefs and your attitude towards socializing, so that you will lose all negativity related to connecting and opening yourself up to others. You will instead start noticing that you feel a lot less resistance towards it, that you are focused on finding something positive, fun and inspiring in social interactions and that people aren't draining your energy as much as they used to. With time, you will even learn to energize yourself from social interactions and really accept them as an activity you enjoy.
As your outlook on socializing alters and becomes more positive, your behavior towards others will change and become more natural and relaxed. You will notice that others are attracted by your positive and outgoing attitude, which will further increase your level of self-confidence and give you even more reason to like socializing.
Download our free app for iPhone/iPad today and listen immediately after your purchase- just search the App Store for Trinity Affirmations.
You just need to take the first step, so download this album now and let it help you to build that attitude of someone who likes hanging out with people and who is liked by them and open yourself up to an effortless and enjoyable social life.
Present Tense
I am outgoing
I have naturally good social skills
I am someone who enjoys talking to others
I speak loud and clearly
I am well respected and my opinion matters
I welcome all social situations
I make new friends easily
I have a good sense of identity
I am confident
I am comfortable in my own skin
Future Tense
I am becoming more social
I will become more active in discussions
I am finding myself more comfortable in my own skin
I am turning into someone who embraces social situations
I am becoming more confident
I will be able to stay at social gatherings for more than one hour
I will be excited about new opportunities to socialize
I will lead a better life by being social
People will notice how more social I am
I will seek out new social opportunities
Natural Tense
Socializing comes naturally to me
I find being in social situations easy
Being in the company of others is the most natural thing in the world
Learning to enjoy socializing will change my life for the better
Confidence is something I was born with
Being outgoing is a main part of my life
I bring people together to socialise
People see me as someone who is social
I am the life and soul of all social situations
Loving to socialize has made me a hit with the opposite sex