Dealing with Confrontation Affirmations
Get in touch with your inner strength and overcome fear of confrontation using this powerful affirmations album.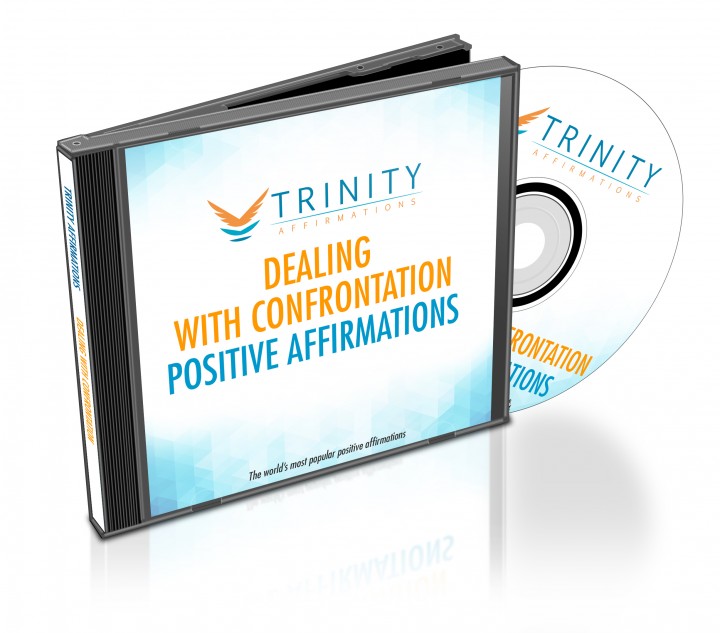 Do you have a situation with your coworker or friend that you know you should handle before it gets worse, but you just can't make yourself confront them?
Do you think that you're not very capable of handling conflicts? Do you avoid them at any cost, even if that means that you will keep suffering?
Do you want to stop putting your needs second to the needs of others and to start dealing with confrontations in a natural and constructive way that will work for both parties?
Conflicts are unpleasant and can sometimes be downright dangerous, but it's not the case with most of your daily situations: you avoid confronting a needy friend, or a coworker who doesn't do what he's supposed to. In most cases confrontation doesn't have to lead to a conflict, but you fear it upfront, expecting it to be at the very least uncomfortable – so you keep allowing the confrontation to build up to be a looming terror.
Some people have no problem saying what needs to be said. They know that's the best and most honest way to make any relationship work, so they don't even think about the possibility of conflict. They simply know it's something that needs to be done and they know it's up to them to do it. Pleasant or unpleasant, it doesn't matter.
To become less stressed out about confronting others and defending yourself or someone else, you need to stop over thinking the situation and blowing it out of proportion and to focus on the result instead.
It's a mindset thing and fortunately it's something you can improve using our affirmations album.
What to Expect
Messages recorded on this album go directly to your mind and with regular use change the thought patterns that define your general attitude towards confrontations, enabling you to:
Become a lot more confident in yourself. The most common fear that prevents people from confronting others is the fear of rejection, which is grounded in not so great self-image. Affirmations will stimulate your self-confidence and improve your self-belief so you will stop fearing the other party will reject you for being honest. You will be able to confidently say or do what needs to be said and done in the most natural and relaxed manner.
Stop putting the confrontation off for later. This album will help you to see the consequences of putting it off more clearly and you will stop telling yourself that the problem will get fixed by itself. You will gain a deep understanding of your own responsibility in resolving the issue and this insight alone will drive you to do something to make your life easier and more comfortable.
Develop better communication skills. You will be able to better formulate what is bothering you and you won't feel the need to put it off. You will stop letting the issue build up and you will significantly reduce the tension that brings about conflict – in other words, you will simply be "cleaning things up" as they come.
Dealing with confrontation doesn't get any easier if you avoid it, but it does get a lot easier with practice and determination!
Download our free app for iPhone/iPad today and listen immediately after your purchase- just search the App Store for Trinity Affirmations.
Download this album now and free yourself from the fear of confrontation – become the kind of person who takes a stand whenever they deem it right to do so and who doesn't let others' behavior influence their life.
Present Tense
I am strong willed
I am a confident individual
I handle myself well in situations involving others
I am well respected and appreciated
I can face anything that is bothering me
I am able to face my problems
I am self sufficient
I do what I need to do to be happy
Nothing frightens me
I am emboldened by my own inner strength
Future Tense
I will be level headed and relaxed
I will confront the problem with confidence
I will trust myself to do the right thing
I will be composed and articulate
I will take charge of the issue
I will learn to face my fears
I am becoming a strong, independent spirit
I will hold myself with a manner of importance
I will stop holding myself back from confronting my fears
I will take control of my life
Natural Tense
I have faith in my confrontation courage
I deal with confrontation all the time
I have no troubles confronting people
Nothing stands in the way of my happiness
I believe in myself
I can handle any problem
I am clever and level headed
I deal with my problems on a daily basis
Confronting my issues is not a big deal
I deal with problems in a composed, intelligent manner