Enjoy Meeting people Affirmations
Develop a mindset that will allow you to actually enjoy meeting new people and socializing with them using this powerful affirmations album.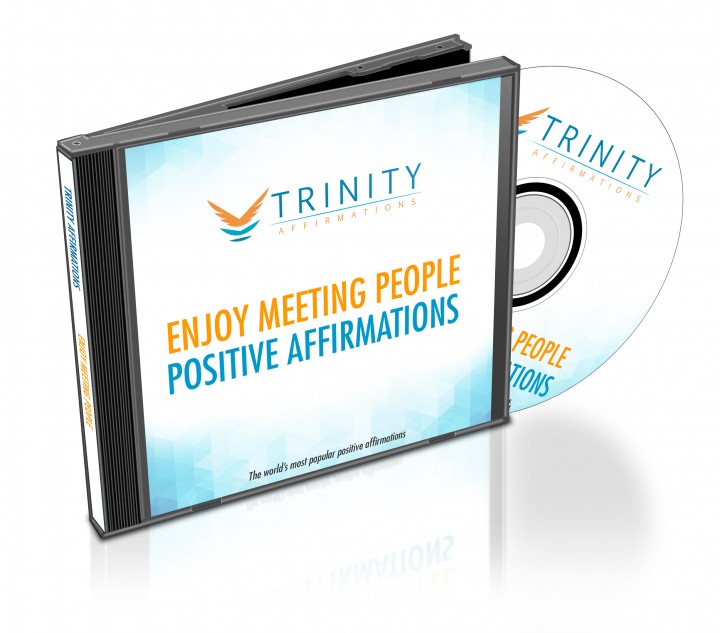 Do you get nervous in social situations, especially when you're around people you don't know?
Do you feel that you should be more outgoing, but you just can't bring yourself to relax and to casually talk to strangers?
Are you too self-conscious about your ability to make others interested in you?
Do you want to stop overthinking social situations, to be able to just let go and enjoy the moment and open yourself up to some great new friendships and business connections?
Life seems to come easily to those who are open to meeting new people and who enjoy socializing: they will find their way in a room full of people they just met and they'll make connections in no time. They will probably get more breaks than you can ever imagine simply because they don't feel the resistance you feel towards opening themselves up and enjoying the moment.
No one wants you to become a social butterfly, but dealing with others and making all sorts of connections is much easier and brings a lot better results if you enjoy it – people can tell when you do it because you have to and you feel tense and unpleasant which makes your behavior awkward.
The best way to actually start enjoying something you don't naturally enjoy is to make it your natural attitude! By simply reprogramming your mind to turn that "switch" and to help you jump over the resistance you're feeling, the attitude that you enjoy meeting new people at parties and other social events can really become your natural outlook on life.
We have created this album with affirmations to help you make that switch more easily.
What to Expect
Affirmations are the most natural way to imprint a new set of beliefs into your subconscious: they enter it and build the new thought patterns the same way the old ones were built, by repetition. With regular use, they will leave a lasting impression and modify your approach to meeting new people by:
Helping you to overcome your inner resistance. You will find it a lot easier to let go and stop holding on to the limiting patterns, those that keep telling you that socializing is terrifying or unpleasant.
Focusing you on the present moment and the person you're talking to. Affirmations will help you to remove your focus from your own feeling of unease and to put it on your collocutor. You will discover that others can be really interesting, that you can learn a lot from them and have fun in the process and that it really can be something to enjoy.
Developing your assertiveness and authority in social situations. You will no longer be shy and keep it to yourself – your level of confidence will increase and you will be able to participate in a conversation as an equal, without worrying about what others may think of you and letting your personality shine.
Making you comfortable when approaching others, able to naturally start conversations. Very soon you will discover that socializing and talking to others comes naturally to you and that you're a lot more relaxed than before.
Download our free app for iPhone/iPad today and listen immediately after your purchase- just search the App Store for Trinity Affirmations.
This album will affect all important areas of socializing and help you to be at ease in all kinds of social situations. Download it now and discover that meeting new people and talking to them, can be really fun and relaxing and make yourself some valuable friendships and business connections along the way!
Present Tense
I love meeting new people
I live in the moment
I am an outgoing person
I am not bothered about what others think about me
I accept who I am
I am confident in my own skin
I easily meet new people
I find it easy to talk to people I don't know
I am comfortable in groups
I am an interesting person
Future Tense
I will be able to easily meet new people
I will not care what others think about me
I will only imagine the best case scenario
I will be relaxed in social situations
My self esteem is increasing each day
I am becoming less socially awkward each day
I will become a great conversationalist
Every single day I am welcoming new people into my life
I will be comfortable in my own skin
Each day I am learning to live more in the present
Natural Tense
People find it easy to approach me
Meeting new people is something I enjoy and I embrace it
Being care free has made me much happier
Being able to meet new people has increased my life in so many ways
My mental movies are those of positive ones
I only focus on the best possible outcome
Every single day I become a more confident person
Living in the present has allowed me to free myself from social anxiety
Talking to people I don't know is easy for me
People always tell me that I'm very comfortable in social situations