Compromise with Others Affirmations
Use this transformational affirmations album to help you develop a mindset that will enable you compromise with others and to find the best deal possible, that works for both parties.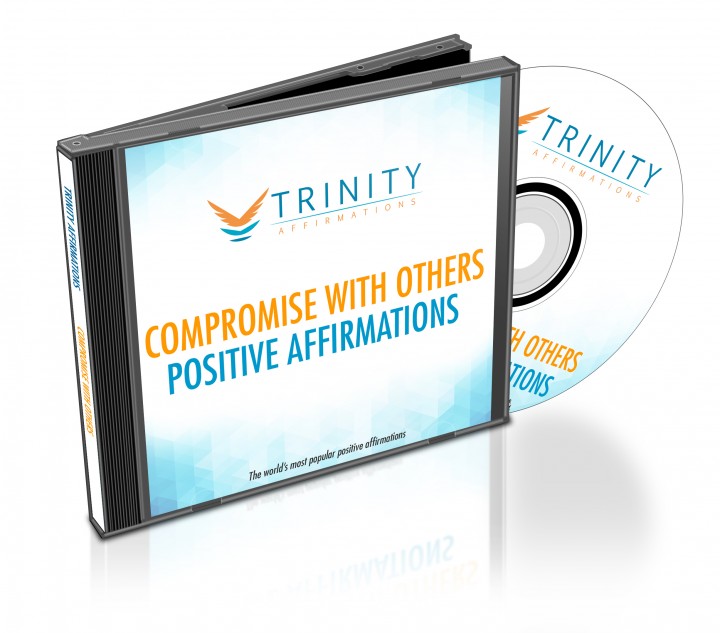 Do you often find yourself arguing with people?
Do you sometimes think that you could have handled the situation better, if you didn't insist that your solution was the only one?
Do you want to have fewer arguments with people, to start paying more attention to the practical side of the issue and to have more things done – all with no conflict at all?
Are you hard-wired to always get your own way? It's not a bad thing by itself, but when you keep insisting on being right and doing things your way it can bring about conflicts with others and make you so stubborn that you ignore a solution which could be more practical than yours.
You're only human, we get that. But being unable to compromise with others can get in the way of personal and not to mention professional relationships and many times, instead of finding the best possible way, you can end up getting nowhere at all.
To give yourself a chance to come out with the best possible deal you need to learn to control your ego and to be able to accept that you might be wrong – which is also natural and that your way doesn't have to be the only way and that sometimes it simply isn't the best way.
What to Expect
These affirmations will help you to change the way you feel about situations like these and to alter your instinctive reaction when something doesn't quite fit your plans. They will help you adopt a more relaxed and more practical mindset that will help you to:
Let go of your ego and allow the possibility that the other side perhaps has a good point. You will become better at listening to the arguments of others and at evaluating them, in light of finding a way that will suit you both. You will notice that you aren't holding on to your way as much as you used to and that you feel no resistance towards taking the other people's viewpoint into consideration.
Improve your decision-making process when in a challenging situation. Affirmations will imprint a new set of thinking patterns within your subconscious that will make you think before you react. You will be better equipped to evaluate both (or more) proposed solutions and to come up with how they can be combined to suit the needs of all parties involved. You will no longer be driven to pursue your idea no matter what – you will be much more practically oriented and able to make the best possible decision.
Communicate your goals and desires more effectively. Sometimes the reason for misunderstanding is simply in the way you communicate what you want and why you think it should be at least taken into consideration. These affirmations will rewire your mind so that you're better focused on why you believe that your way is the best, so that your argumentation will improve and you will have more success in getting the right message across.
Being able to view things from a different perspective will help you in many other areas of life – people will stop viewing you as stubborn and someone difficult to get along with, which will certainly make an impact on all your relationships.
Download our free app for iPhone/iPad today and listen immediately after your purchase- just search the App Store for Trinity Affirmations.
To make this mindset switch download this album now and find out just how quickly your resistance will start to melt away and discover that you can get the best deal possible, without having an argument.
Present Tense
I am able to compromise
I am free from arguing
I am very empathetic
I always make sure that I and the other person in a deal are happy
I am always relaxed
I am able to communicate effectively
I find it easy to see things from others point of view
I can get my point across without arguing
I just naturally make sure that others around me are happy
I always make sure that any dispute is left with all parties feeling happy
Future Tense
I am becoming more empathetic
I will become someone with the ability to compromise
I am finding myself more argument free
I am turning into someone who is free of selfishness
I will make sure that any dispute is settled with all parties happy
I will always stay relaxed
I will improve my communication skills
I am turning into a positive person
I am transforming into an effective communicator
I am becoming more willing to compromise
Natural Tense
Compromising comes naturally to me
I find my ability to see things from others point of view as a useful skill
Being empathetic is the most natural thing in the world
Arguing never happens with me
Being relaxed is something I just naturally am
I find compromising easy
Communication skills is something I have in abundance
People see me as someone who cares about others
People look up to me as an effective communicator
Being able to compromise has made my life much better