Naturally Start Conversations Affirmations
Use this powerful affirmations album to overcome fear of approaching people and learn to start and hold conversations naturally and effortlessly.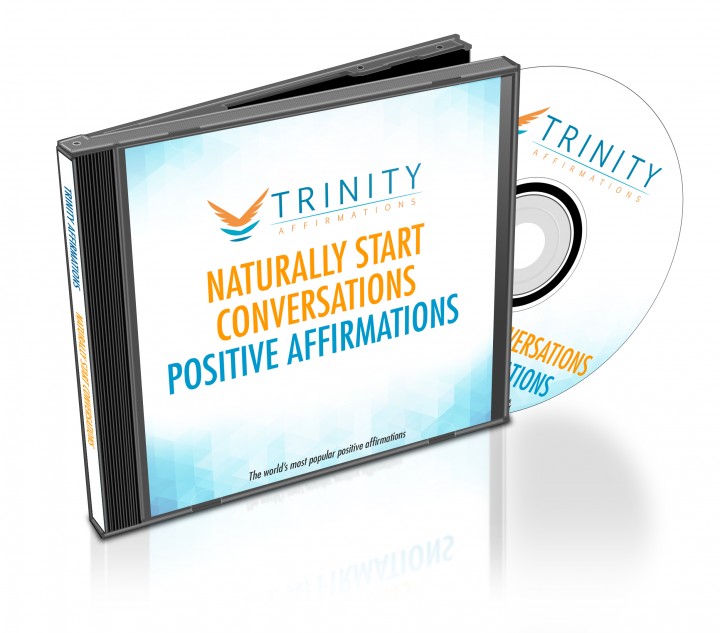 Do you avoid approaching people because you're afraid that you might say something wrong after the first "Hi"?
Do you struggle to come up with a question or topic that will keep others engaged?
Do you want to learn how natural conversation starters do that and to be free to approach whoever you find interesting?
If you think that letting someone else start and lead the conversation is a good way to stay connected, think again. How many times have you missed the opportunity to approach or befriend someone you desperately wanted to become closer with, because you thought they'd handle it better – but they soon lost interest or worse, didn't start conversation with you at all?
If you want to stop this kind of thing from happening, you need to learn to take initiative and as terrifying and impossible as it may sound right now, to become more comfortable with approaching others. Fortunately, this is one of those things that can be done and with relatively little effort.
You see, the problem is your fear and your belief that you're incapable of starting and maintaining a conversation in a natural manner. This belief then makes you expect that you won't be successful at it, so even when you dare to try, it becomes awkward, you get frozen and it seems everything but natural.
To overcome this obstacle you have to train your mind to push beyond these self-imposed boundaries and to stop viewing conversations as something terrifying and something you're not good at. That's the secret of natural conversation starters: they're good at it because they see no reason not to be!
You too can acquire this mindset and that's why we have created this album with affirmations, to help you overcome your inner blockages that make you feel awkward and sabotage your efforts to effectively communicate with others.
What to Expect
This album works in three main ways:
It will eliminate your negative and limiting beliefs about your self-worth, which is the biggest part of what's holding you back. You will stop undervaluing yourself and in conversations you will simply stop caring what others think and focus on what you want to say or find out.
It will help you to develop a genuine interest in others, so you will no longer have to search your brain for an appropriate approach phrase or topic – it will simply come to you as the result of what you "read" on the other party.
It will help you to become more relaxed with people. With regular use of this album you will notice that you are much more able to find your way in a conversation and to let your true personality shine, without holding back or limiting yourself in any way.
Download our free app for iPhone/iPad today and listen immediately after your purchase- just search the App Store for Trinity Affirmations.
Download this album now and develop a natural confidence that will allow you to open yourself up to others and to become someone who has no problem approaching a stranger and starting a conversation.
Present Tense
I can effortlessly come up with conversation topics
I am able to approach others and begin a conversation
I am at ease in social situations
I am able to overcome awkward situations when they arise
I am confident enough to be able to start a conversation
I am good at finding things I have in common with others
I do not care what other people think
I am happy to be myself in a conversation
I can advance my career by starting more conversations
I do not worry about making small talk
Future Tense
I will be able to speak to anybody I like
Every day I become more confident
I will not worry about what others think of me
I will not be intimidated by others
I will be able to effortlessly approach people
I will improve my topics for starting conversations
I will be able to make more friends
Every day I become more relaxed in social situations
Starting conversations will begin to feel more natural
I will be more likely to find a soul mate by starting a conversation
Natural Tense
Starting a conversation is simple
I enjoy speaking to new people
Making more contacts will help me advance my career
Confidence is a key part of my life
Each time I start a conversation I broaden my horizons
Starting conversations comes naturally to me
People admire my communication skills
Making small talk is easy
I am confident in my personality
Other people have high opinions of my communication skills