Motivation to Diet Affirmations
Find the inner motivation to stick to your diet and achieve your weight loss goals without struggle with the help of this powerful affirmations mp3.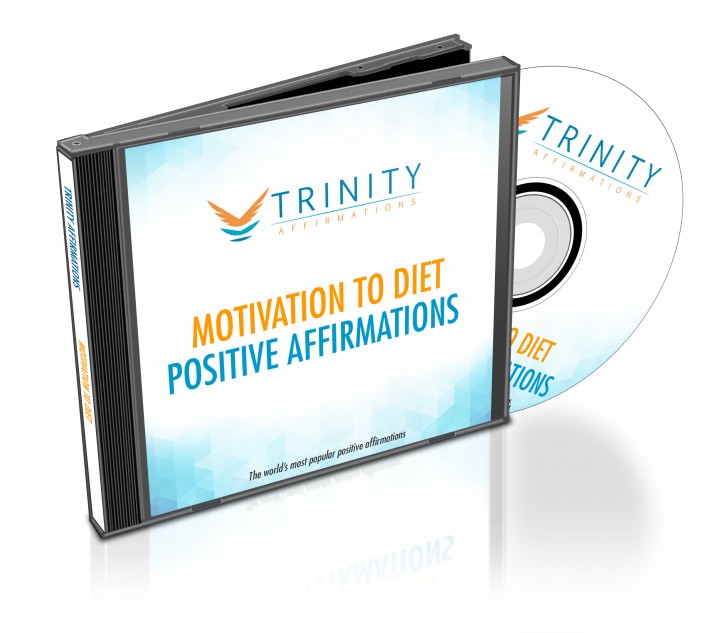 Have you started a diet so many times, but always gave up after a short time?
Do you feel like you will never be able to lose any pounds?
Do you want to move from always beginning to diet to persisting in it and finally having less weight?
Do you know what is the main difference between people who are dieting successfully and those who are constantly on a diet but lacking any results?
It's just one thing: the willingness and motivation to follow the diet without stepping away even for an inch! There are quite a lot of people who are always on a diet, but have no strength to push it to the end. They are not strong enough to resist the temptations – they usually start their diet full of enthusiasm but soon they give in to appeals which put them back from where they started.
If you feel that you're one of those people, you will find out that the reason why you're not persistent enough in sticking to your diet is that you have negative patterns of thinking and long held negative habits that are holding you back. This lack of self-belief and confidence prevents you from putting the extra effort and you succumb to your cravings for the food you gave up.
Now imagine that your thinking patterns are different. Imagine what would happen if you were naturally motivated to stay committed to your diet and make healthy choices that help you lose weight?
Do you think your diet would still be in vain?
Well you can acquire positive beliefs and make your mind align with your desire of changing your eating habits and this album will help you with that!
Affirmations will help you to train your mind so that it doesn't limit but empowers you instead. Your mind will serve you in a positive way and give you the boost you need to firmly stick to your diet. It will make you motivated and pursue your goal of eating healthy food.
And the most important thing is that this album will make this new way of thinking become natural to you.
What to Expect
This album works in three main ways:
It gives you a motivational boost so that you stay on track with your diet and not give up when the first temptation comes your way. All the time, you will have your goal in mind and you will go towards it without allowing anything to get in your way.
It reinforces your belief in yourself and makes your mind strong to maintain the discipline needed to get through your diet. Affirmations will help you to build your self-confidence and belief that you can do it – with this belief, no temptation will be strong enough to distract you from your goal!
It makes you focused on eating healthy - you will be fully aware of the food and drinks you take and you will carefully plan nutritious and healthy food for your diet and stick to it. Your diet won't be a drag anymore – it will become a way for you to show your appreciation for your body, something that you're just naturally driven to do.
Download our free app for iPhone/iPad today and listen immediately after your purchase- just search the App Store for Trinity Affirmations.
Don't struggle with your diet anymore – download this album to make it a part of who you are and reach your ideal weight and perfect health effortlessly!
Present Tense
I always stick to my diet
I am highly motivated to eat healthy foods
I am motivated to stay with my diet plan
I only eat the foods allowed by my diet
I am dedicated to eating healthy foods
I am focused on succeeding with my diet
I always choose to eat healthy food
I have self discipline and can easily resist the temptation of unhealthy food
I believe in my ability to follow my diet right to the end
I am highly motivated to lose weight and get healthy
Future Tense
I will motivate myself and see my diet through to completion
I will stick to my diet no matter what
I will develop a strong willpower
Eating healthy is becoming more normal for me
I am transforming into someone who is naturally motivated to eat healthy
I am finding it easier to resist the temptation of food
I am becoming highly disciplined with my dieting
I am changing into someone who is effortlessly motivated to diet
I will always eat healthy and do what is best for my body
It is becoming easier to eat healthy and follow my diet
Natural Tense
I am naturally motivated to eat healthy
I can easily resist temptations to break my diet
I have a natural drive to achieve success with my diet
I visualize the end result of my diet and this helps to motivate me
I find it easy to stay motivated and stick to my diet
Staying motivated comes naturally to me
I enjoy dieting
I love the feeling of successfully completing a diet
Dieting comes naturally to me
It is important to me that I can control my eating habits