Smile More Affirmations
Use this powerful affirmations mp3 to become the kind of person who is naturally positive and whose magnetic smile brings happiness and elicits trust in others.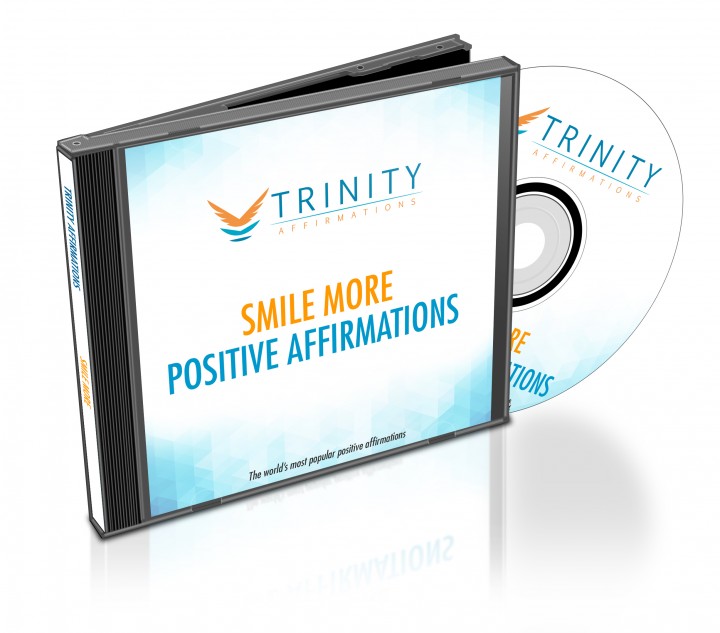 Does your forehead frown most of the day?
Do you find it difficult to smile or laugh even when others do it?
Are you tired of repelling people because of your miserable and somber face?
Would you like to spread positive energy to others with the power of your smile? Or simply smile at the world each and every day?
Everything around us has a great impact on our mood and our mood is generally pictured in the expression on our faces. The world around us, our thoughts and our interaction with others dictate the way we feel. Our feelings are reflected in our facial expressions. But the same way our feelings influence the look on our faces, the reverse process happens too: our facial expressions affect our feelings.
The positive impact of smiling to our health, mood or lifestyle has been proven for years. The benefits of smiling are many – it reduces anxiety and stress, it slows the heart and relaxes the body, it lifts your mood and makes you look younger. When you smile, even if it is not entirely genuine from the start, you release endorphins and improve your mood instantly.
Now imagine becoming one of those people who always brighten the room they enter. Imagine people always noticing you for your smile and you will find it easy to smile at them. It is possible that smile turns out to be your best feature.
You can take charge of your mood if you really decide to and this affirmations album can help you do that - it will help you put on a smile on your face and keep it throughout the day. Affirmations will stimulate your mind to change the way you feel and with time, as these positive thoughts take root within you, smiling and being happy will become your normal expression.
What to Expect
The affirmations on this album will help you to:
Loosen your face muscles and change your "default" expression. Your face is now used to one expression (frowning, still, serious…) and it takes it unconsciously whenever you aren't paying attention. These affirmations will stimulate your mind to reprogram this "default" expression and to make you appear more relaxed and appealing.
Become more positive and increase your general level of happiness. Your focus will change and you will naturally start looking for happy, inspiring things in life. You will simply see more reasons to be happy and to smile, so your smile will simply follow your feelings.
Open up to new people and new experiences. You will instinctively be spreading your positive energy to others and allow yourself to react to their positivity. You will be able to better connect with others so you will be making new friends more easily and create better relationships.
A smile on your face makes you look more relaxed, confident and self-assured. This simple change in expression results in a real change in mood, so you can use this album to lift yourself just as well as you can use it to create a lasting change that will turn you into someone who just naturally smiles.
Download our free app for iPhone/iPad today and listen immediately after your purchase- just search the App Store for Trinity Affirmations.
This album can be your ticket to a happier and more successful life, so download it now and learn what it feels like to be able to change your mood and the way others react to you with a simple, natural and honest smile!
Present Tense
I am always smiling
I smile at everyone I see
I smile at the whole world
I light up a room with my smile
My smile is contagious
I am always positive and smiling
Other people always notice my smile
I have a great smile
I spread positive energy to others with the power of my smile
I am always happy and smiling
Future Tense
I will smile more
I am noticing myself smiling more and more
Smiling at others is becoming easier
I will smile at the world each and every day
Smiling is changing the way I feel
I am turning into someone who is always smiling and feeling good
Smiling more is starting to feel easy and natural
I am beginning to enjoy smiling at other people
I am transforming into someone who is happy and smiling all the time
Every day it feels more natural to smile and be happy
Natural Tense
I enjoy smiling
I find it easy to smile at other people
Smiling and being happy is a normal part of my every day life
I feel good when I smile
When I smile I make others happy
My smile is magnetic!
Life is so much better when I am smiling
My smile is one of my best features
The more I smile the happier I seem to feel
People are attracted to my smile and my positive energy