Bodybuilding Affirmations
Develop a mindset that will enable you to achieve your top bodybuilding shape and max out on your potential with the help of our positive bodybuilding affirmations album.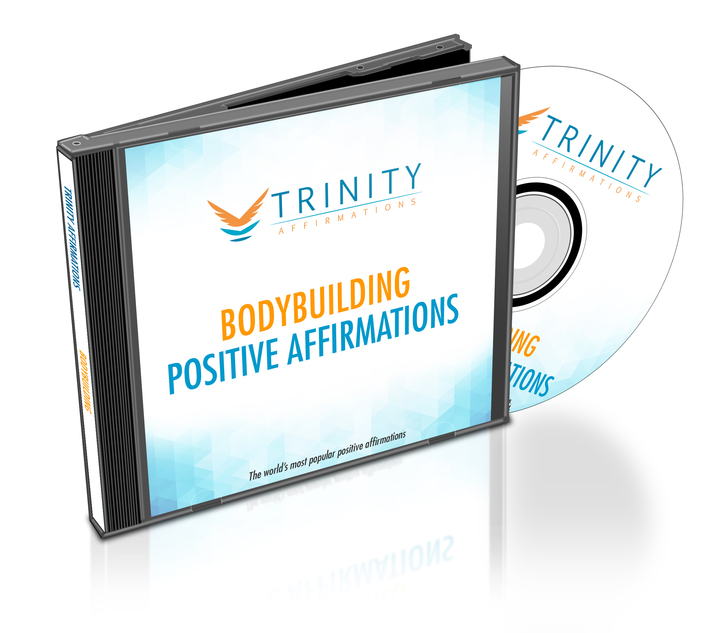 Do you cut your workouts short because you can't complete all the reps?
Would you like to be less hesitant to push through the pain of lifting heavy weights?
Do you compare yourself to others and wonder why their muscles are bigger and stronger than yours?
Do you want a simple but powerful method to help you reach your full bodybuilding potential and make people admire you?
Bodybuilding is a demanding sport. Spending so much money on the appropriate foods and the proper amounts of proteins upsets you. The long hours in the gym make it impossible for you to have a decent social life.
Oh, and every time you need to push through the pain and increase weight, you feel like crying. You tell yourself everything will get better but the real breakthroughs and a fantastic body shape seem to only happen to others.
You like the idea of bodybuilding, you wish you could grow these strong, curved, big muscles and you wish people to see you as the top sportsman.
As a champion.
Well, maybe it's just not meant to be.
But don't quit just yet! The truth is, you wouldn't be on this page unless you're aiming high. Unless you've conquered the self-discipline and hard work.
You should know though, your willpower and the quality of your training sessions are not the problem. Your mind frame is.
Take a nice deep look into your soul and ask yourself: "How big can I really, truly get?" If you picture yourself as this huge, strong and powerful athlete simply carry on with what you're doing and you'll be fine.
But if you can't imagine yourself pass the current state, the fact is, your limiting beliefs are holding you back.
Big time.
Your subconsciousness tells you that you cannot achieve the exquisite, mega-muscle knockout body you want so much. That it is difficult to train heavy and push yourself to the limits every single time you work out and that you cannot take good care of your nutrition.
But here's the thing. If you choose to commit to being a standout bodybuilder and if you're ready to pursue your dream and tap into your personal power, you need a proper method to help you get rid of these self-limiting beliefs.
And our bodybuilding positive affirmations audio is THE tool for the job. Not only listening to this MP3 will help you eliminate what's holding you back, but it will also boost your motivation and build your self-confidence.
What to Expect
Listening to and repeating these affirmations, daily will:
Infuse an extraordinary drive in you to reach your ideal physiques. You will be extremely motivated to do as many reps as it takes and to push through all the pain of heavy-lifting to achieve your bodybuilding goals. At the same time, the workouts won't seem as hard and all the supporting activities will not bother you the way they used to.
Enhance the confidence in your abilities. The key to your success as a true athlete is to believe you can be the champion. You have to envision yourself strong and fit, your muscles perfectly shaped and big. You need to taste the feeling of success before it occurs. With the help of our powerful bodybuilding affirmations album, you will.
Help you get rid of the negative limiting beliefs. Thoughts like: "He/she must be on steroids, I'll never look like that", are not doing you a favor. They are undermining your will-power, your motivation and your confidence. You've got to dump them if you want to grow and if you listen to the bodybuilding affirmations day in day out, no room will be left for those limiting beliefs in your mind.
Download our free app for iPhone/iPad today and listen immediately after your purchase- just search the App Store for Trinity Affirmations.
Download your MP3 bodybuilding affirmations album now and pump up your mind to the max, just like you will your muscles as you listen to it!
Present Tense
I am a successful bodybuilder
My muscles are huge
I am highly motivated to bulk up
I always push through the pain
I have developed an excellent bodybuilding routine
My dedication to bodybuilding is unsurpassed
I am driven to achieve bodybuilding excellence
My physique is strong and healthy
I am consistent in my workout routine
My bodybuilding knowledge is extensive
Future Tense
I will become a successful bodybuilder
People will recognize me as an elite athlete
My muscles are growing bigger and bigger
My muscular appearance will be noticed wherever I go
I am transforming into a championship bodybuilder
People will seek my advice concerning bodybuilding
I will fearlessly compete with seasoned bodybuilders
I will stay dedicated to reaching my bodybuilding goals
My muscular growth will be limitless
I will shed any excess fat
Natural Tense
I have a very muscular body
Bodybuilding is my passion
I know how to increase my fitness level
My strength and endurance are extremely high
I dream of becoming a champion bodybuilder
A strong level of determination is what drives me
I am willing to dedicate as much time as needed to my workouts
People encourage and support me
Being strong and healthy is a natural part of my life
Bodybuilding is a way of life for me