Strength Training Affirmations
Get a mindset of an athlete and strengthen your body to the max with the help of this powerful affirmations album.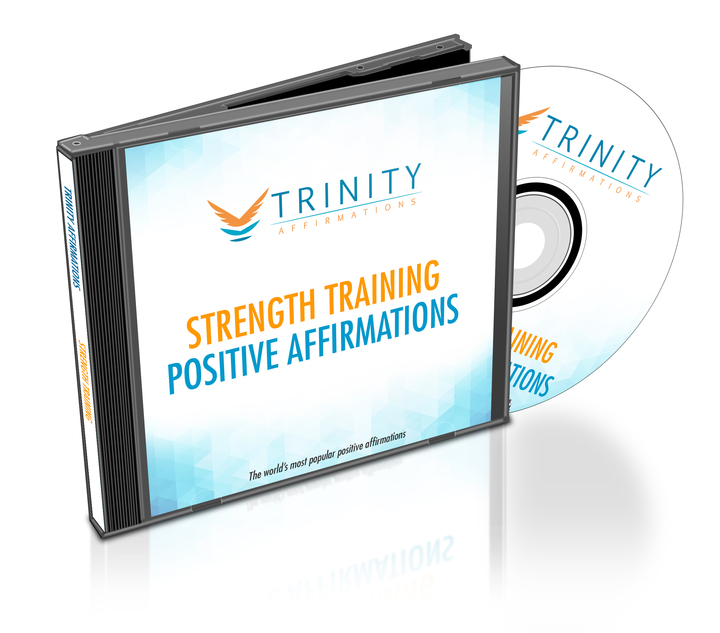 Does the repetitive nature of strength training trouble you?
Do you often feel unmotivated to push yourself harder so your muscles could grow?
Would you like to focus on your progress instead of just going through the motions?
Do you want to overcome all barriers to that exceptional body and the strength you're after?
If you want to be slim and fit, if you want people to admire your toned, firm muscles and overall strength, you need to face the music.
The average half-hearted workouts will not cut it. Yes, that's tough to hear, but if you are serious about getting yourself in the best shape of your life, well, you needed to clear that up.
This goal requires a serious commitment.
You must take good care of your nutrition and make sure your protein intake is sufficient. You need to plan your training sessions and not skip. But most of all, if you want to build up your strength and improve your muscle tone you need to increase the weight you're lifting and the stress you're applying to your body, constantly.
It sure sounds difficult and tiresome. But with the help of this strength training affirmations album, it doesn't have to be.
You see, the whole point of listening to and reciting the affirmations is to align yourself with your goals.
The more you use this powerful method, the more you'll feel as if you've already reached your target. You'll "meet" the new you before you have transformed. But this fit, healthy and strong you, will be happy to throw in another push-up and excited to add a few extra pounds every few days.
As with so many things in life, your mindset plays the key role in how far you'll get.
If you build the attitude that nurtures this intense desire within you to achieve the supreme well-being, guess what?
YOU WILL.
These affirmations are just the tool to feed your subconscious with the positive thoughts which will help you bring about your transformation. Also, they are the finest method there is to get rid of the limiting beliefs which may hold you back.
What to Expect
This album will:
Instill a burning desire within you to create a training programme and stick to it. Listening to the powerful messages on this album will pump up your motivation to achieve all of your fitness and strength goals. You simply won't be able to resist the urge to work out regularly and push harder and you'll reap the fruits of your efforts in no time.
You will stay focused on your fitness and strength goals. The powerful strength training album will help you enjoy intense exercise. Also, their stressful and unpleasant aspects, will not bother you as much. As a result, you will perform each exercise better and more precisely and reach your milestones faster than you could have ever imagined.
You will be 100% positive that you can be as strong, fit and healthy as you wish. You will never look at the photo of a gorgeously sculpted man or a woman thinking: "Lucky him/her, I wish I had a body like that." Because listening to these strength training affirmations will enable you not only to picture yourself having a wicked body, but to be absolutely sure that you WILL feel and appear just the way you want to.
Download our free app for iPhone/iPad today and listen immediately after your purchase- just search the App Store for Trinity Affirmations.
Don't waste another second being average. Download this audio today and maximize your well-being fitness and strength.
Present Tense
I am strong and healthy
My muscles are powerful
My body is athletic and muscular
My mind is focused on improving my strength
I am eating the right foods to help me build muscle
My metabolism is increasing as I build muscle tone
I am toning up as fat is replaced by muscle
My body is built for strength training
I am dedicated to increasing my strength and fitness
I strength train every day
Future Tense
I am getting stronger every day
My muscle tone is improving
I am noticing a steady increase in my strength
I am becoming leaner and fitter
I will remain committed to my strength training routine
Daily activities are becoming easier as my overall strength develops
Every day I am able to lift more and more weight
My muscle tone will continue to improve
I will eat healthy and avoid junk food
Others will be amazed at my physical strength
Natural Tense
I am naturally strong and healthy
I have an intense desire to become stronger
Lifting weights is an enjoyable activity for me
I have excellent muscle tone
Strength training will improve my overall health and well-being
My upper body is very well developed
I enjoy eating high protein foods
Strength training is a way of life for me
Consistently working out is easy for me
I love my strong and athletic body