Improve Physical Flexibility Affirmations
Boost your flexibility and amaze with your elasticity with this powerful yet simple custom-tailored audio.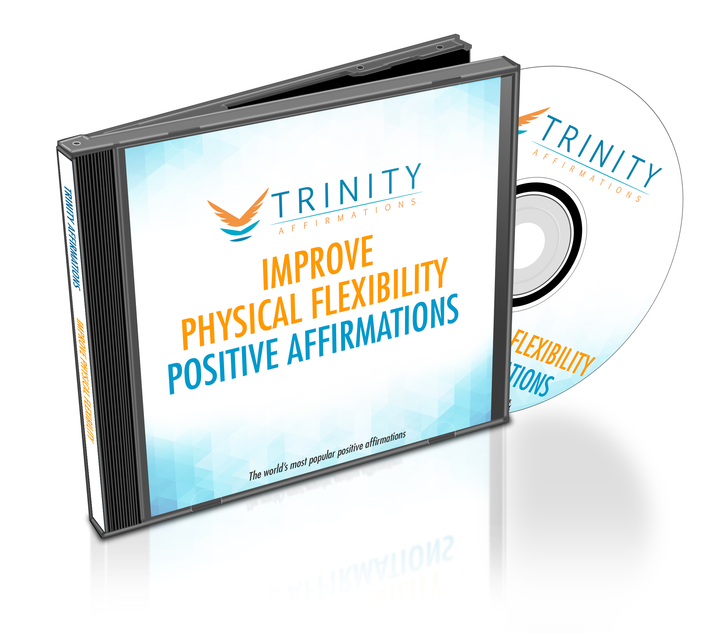 Do you have a fit and lean body, but lack elegance and style?
Is flexibility important for your daily life, but you can't expand your joints' range of motion whatever you do?
Would you like a method to supercharge your efforts to increase physical flexibility?
You may be the type who sets high goals for their physical fitness. An athlete, a jock, a fitness freak devoted to the physical activities you enjoy the most. But despite your efforts to reach perfection, something is off.
The range of motions of your joints is not as wide as you'd like and this meddles with your desire to reach your peak performance. You want to be really bendy.
Then again, you may have just recently embarked on fitness training, only to discover you are way too stiff.
Either way, the solution is simple.
Point your mind in the right direction so it can tell your body what to do, how often to do it and what it's capable of.
In other words, you need to train your mindset first.
The thing is, our brains are wired to infuse us with certain amounts of motivation, focus and self - confidence. Normally, we accept their levels without question, as long as things go our way. But, when we want better results, or to better ourselves and the way we approach our challenges, we need to reset our mind frame to match our new set of goals.
Here, you want to reprogram your mind to lead the way towards the supreme physical flexibility you're after.
How do you do that?
Physical flexibility affirmations are an excellent way to shift your mindset.
When you listen to them every day, they will boost your motivation to become more springy, improve your focus and enhance your self–confidence so you can hit your targets.
The best part is, you can listen to them while you do your chores around the house, work on your computer or even while you sleep. Since the audio messages interfere with your subconsciousness, your conscious mind is free to do whatever it wants.
What to Expect
Listening to this album will help you:
Commit to improving your physical flexibility and increasing motion range. The affirmations will drive you to intensify your stretches and never forget, nor rush through that part of your training sessions. You will be driven to hold stretches longer and longer. You will enjoy them. And the negative thoughts you may have about how inflexible and tight you are and how difficult it'll be to improve will vanish into thin air.
Imagine yourself bendy. Visualization is a big deal for self–confidence. With this positive audio you will picture yourself fit, strong AND in poses, you don't believe are possible at the moment. But, when you see yourself pulling them off in your mind, performing them in reality too will only be a matter of time.
Focus on bettering your resilience. Whether you've only started working out and getting yourself fit or you're an experienced jock, chances are you have more than one goal for your wellbeing. Listening to physical flexibility affirmations will keep you focused on your aspirations to be bendier. They will subtly remind you to stretch more often and push harder every time you work out.
Download our free app for iPhone/iPad today and listen immediately after your purchase- just search the App Store for Trinity Affirmations.
Download your MP3 physical flexibility affirmations today, improve your elasticity and get your body in the champ-like shape.
Present Tense
I am flexible
I can do many complex stretches
I am focused on improving my flexibility
I have strong levels of concentration
I am able to hold a stretch for a long period of time
My muscles are fashioned for stretching
I am boosting my levels of flexibility every day
Stretching is part of my daily routine
I am confident with my flexibility
I have strong muscles for flexibility
Future Tense
I am becoming very flexible
My stretching routines are paying off
I will enjoy stretching
I will take my time with every stretch
I will keep high goals for myself
I am developing healthier muscles with every stretch
My flexibility will improve
I will concentrate on stretching
I am getting stronger
I will refine my elasticity
Natural Tense
I am naturally flexible
Stretching is easy for me
I hold high standards for myself when stretching
I have a fundamental stretching technique
My muscle tone is steady
I have a durable mindset
Becoming more flexible is a major goal in my life
I have naturally strong muscles
Stretching is a part of my life
Holding a stretch for a long period of time is simple for me