Fitness Training Affirmations
Use this powerful fitness training affirmations album to help you get in shape, feel strong and look just like you've always wanted to.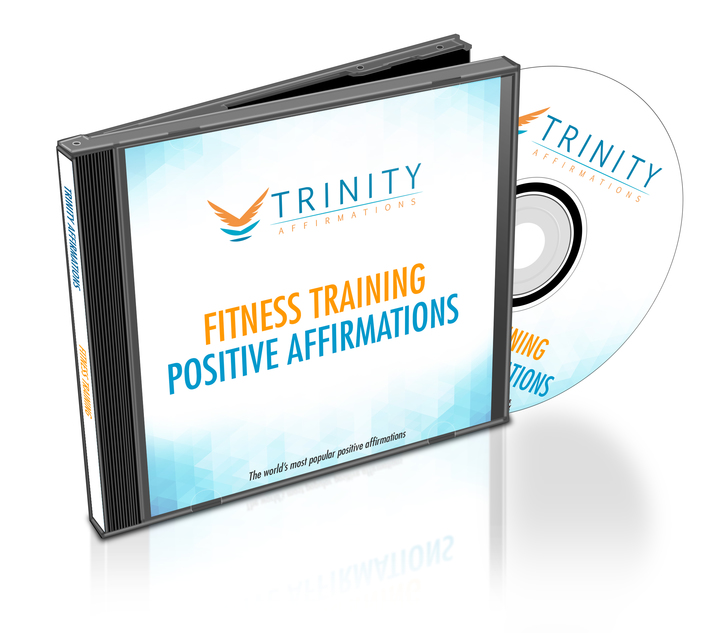 Have you ever looked at your unattractive or even enormous body in the mirror and thought: "This is NOT who I am", but then felt you don't have enough energy to make the change?
How many times have you started working out and eating a balanced diet, but gave up way before you could reap the rewards?
Do you want to live a healthy lifestyle, be fit, strong and look gorgeous?
Do you want to build up a mindset that will empower you to become the healthiest, fittest and strongest version of yourself?
So, you don't like who you see in the mirror. This person is overweight and their flab is spilling over their jeans. When you walk up the stairs you get out of breath and when you so much as think about push-ups or running, your muscles ache.
Maybe you were always like that and maybe something happened and you let yourself go. Either way, you realize it can only go downhill from there, if you don't step up and do something about it.
And you will. You just need a little push.
This is where fitness training affirmations fit in.
They are a simple tool you can use day in day out to remind you of who you truly are. To motivate you to stretch your limits, increase your energy levels and achieve a high level of fitness.
So others can see the real you too.
With help of these powerful positive affirmations, you will not only pump up your muscles but your mind too.
Just imagine starting your day with a smile because you're looking forward to pushing your muscles a little further, instead of waking up all grim-faced because you "have to" work out.
Your willpower cannot do this on its own. You need to believe to be this healthy, fit and strong person to become one. You need to ditch the mindset patterns which make you feel working out and living a healthy lifestyle is difficult and tiresome.
These negative patterns are at the core of your training and lifestyle-related problems.
This album will feed your mind with positive attitudes towards fitness training. Saying them will make your much-desired mirror reflection seem so close and within your reach.
The fact is, it will be.
What to Expect
Listening to this album will:
Help you rewire your mind so that working out to be fit and strong feels "normal" instead of being hard work. You will start looking forward to your workout sessions. Your motivation to give your best at every training session will increase and you will experience a boost in your energy levels.
Increase your motivation to stick to a healthy lifestyle. You will no longer see a balanced diet and fitness training as something you MUST do to be healthy. These affirmations will eliminate your negative beliefs about healthy eating and exercise and replace them with positive ones. As a result, you will feel driven to work out and make healthy food choices because you ENJOY it.
Improve your self-confidence. Fitness training affirmations will help you imagine yourself as if you have already reached your fitness goals. You will feel how wonderful it is to be in great shape and look attractive, even before it happens! The more you feel you're in great shape the more confidence you'll have to actually get there.
Download our free app for iPhone/iPad today and listen immediately after your purchase- just search the App Store for Trinity Affirmations.
Download your MP3 fitness training affirmations today, boost your motivation and determination to work out, live a healthy lifestyle and show the world what you're made of!
Present Tense
I am extremely fit
I always train with intensity
I live a healthy lifestyle
I am dedicated to improving my fitness
I am focused on achieving a high level of fitness
I have a strong desire to be healthy and strong
My fitness routine is interesting and varied
My workout is something I look forward to
I am full of energy
My stamina is high
Future Tense
I am becoming more physically fit
I will continue to reach my fitness goals
My body will grow stronger
Other people will look to me for fitness inspiration
I will increase my endurance
My appearance will improve along with my fitness level
I will become quicker and have faster reflexes
Finding time for exercise is becoming easier and more natural
I will eat healthier and continue to exercise
I will be the strongest and healthiest I can possibly be
Natural Tense
I love fitness training
Working out improves my mood
Being physically fit is the foundation for a happy and healthy life
Working towards my fitness goals is a priority in my life
Others see me as someone who is extremely fit and healthy
I push myself to the max
The adrenalin rush of a hard workout exhilarates me
Being dedicated to a regular fitness routine is easy for me
I can easily pump myself up and get in the right frame of mind
Living an active lifestyle is just what I do