Muscle Growth Affirmations
Turn on extraordinary muscle growth by gaining the right mindset support, with help of this powerful affirmations MP3.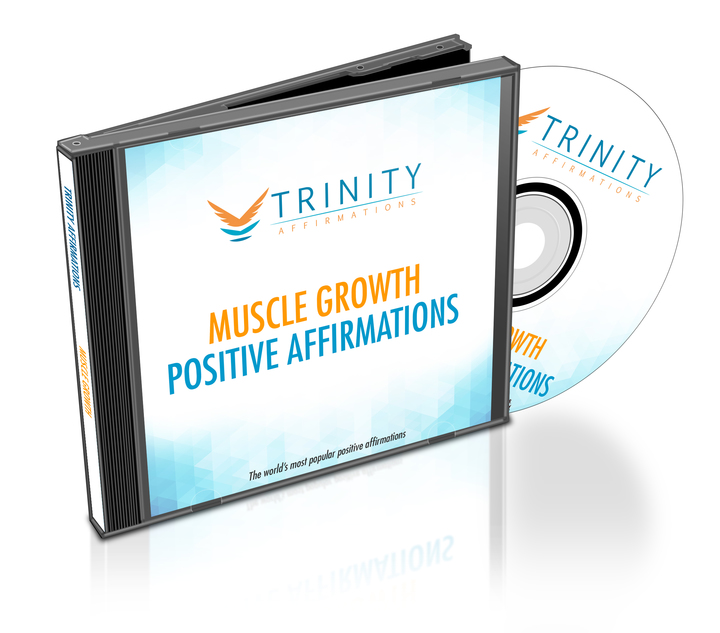 Don't you hate when people address you as "the skinny one"?
Are you sick of working out for months to gain only a teensy bit of muscle mass?
Are you tired of reading all the blog posts about muscle growth, applying all the tips, but still not getting the results you want?
Would you like a way to sync your mind with your body so you can shape up and grow your muscles fast?
"Mind is everything. Muscles – pieces of rubber. All that I am, I am because of my mind" —Paavo Nurmi (1897 - 1973), Finish distance runner and Olympic legend.
Just admit it.
You have been reading hundreds of bodybuilding blog posts and watched numerous tutorials on YouTube on how to grow your muscles.
Some of them helped, but you haven't made it yet. Although you are regular at the gym and are making an effort, girls (or boys) are still not turning their heads to admire your striking physique.
And you're blue about it.
If you're struggling to grow your muscles, you may have limiting beliefs instilled in your mind.
You see, your mind is the one who tells your body what it can and cannot do. So, maybe deep down you can't picture yourself as a true athlete; lean and strong with your muscles big and toned up just right to fit your aesthetic.
Another reason you're not building up your muscles may be the lack of motivation and confidence.
The good news is that our muscle growth affirmations audio will help you get rid of negative thoughts and underlying limiting beliefs.
Plus, listening to the album regularly will increase your motivation , focus and confidence.
You'll get all you need to reach your strength and muscle growth goals and here's how:
What to Expect
These affirmations will help you:
Shrug off all your limiting beliefs. We are ALL capable of being healthy, strong and fit. In fact, there are no limits to what we can achieve. Listening to and repeating muscle growth affirmations will help you realize this applies to you too! You can be strong and your muscles can grow and tone up as much as you want them to. All you have to do is believe and that exact mind-shift is why we designed this simple but powerful tool.
Fortify your willpower and motivation to train hard. You are trying to gain muscle mass, but are you doing everything you can? Big, curved muscles require you to push through the pain, build endurance and devote a huge chunk of your time to both the nutrition and training. Listen to this album. It's entirely dedicated to muscle growth and it will help you focus on your goals. If you include the affirmations into your daily routine, you'll stop craving for junk foods. You won't worry so much about missing out on fun with your friends and you'll be 100% committed to your muscle growth aspirations.
Build your self-confidence. If you can't imagine yourself strong and fit with big muscles and lean body, who can? Learn to create vivid images of yourself feeling and looking precisely the way you want to. The more you listen to our audio, the clearer you'll "see" yourself as if you have already reached the body shape you desire. The sharper the image, the faster you'll reach achieve your preferred muscle mass.
Download our free app for iPhone/iPad today and listen immediately after your purchase- just search the App Store for Trinity Affirmations.
You've already deserved a stunning body. Download this album now and build up your mindset to support fast and effective muscle growth. And claim it!
Present Tense
My muscles are growing
My muscles are well defined
I am developing big arms
I always work my muscles with intensity
I use proper weightlifting technique
My muscles receive excellent nutrition and blood flow
Both my upper and lower body are extremely strong
People admire my muscular physique
I always take time to rest my muscles after a tough workout
My muscles are strong and healthy
Future Tense
I will build huge muscles
I will develop a healthy and strong physique
I will achieve remarkable muscle growth
My body will send lots of nutrition and blood to my muscles
I have started noticing that my muscle mass is increasing
I will take the time to rest my muscles and help them grow
A muscular physique will give me confidence
I will become extremely attractive and muscular
My strength is continuing to increase
I will work hard so I can show off my muscles confidently
Natural Tense
My muscles are naturally big
I am naturally strong and muscular
Others admire my large and well-defined muscles
I enjoy pushing my muscles to the max
Muscle growth is a top priority in my life
I have a deep yearning to develop more muscle mass
Developing good muscle tone is easy for me to do
Consistency is one of my strongest virtues
I like eating foods that help build strong muscles
My lifestyle enhances my ability to become fit and toned