Motivation to Exercise Affirmations
Acquire the mindset of a truly athletic person and become someone who is always motivated to exercise and achieve the shape of the body you have always dreamed of.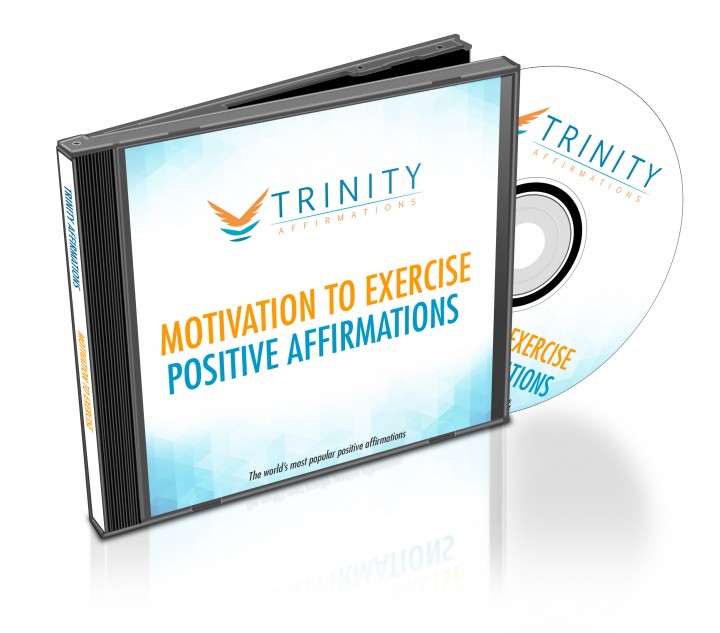 Do you keep promising yourself that you'll definitely start exercising tomorrow, but that tomorrow never comes?
Do you always remember that you have to do something important the moment you are about to start doing exercises?
Do you start exercising, but after a week or maybe even less, realize that you are bored and that you lack motivation?
Do you want to become naturally motivated to exercise, to stop viewing it as a chore and to start actually enjoying it?
Some people naturally have the discipline to do some physical activity every day – go for a walk, train in the gym, ride a bike or do exercises every morning.
Than there are others, those who keep promising themselves that they will start doing exercises and they start doing them and then, after just a week or less they give up. There are always other things they have to do first, or they don't have enough time for doing exercise, or they are just tired right at that moment and need to lie down first. There's always an excuse.
If you recognize that you have these same "symptoms" when it comes to exercising then this affirmations album is just for you. The reason is simple – before you start training your body, you first need to train your mind to overcome self-sabotage and to make you stay motivated to exercise.
These affirmations will help you do precisely that – they will change all the negative self-talk about fitness and exercise and transform you into someone who is always ready to train. Your thought patterns will be rewritten and you will be able to finish your training no matter how tired you are.
What to Expect
Your subconscious mind will help you become naturally motivated to exercise, enjoy working out and getting in shape. Regular use of this album will help you in two main ways:
You will overcome the habitual thought patterns that are holding you back and become highly motivated and always looking forward to exercising. The moment you don't feel like practicing, or feel too tired you will remember all the benefits you have from doing it – being fit, health improvement, rising up of energy levels and you will keep on and push yourself not to give up on achieving your goal. You will stay motivated through your entire workout routine and stay focused on sticking to your workout plan. You won't procrastinate or make excuses and put exercising off or miss a workout, but feel naturally driven to get in shape and be the healthiest you can be.
You won't look at exercising as a great effort you have to make, or an activity you find very difficult, but start feeling great about it and energized every time you finish the training. Exercising will become a natural part of your life and you will consider it important and enjoyable activity. You will see only positive effects of your exercising and consider them an inevitable part of your new, healthy lifestyle routine.
Download our free app for iPhone/iPad today and listen immediately after your purchase- just search the App Store for Trinity Affirmations.
Download this album and become someone who is always motivated to exercise - help yourself always stick to your exercise plan and finish all the exercises you planned and get that body shape you've always wanted!
Present Tense
I am motivated to exercise
I always stick to my exercise plan
I always finish all my exercises
I am naturally driven to get in shape and be the healthiest I can be
I exercise every day and I love it
I am always motivated to exercise
I stay motivated throughout my entire workout routine
I am in great shape because I never miss a workout
I always look forward to exercising
I am totally focused on getting myself in shape
Future Tense
I will motivate myself to exercise
I am becoming more and more motivated to exercise
I am changing into someone who is always motivated to exercise
I will exercise even when I don't feel like it
I will exercise every day and achieve the body of my dreams
I am finding it easier to motivate myself to exercise
I will always finish my workout no matter how tired I am
Others are beginning to notice how dedicated I am to getting in shape
I am transforming into someone who exercises regularly and is in great shape
I am starting to go to the gym every day
Natural Tense
I am naturally motivated to exercise
The motivation to exercise comes naturally to me
I love exercising
I am totally focused on sticking to my workout routine and getting in shape
My motivation to exercise is helping me to achieve optimum health
I find it easy to get pumped up about going to the gym every day
I am naturally driven to get in shape
I am the kind of person who just loves pushing myself during my workout
It feels great when I exercise regularly and take care of myself
Keeping myself in top shape is extremely important to me