Healthy Eating Habits Affirmations
Develop the mindset of a person who enjoys eating healthy foods and improve your eating habits with the help of this powerful affirmations album.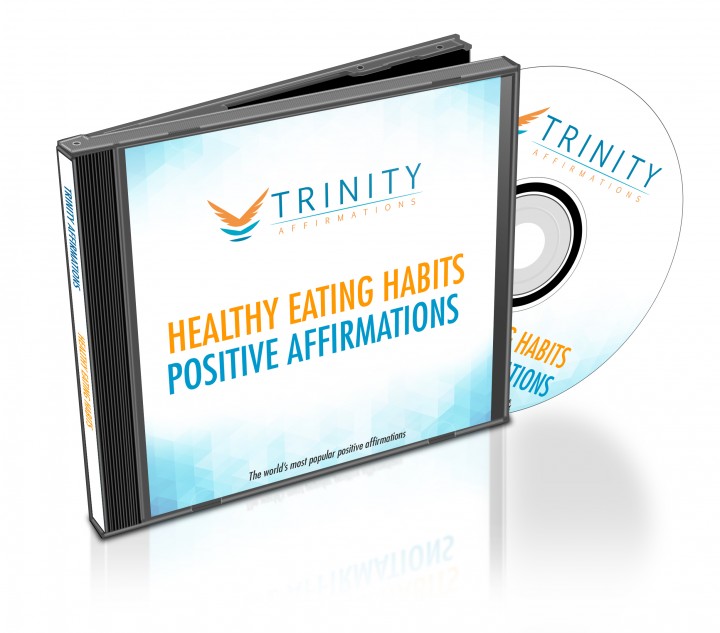 Are you kind of a person that always chews something like crisps or sweets?
Are you getting frustrated because you're always in a hurry and don't have time to sit and eat properly?
Do you keep trying to base your menu primarily on veggies but a meal without meat seems so bland and insipid?
Do you want to naturally stop looking at healthy foods as a chore, but to start enjoying them instead?
We all know very well how fruit, vegetables and cereals are salubrious, that they improve our health and that is the reason we should eat them every day, but somehow we don't do that.
Although we have heard so many times that eating them reduces the risk of heart disease, cancer or diabetes, some of us don't like eating them from times of our childhood, others just don't find them convenient to eat. Some people think that they already eat enough of them, taking the proverb "An apple a day keeps the doctor away" literally.
If you recognize yourself in any of the above and if you're ready to really change your eating habits, then this is the album for you.
The only difference between you and those who eat fruit, vegetables and cereals in desired amounts regularly is in the way your minds work: these people have developed healthy eating habits and if they could do it, so can you!
This album will help you develop the same mindset that will make healthy foods not only your regular eating routine, but something that you are just naturally driven to do!
It will help you to align your subconscious mind with your desire to eat healthy and be healthy. By continuously listening to these affirmations your mind will adopt a new way of viewing food and change your negative attitude towards fruit, vegetables and cereals. You will change your bad eating habits with minimal effort – you will not stuff yourself at each meal and you will avoid compulsive eating behaviours in favor of regular meal times.
What to Expect
This album will:
Put you in control of your diet. Affirmations will stimulate your mind to pay more attention to eat more moderately-sized meals and at regular intervals throughout the day. You will stop chewing something all day long and your meals won't be as big as possible, but just enough to satisfy your daily needs.
Help you to improve the quality of your diet. You will naturally start looking to make your meals balanced and you will be driven to choose nutritious food like fruit or cereals over junk. The taste of healthy food will become something that you enjoy and you will be focused on providing proper nutrition to your body.
Eliminate negative thinking patterns that make you postpone the change in your regime. You will notice that you're no longer making excuses and that you're becoming a lot more disciplined in your eating plan. There will simply be less and less obstacles coming from your mind – you will become totally focused on eating healthy so even the bad habits that persist will be much easier to ignore until you completely lose them too.
Download our free app for iPhone/iPad today and listen immediately after your purchase- just search the App Store for Trinity Affirmations.
Download this album to become a person who eats healthy and gets healthier and slimmer with each passing day relying on nothing else but your own willpower and your newly formed healthy mindset!
Present Tense
I only eat healthy food
I eat at regular intervals throughout the day
I easily choose healthy snacks over junk
I eat lots of fruits and vegetables
I always eat a balanced meal
I am a disciplined eater
I always make sure to eat breakfast
I eat healthy to energize my mind and my body
I am dedicated to eating healthy foods every day
I am focused on providing proper nutrition to my body
Future Tense
I will only eat healthy food
I am becoming a healthy eater
Others are beginning to notice that I always eat healthy
I am getting healthier thanks to my healthy eating habits
I will continue to improve the quality of my diet
I will always eat vegetables at every meal
Eating healthy is becoming easier
I am starting to eat more moderately sized meals
I am starting to enjoy the taste of fruits and vegetables
I will always choose nutritious food over junk
Natural Tense
I enjoy fruits and vegetables
I fuel my body with only the best foods
I find it easy to eat a healthy diet
I am a natural healthy eater
I love vegetables
Others see me as someone who is health conscious and in control of their diet
I make sure to eat meals at the same time every day
I enjoy eating healthy food
I always start my day off by eating something healthy
Nutrition is very important to my quality of life