Stop Daydreaming Affirmations
Use this powerful affirmations mp3 to stop excessive daydreaming and use that time to actively pursue the goals you're dreaming about.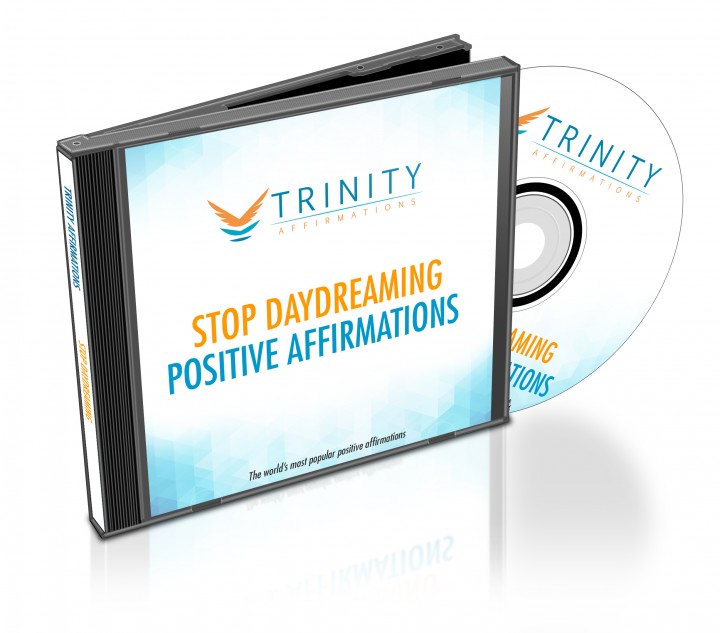 Do your thoughts often wander when you listen to somebody or when you do things you are not very fond of?
Do you fantasize about some better world where you will live happily ever after?
Do you sometimes find yourself cut off from the real world by imagining new life for yourself?
Do you want to stop losing yourself in a fantasy and to focus your efforts on practical things that will help you to create this world of your dreams?
Daydreaming has both its positive and negative sides. It is indeed very refreshing when we can escape from our problems or stressful situations on a far away, sandy beach and spend some time lying in the shadow under a beautiful palm tree. Or you can be in the same situations and have the same problems, but live in a different world where your options are better and where you can control things and turn them in your favor.
However, if you indulge your fantasies too much you waste a lot of useful time and end up with your tasks unfinished. Too much daydreaming then ruins your chances for a successful reality. More extreme example of bad sides of daydreaming is the fact that they can lead to accidents – people can be "deep dived" in their thoughts, hence unaware of things that happen around them and so even cause tragedies.
These affirmations will help you control the amount of time you daydream and do it just enough in order to boost your productivity.
As daydreaming has its positive sides too, this album will help you take maximum from them. It will make you cut daydreaming down and get it under control – you will allow yourself to daydream when you need to make you feel better overall which will help you be more productive and more motivated to complete a job, but you will not let yourself be distracted and you will naturally control your wandering mind.
What to Expect
These affirmations will:
Help you stop excessive daydreaming and letting fantasies overcrowd your life. You will learn to control it and determine certain time during the day for it, but just in order to achieve your goals. Visualizing through daydreaming, but for a controlled amount of time will help you strive toward desired destination and stay motivated to reach it.
Stop procrastinating and become more productive. If you use your daydreaming times and efforts efficiently you will reach your goals faster. As life is all about seizing the moment you will be able to take those opportunities when they come along.
Make you stay focused and pay full attention to what you have to do. These important skills can be trained as any other skills and this album will help you practice them. You will be able to concentrate on your tasks or assignments and finish them in proper time, and you will be able to accept the real life without drifting away.
Make the best of daydreaming – download this album and learn how to use it to figure out your true strengths and to take control of your life!
Present Tense
I focus on reality
I listen to my conscientious thought
I take action in my life
I accept new opportunities
I allow myself to think creatively
I monitor how much I daydream
I am a logical thinker
I get things done on time
I am a hard worker
I concentrate on real life
Future Tense
I will stop excessive daydreaming
I will stop letting fantasies overcrowd my life
I will get my head out of the clouds
I will pay attention to true friends
I will be successful in my personal endeavors
I will stop procrastinating
I will be productive in life
My life will be worth something
I will be set on achieving my personal goals
I will make something of myself
Natural Tense
I accomplish anything I set my mind to
Being distracted isn't a problem for me
I naturally control my wandering mind
I keep my traveling thoughts at bay
I simply know when to return to real life
I am naturally awake and alert
I have a strong sense of reality
Others see me as a well-organized individual
I always know when my dreams have gone too far
I naturally pull myself back to real life