Stop Night Terrors Affirmations
Use this unique affirmations album to stop night terrors and to sleep peacefully again.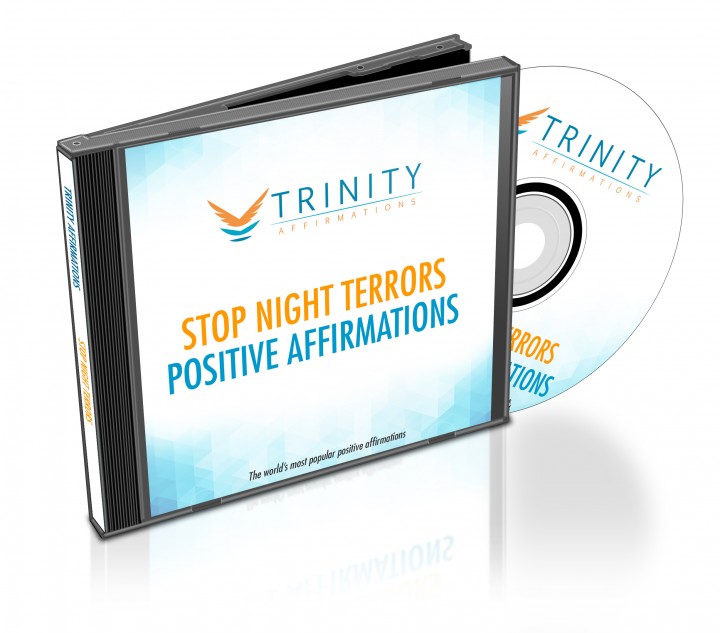 Do you often jump from deep sleep, terrified and unable to hear anyone around you and don't remember what happened the next morning?
Do you go to sleep frightened by the objects in your room?
Do you wake up screaming, kicking, panicking, mumbling – and don't remember a thing afterwards?
Do you sometimes talk in your sleep or sleepwalk?
Do you want to stop dreading what will happen when you go to sleep, to retake control over your mind and to stop night terrors?
Night terrors are a special kind of sleep disorder – you wake up terrified, not responding to the efforts of those around you to awaken you, but in most cases you don't remember what happened when you wake up in the morning, although the episodes usually last from 10-30 minutes and your eyes are wide open.
People who see these episodes can't believe that you don't remember anything, because to them you seem quite awake. But this isn't the only problem with night terrors: in some cases, people who suffer from them can do something dangerous because they also tend to sleepwalk and the fears that wake you up you during the night, can start to appear during daytime.
If you want to get rid of your night terrors and to make sure that your sleep is peaceful and that your mind will get the rest it needs, it's time to try this album with affirmations designed to help you with it.
Night terrors, much like nightmares, are caused by negative thoughts and emotional tension that causes your mind to create terrifying images which seem real and which can sometimes become so vivid and strong that you can "see" them even when you're fully awake. Affirmations will counteract the effects of these negative thoughts and help you to release tension and get rid of your night terrors, by sending positive statements directly to your subconscious.
What to Expect
This album will help you by:
Filling your mind with positive thoughts to re-wire the negative ones that add to building up of your terrors. When your thoughts are positive and when you're not expecting to have a night terror when you go to bed, the main cause of what's bothering you will simply disappear and you will be able to release your fears in a peaceful way, without even noticing them.
Relaxing and calming your mind and body to release tension that built up. You will be able to deeply relax and to get an undisturbed, good nights sleep, each night.
No more panic attacks, no more fears, no more wondering what happened!
Download our free app for iPhone/iPad today and listen immediately after your purchase- just search the App Store for Trinity Affirmations.
This album will help you to put an end to all of this, so download it now and finally afford yourself a good, solid, peaceful sleep!
Present Tense
I am at peace
My body is relaxed
I am full of positive thoughts
I am free from stress and anxiety
I am letting go of negative memories
My mind and body are calm
I always have pleasant dreams
I am a peaceful sleeper
My dreams are beautiful
I am always well rested after sleeping
Future Tense
I will sleep peacefully
I will overcome night terrors
I am starting to feel more peaceful while falling asleep
I will think positively as I drift off to sleep
Relaxing my mind is becoming easier
Each day I find it easier to let go of stress and worry
I am finding myself more rested and relaxed each morning
I am starting to enjoy sleeping
My dreams are becoming more and more positive
I will focus on happy thoughts as I fall asleep each night
Natural Tense
I can sleep peacefully
My bed is a place of rest and safety
My mind is naturally calm and relaxed
Positive thinking is stronger than night terrors
My dreams are always pleasant
I enjoy sleeping
Waking up feeling rested and relaxed is a normal part of my life
I can overcome night terrors
I always look forward to sleeping and dreaming
My mind is naturally focused on positive thoughts and memories