Attract a Holiday Affirmations
Use this affirmations mp3 to focus and enhance your thoughts about your dream holiday and manifest it into your reality!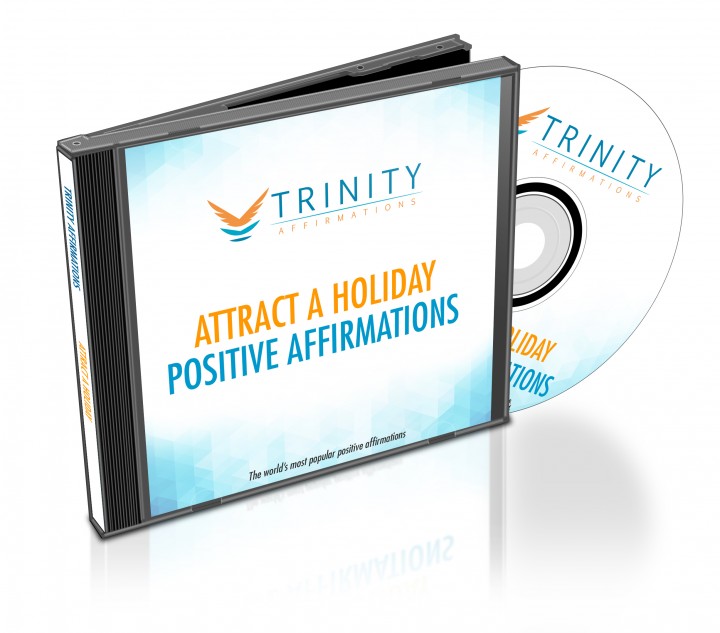 Are you longing to take a long vacation?
Do you dream about having a luxury cruise, taking a trip to some of the most exciting places on the planet or just resting on a tropical beach?
Do you want to realize this dream and to attract your dream holiday into reality?
Your dream holiday doesn't have to be a dream anymore - you can use the power of your mind to actually create the opportunity to go on exactly the kind of holiday that you've been longing for!
This album was created according to the principles of the Law of Attraction which simply requires you to positively focus your thoughts on your dream holiday and to use the powerful energy which you'll create this way to manifest this kind of holiday into reality. Practically, if you can shape your thoughts, you can shape anything in your life!
This affirmations album will help you with re-shaping your thoughts and the way you feel about the possibility of taking this vacation. The statements on it are simple, yes, but they are designed to create a new pattern of thinking within your mind and to re-wire any negativity you may be holding towards this idea.
What to Expect
Affirmations will help you to:
Completely focus your thoughts on your ideal holiday. Your mind will be filled with the images and positive feelings related to the holiday you've been dreaming about. You will notice that you're able to better visualize it, making the first, vital step towards building a successful manifestation.
Get rid of any negativity regarding taking this holiday. Your mind will be free from any limitations (taking the time off, whether you can afford it or not, or any other obstacle you could be feeling). It will be completely focused on the feelings of joy, relaxation and ease and you'll be better equipped to jump on the opportunity to take a holiday when it presents itself.
Acquire a deep, unshakeable belief that you're actually going on this holiday! This belief is crucial - it will be possible simply because you will believe it's possible, and affirmations will help you to nurture and strengthen this belief day after day.
Download our free app for iPhone/iPad today and listen immediately after your purchase- just search the App Store for Trinity Affirmations.
Your dream holiday is only a thought away - download this album and make sure that you will manifest it into existence!
Present Tense
I am attracting a holiday
I am certain that I can attract a holiday
Attracting a holiday is something I know I can do
I am visualizing what it will be like to take a relaxing vacation
My mind is totally focused on attracting a holiday
I am meant to go on a beautiful trip
I am using the law of attraction to manifest a holiday
I believe deeply that I will go on a great holiday
I am using positive thinking to make my dream holiday a reality
A wonderful vacation is being attracted into my life
Future Tense
I will attract a holiday
Each day I am closer to manifesting a dream vacation
I will attract a wonderful vacation
A relaxing vacation is just around the corner
I am getting closer to going on a great trip
My mind is becoming more focused on manifesting a holiday
I am finding it easier to visualize myself taking an amazing vacation
I will find a way to go on a great vacation, no matter what
I will just naturally attract a holiday
I am turning into someone who is completely focused on taking a dream vacation
Natural Tense
I fully believe in my ability to attract a holiday
Attracting a holiday is easy for me
I can naturally attract a holiday
I deserve to take a relaxing and refreshing holiday
My mind is totally capable of attracting a great vacation
I can effortlessly visualize myself taking a holiday
I am naturally attracting a holiday
I believe that I will attract a vacation
It is my destiny to go on the vacation of a life time
The law of attraction is manifesting my dream vacation