Attraction Accelerator Affirmations
Use this powerful affirmations album to skyrocket your manifesting success by strengthening the most important link in the process - your subconscious beliefs!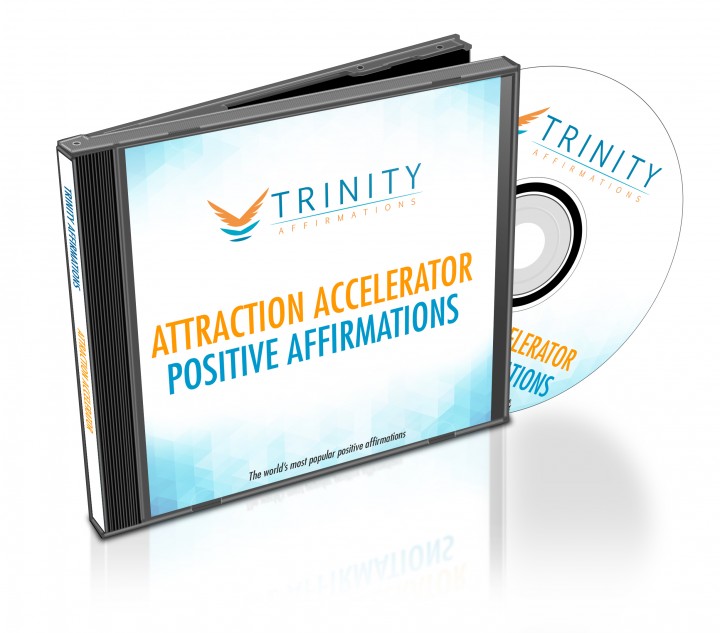 Are you struggling with manifesting?
Do you have a feeling that the Law of Attraction might work for everyone else, but that you're somehow excluded?
Do you want to make sure that your manifesting efforts are effective and to finally start creating the reality of your choice?
You're not the only one struggling with the Law of Attraction - countless people have been using it, following the principles, focusing their thoughts, thinking positively and visualizing their dream reality… with no success or no significant results to brag about.
What's been keeping them from successfully manifesting their desires is probably the same thing holding you back: lack of belief, deep, intimate, powerful belief in the Law of Attraction and in your ability to control the experiences that will appear in your reality.
While you may consciously think and believe that all of that is real and possible for you, your subconscious mind most likely has doubts. Can you honestly say that you have no doubts regarding the possibility to manifest $1 million, or anything else that hasn't been confirmed by your previous life experience?
And it's precisely this previous experience that shapes your subconscious patterns of belief: if it hasn't happened before, it's not probable that it could happen now because it's too huge.
In order to bypass the limitations imposed by your subconscious, guided by your previous experience, you have to make it believe that although something like that never happened before, it's still very possible and achievable - and not only that, but also that you are able to manifest whatever you want.
This album with affirmations is designed to accelerate your manifesting by helping you to reinforce your belief in the Law of Attraction and to wipe out any remaining patterns of scepticism and negativity. By constantly strengthening your belief, they will eventually re-wire your subconscious patterns so that you accept it as something natural, something obvious and normal so that your manifesting also becomes normal, something that you just naturally do!
What to Expect
This album will help you in two main ways:
It will help you to release all negativity and to jump over self-imposed limitations. The main reason you're subconsciously holding on to limitations is that you are conditioned to believe that there's a "ceiling" to what's possible for you. This album will help you to see beyond that and to realize that there really is no limit to what you can manifest and achieve in life.
It will make manifesting a child's play. Just think about what your life would be like now if you weren't taught that you can achieve only so much! When you conquer your limitations and overcome your doubts, manifesting will be as easy and as natural as breathing and this album will help you to get to this state much, much faster!
Download our free app for iPhone/iPad today and listen immediately after your purchase- just search the App Store for Trinity Affirmations.
Download this life-changing album now to develop an unbreakable subconscious belief in the Law of Attraction and unlock your true potential for limitless manifesting!
Present Tense
I believe in the law of attraction
The law of attraction works
I have a deep certainty in my ability to use the law of attraction
My subconscious is totally aligned with my conscious mind
I attract that which I think about and believe
I am strengthening my belief in the law of attraction
I know the law of attraction is real
My subconscious mind is completely focused on positive belief
I am using the law of attraction to create my reality
My belief in the law of attraction is unwavering
Future Tense
I will believe completely in the law of attraction
My subconscious beliefs are coming into alignment with my conscious desires
I will become someone who just knows the law of attraction is real
I am beginning to trust that the law of attraction will work for me
I am reprogramming my mind for complete belief in the law of attraction
The law of attraction is starting to work for me
I am starting to feel the true power of the law of attraction
I will transform into someone who just naturally believes in the law of attraction
My belief in the law of attraction is growing stronger
I am developing an unshakeable conviction in my ability to manifest whatever I think about
Natural Tense
I have a natural belief in the law of attraction
I find it easy to tap into the power of the law of attraction
There exists a natural harmony between my subconscious and conscious minds
I know I can use the law of attraction, I just have to believe and let it happen
Believing deeply in the law of attraction is just a normal part of who I am
I find it easy to think positively even in the deepest most hidden part of my mind
I just naturally believe in the law of attraction
By focusing on the positive I will reprogram my subconscious for belief
I just naturally know that whatever I think about will be manifested in my life
By reprogramming my subconscious beliefs I will unlock my true potential