Attract Health Affirmations
Focus your thoughts and energy on having and maintaining perfect health, all the time – achieve optimal health and wellbeing with the help from our powerful affirmations mp3.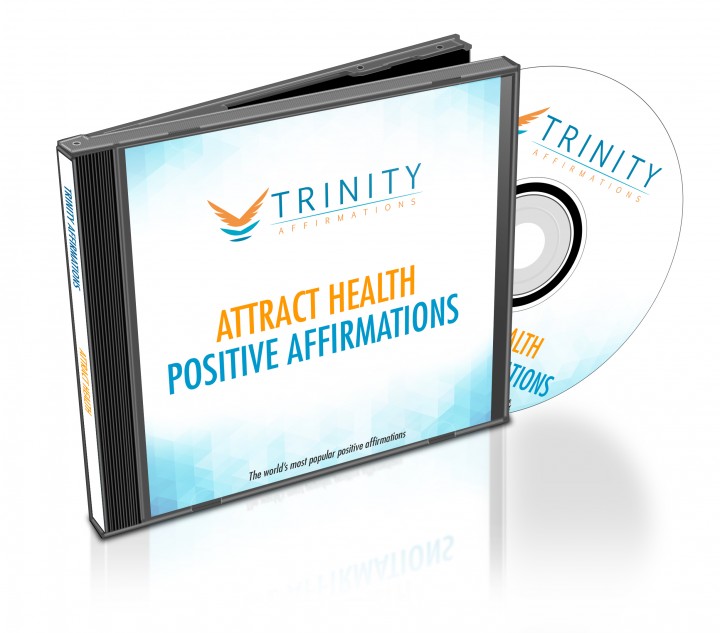 Are you having trouble getting over a lingering illness?
Do you want to make sure that your immune system is at the optimum?
Do you want to use the principles of the Law of Attraction to attract health and vitality?
Imagine what it would be like to have the energy to do whatever you want, confident that your body is fully functional and healthy and that you can rely on it!
The Law of Attraction, whether you want to consciously harness its power or not, makes you manifest into your reality that which you focus on the most. That means that you can choose to direct the energy of your thoughts into your wellbeing and manifesting optimum health and to make it your reality!
If you need help with this, use our affirmations album that was designed precisely for this purpose: affirmations work to enhance your body's natural ability to reach and maintain the optimum level of vitality.
By overriding negative thoughts that keep you from focusing on your wellbeing (inner resistance towards sticking to your diet or exercise plan, destructive habits that put your body in danger…) and by creating and supporting a positive attitude towards your health, these affirmations will instill within you the so-called "health mindset" which will become your point of attraction.
With this mindset you will only be manifesting health and vitality for yourself – there will simply be no other option.
What to Expect
This album was designed to help you with:
Aligning your subconscious with your conscious desire to be perfectly healthy. Your subconscious holds the keys to the optimum health: it may be attached to some destructive habits, or it can just lack a belief in your power to heal your body and to keep it healthy. Our affirmations will help you to override and eliminate these negative beliefs and to create new, positive thought patterns which will be fully supportive of your desire to maintain optimum health.
Being positive about your health situation. Being depressed and devastated only makes things worse and puts a negative spotlight on your vision of your current and future health situation. When you start being optimistic about it, you will allow the healing processes in your body to work without obstruction and affirmations will help you to adopt this positive outlook on your health on a core level.
Easily visualizing your healing and reaching perfect health. Visualization is an important part of manifesting and when you're able to visualize yourself being healthy and full of energy, you will give more power to the healing energy of your thoughts. Your visualizations will be more vivid and able to awaken strong positive emotions, acting as a powerful positive point of attraction for your health and wellbeing.
Making you more focused on improving your health and motivated to work on it. Our affirmations will also make you action oriented. You will simply be driven to eat healthier, to exercise more and you'll be doing all the actions that will contribute to your better health with ease and enjoyment.
You will start feeling the first effects of this album after the first few sessions. You will be energized and positive about your health and the changes within your mind will gradually build, until your entire being becomes a health attraction magnet!
Download our free app for iPhone/iPad today and listen immediately after your purchase- just search the App Store for Trinity Affirmations.
Download this album now and take the first step to your perfect health – change your thoughts to change your actions and your energy and start manifesting health and vitality from the core of your being!
Present Tense
I am naturally healthy
I am attracting health into my life
I have a strong body
My mind is healthy
I always take my health seriously
I always recover from illness quickly
I eat healthy and exercise regularly
My mind is completely focused on achieving optimal health
I manifest abundant wellbeing with the power of positive thinking
I am grateful for my perfect health
Future Tense
I am attracting health into my life with the law of attraction
I am becoming healthier
I will become healthy in mind and body
I will always take my health seriously
I am finding new ways to take care of myself and live a balanced life
Each day it is easier to do what I know is best for my body
I am starting to eat a healthier diet
Health, vitality and happiness are steadily increasing with every day
I will always remember that thinking positively is the foundation for a healthy life
I am beginning to listen to my body and take the action necessary to heal it
Natural Tense
I am naturally healthy and strong
I believe in my ability to attract health in to my life
I always just naturally do what is best for my body
I am highly focused on living a healthy lifestyle
I always seem to recover from illness very quickly
Others see me as someone who is just always happy, healthy and vibrant
I find it easy to eat right and take care of myself
I enjoy exercising
I can easily sense when my body needs rest and relaxation
Thinking positively about my health comes easily to me