Fear of Public Speaking Affirmations
Overcome fear of public speaking and develop a natural confidence in front of large groups of people with the help of this powerful affirmations audio.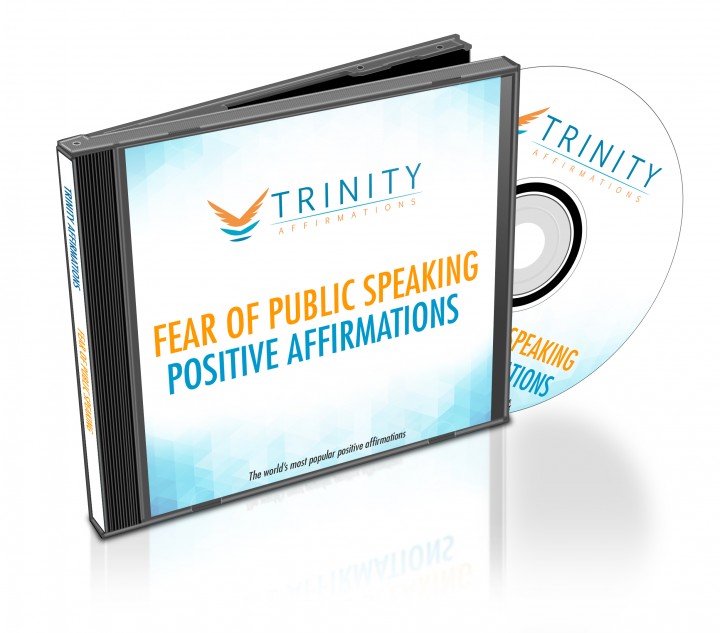 Are you having a tough time standing before an audience?
Is the fear of public speaking so strong that just the thought of it brings you out in a cold sweat?
Do you want to overcome this fear and to be able to focus on your speech instead of managing your anxiety while on stage?
Fear of public speaking is one of the most common fears in the world, so you might get some satisfaction from knowing that you're not the only one. You have two choices: to give up and say goodbye to your career or to decide to fight and overcome this fear.
This is something that can be fixed with the right attitude and exercise and if you're ready and willing to work on it, then this album will make sure that you have full support from your mind.
Why do you react this way?
Everyone's mind is 'wired' in different ways and yours has adopted this kind of subconscious response when you're about to speak in public. Fortunately, you can train it to eliminate the 'wrong' response and to condition yourself to get just the right amount of adrenaline and to stay logical in these situations.
What to Expect
Affirmations act to retrain your brain to adopt this new way of reacting to this challenge: they enter your mind without the resistance of your conscious self and from there, with regular use, they work to build within you a new set of beliefs and thought patterns that will help you to:
Be relaxed, calm and to keep it together when you're before the audience. You will feel a lessening of tension and calmness of mind; the thought of making a presentation or giving a speech will no longer be troubling you before you get on the stage and you will be able to quickly overcome your fear even if it appears while you're speaking.
Increase your self-confidence and belief that you can do it. You will be in touch with your abilities that brought you to be a public speaker in the first place and you will lose the need to be perfect – you will realize that you were good enough to be invited to speak and that there's nothing to fear because you know your stuff!
Make you understand that it's only normal and friendly people in front of you. You will stop viewing your audience as some kind of predator and understand that they have come to hear what you have to say. Your thoughts will no longer be focused on your fear, but on the desire to deliver what you promised to the audience and all your efforts will aim to provide the best possible experience to them.
Download our free app for iPhone/iPad today and listen immediately after your purchase- just search the App Store for Trinity Affirmations.
Download this album now to get rid of this fear and to become an eloquent and coherent speaker who shares his knowledge with confidence.
Present Tense
I am a confident public speaker
I am relaxed when speaking publicly
I am at my best when speaking to a large crowd
I am excited and positive when giving a public speech
I am a naturally calm public speaker
I am a great public speaker
I always speak calmly and clearly
I am fearless when speaking to large crowds
I am a successful public speaker
Others admire my ability to speak publicly
Future Tense
I will speak confidently
I will become a fearless public speaker
I will enjoy speaking publicly
I will become a great public speaker
Public speaking is becoming easier
Each day it feels easier to get up and speak in front of a crowd
I am finding myself to be calmer when speaking publicly
I am starting to really enjoy public speaking
Public speaking is starting to feel more natural and effortless
I will relax in front of my audience
Natural Tense
Public speaking is easy for me
I enjoy speaking to large groups
I am a natural public speaker
I have a powerful and confident voice
Others admire my ability to get up and deliver a great speech
Public speaking energizes and excites me
I love talking in front of people
I am naturally calm when I speak
People see me as someone who is a great speaker
I find public speaking to be easy and enjoyable