Overcome Approach Anxiety Affirmations
Become the kind of person who casually walks up to any woman and thinks of approaching as fun with the help of this powerful affirmations album.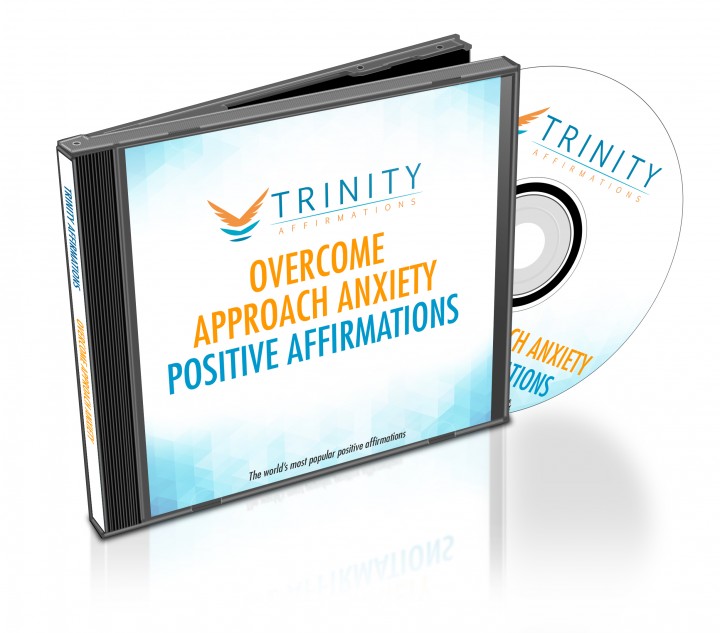 Do you imagine yourself with a certain woman but you simply don't have the courage to approach her?
Does the thought of starting a conversation with an attractive woman terrify you?
Do you want to become cool and collected and to confidently approach any woman, no matter how hot she is?
Do you know how some guys are just natural when they approach women? What they say, how they act, it all seems so effortless and relaxed that you can easily think you can do it too… until you actually try. What happens to you? You freeze. You use the same catchphrase your friend used but the effect wasn't what you expected.
Or does the mere thought of approaching a woman makes you sweat?
You see, with your current attitude you can do exactly what you saw someone else doing and still completely miss the point. Your mindset simply isn't in accordance with this behavior and you can't make it look natural – because it isn't.
The only way to really make it natural and to make a woman react to you in a positive way is to change the way you feel about approaching women and adopting the mindset of a confident alpha male, to start behaving like one not because you think you're supposed to behave like that, but because that's how you feel.
This album can help you to adopt this mindset and to make it a natural part of you, as affirmations work to alter your current set of beliefs and improve your self-image on a deeper level.
What to Expect
The underlying thought patterns that you're now operating under are limiting your options and making you incapable of starting a natural conversation with any woman you like, so this album will help you to fix this by:
Eliminating the negative patterns that make you feel insufficient. Affirmations will help you to stop incorporating your negative experiences with women in your belief system and to constantly expect a negative outcome. You will create a new belief system which will enable you to see each new woman as a new opportunity and a chance for a relationship, as someone potentially interested to you. This will give a whole other dimension to your approach and free you to expect the best, significantly influencing your attitude and the impression you make.
Instilling within you a belief that approaching women is something normal and desirable. You will stop seeing the mountain of obstacles between you and talking to a woman – it will become something you simply do, naturally and effortlessly.
Strengthening your self-confidence when around women. You will feel more powerful and capable of moving from the initial chit chat to a more significant and intriguing conversation. You will become more relaxed in your approach and your talk and your attitude will be confident, positive and friendly, emitting the kind of energy that only a true alpha male possesses.
Download our free app for iPhone/iPad today and listen immediately after your purchase- just search the App Store for Trinity Affirmations.
*Take charge now – download this album to develop the attitude of a naturally born male who's confident of his approach and turn your approach anxiety into excitement and expectation of a positive outcome, which will open the doors to new dates and relationships for you !**
Present Tense
I am a fearless man
I approach women with confidence
I always approach without hesitation
I am an easygoing and confident guy
I approach women all the time
Women like it when I approach them
My mind is relaxed and calm
I always go after what I want
I am at ease when approaching a beautiful woman
Women are attracted to my forwardness
Future Tense
I will approach any woman
I am developing a carefree attitude around women
I will transform into the kind of guy who effortlessly approaches women
Women will appreciate my confidence
I will think positive and be excited when approaching
The more I approach, the easier it will become
I will take a deep breath and just go for it
Approaching women is starting to feel fun
My confidence is growing stronger
Approaching women is becoming easy
Natural Tense
I have fun approaching women
I love meeting new women
Talking to women is easy
Approaching women is just a normal part of my life
Women love that I am so naturally relaxed around them
I can start a conversation with any woman I want
The more I approach women, the easier it gets
I always have a great time meeting new women
My attitude is naturally positive and outgoing
Others see me as a calm and easygoing guy