Overcome Fear of Rejection by Women
Use this empowering affirmations album to become the kind of man who approaches women without fear and who leaves a positive impression from the very first moment.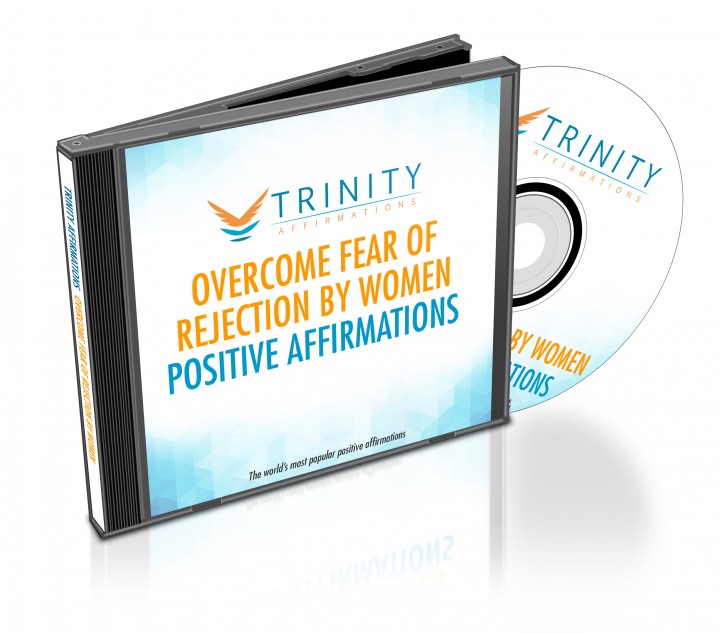 Do you hesitate to approach women, fearing and expecting that you'll be rejected?
Do you keep waiting for the right moment to make a move, but that moment comes so rarely that in most cases you end up watching the girl you've chosen going with someone else?
Do you want to overcome this need to wait and fear that you'll be rejected and to confidently make your move, the moment you're sure of your feelings?
So many guys miss their chances and end up in the friend zone because they're afraid that if they express their interest and feelings (for their longtime good friend or a woman they just met) the girl won't respond the way they hoped. But really, what's the worst that could happen – your ego would get bruised? So what? If this one step could lead to a meaningful relationship or just some fun, don't you think you should at least try?
If your fear of being rejected is so deep that no reasoning can help you to overcome it, then its roots are a bit deeper and the only way to change it is to change the way your mind works and to make it stop expecting rejection and making such a big deal out of it.
This album will help you to alter the thought patterns which are making you unable to move past this fear and to empower you to express your interest in spite of it. Affirmations will stimulate the change in your belief system and reduce the effect it has on your life and it can even completely eliminate this fear, so that you can start approaching women freely and confidently, with nothing to hold you back.
What to Expect
This album will:
Eliminate the thoughts which make you expect rejection. Your mind is now trained to expect the worst outcome, which is both discouraging you from trying and increasing your fear because you expect an unpleasant situation. This album will help you to move past your past negative experiences and to reduce the anxiety caused by possible rejection. You will understand that all options are open and you will stop taking rejections personally – you will accept that it's all part of the game and in the case of rejection you will be able to simply move on.
Give you a motivational boost to take a chance on approaching the girl you like. Affirmations will focus your thoughts on the possibility of a positive outcome, so you will become driven to make your move and to win the girl over. You will stop noticing only obstacles - you'll be focused on the 'happy ending' instead, so you'll be able to just jump over the initial phase and to make your move even if you feel a bit scared.
Increase the level of your confidence with women – you will become more aware of your strengths and you will be more happy with yourself. This will make you more relaxed in your approach and more focused on detecting the right way to talk to the girl you chose, which will dramatically increase your chances of success with her.
This album will remove all the obstacles that exist within your mind and allow you to be more natural with women and more fearless when approaching them.
Download our free app for iPhone/iPad today and listen immediately after your purchase- just search the App Store for Trinity Affirmations.
Download this album now to experience what it feels like not to be scared of making a move and make a real difference in your love life once and for all!
Present Tense
I am fearless of rejection
I am someone who approaches a woman I like, even though I may be feeling a bit scared
I am naturally good with women
I am a naturally cool person and women love me
I am confident with who I am
I am someone who always goes after what they want
I find it easy to talk to women
I can accept rejection without letting it get me down
I just naturally do what I want to do and don't let fear hold me back
I am always calm and relaxed
Future Tense
I am becoming more fearless of rejection each day
I will become a man who can easily make a move without worry
I am finding myself more confident by the day
I am turning into someone who is naturally good with women
Everyday I am becoming more confident around women
I will develop a carefree attitude towards rejection
I will only think of the positives of making a move
Approaching women is becoming easier
I am transforming into someone women love
Taking risks with women is becoming easier and easier
Natural Tense
Approaching women comes naturally to me
I find making a move easy
Being rejected by a woman doesn't even cross my mind
Having a great love life is something I am entitled too
I always confront my fears
Talking to women is the easiest thing in the world
Women love how calm and confident I am
People see me as someone who is good with women
Being carefree has always been something I am
Taking risks is the most natural thing in the world