Overcome Drug Addiction Affirmations
Put your drug addiction behind you and remember how beautiful life can be with the help of our empowering affirmations audio.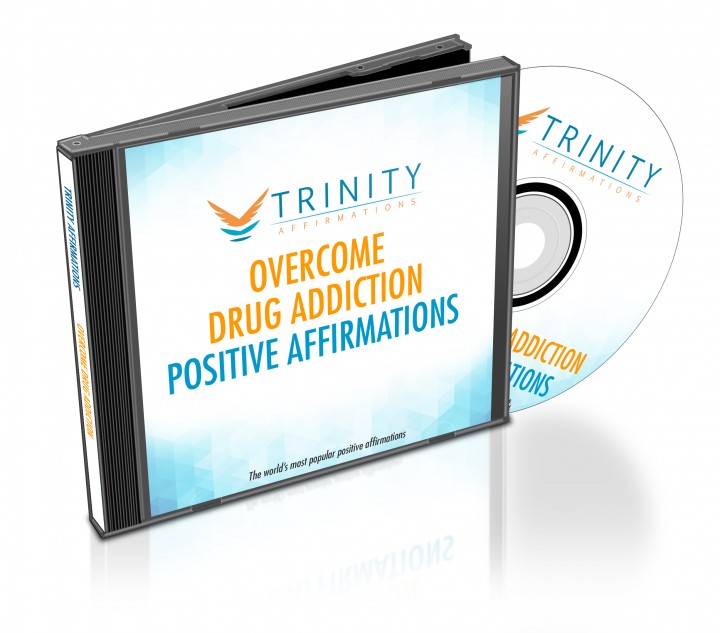 Has it become obvious to you that drugs have taken control of your life?
Are you unable to get drugs and the next chance to get high, out of your head?
Are you now determined to put an end to it and to take back control?
Do you need help to stay strong and persistent and to overcome your addiction once and for all?
You probably don't even know the exact moment when you got hooked, when using became need and obsession more than a simple, innocent pleasure. But it's done, you're a drug addict, on some level at least.
And now is the time to stop being one.
Remember the time when you had other things on your mind? Remember when life had other thrills, when your body and your mind were healthy, when you were totally you? You once lived a life without drugs and you can certainly have that life again – and make it great!
Drugs have made some changes to your neural pathways and to the way you think, that's for sure and depending on the level of your addiction, you probably need professional help to completely detoxify your system and to get the drugs out of your mind. It will take time and it will take effort, but you can do it! So many people have successfully stopped using drugs forever and so can you.
This album will make sure that you stick with your decision.
Affirmations are simple – simple sentences, simple to use, but they have the power to engage your consciousness, to help you change the way you currently see drugs and to rewire your mind so that you stop needing them.
What to Expect
Not a miracle cure, but this album will help you stay on track by:
Ensuring that you take your addiction problem seriously. Right now your mind is clear and you know what you need to do, but that's the problem with drug addiction – your awareness of the problem tends to fade when the urge hits, so it becomes less important. Affirmations will make sure that you stay focused and aware that drugs are a problem, so that you don't give in as easily as you normally would.
Rewiring your mind so that you're subconsciously dedicated to overcoming your addiction, as a tremendous support to your conscious efforts. Soon after you start using this album, you will notice that your internal resistance towards getting straight is less strong and that you are less keen to sabotage your decision to get clean. Your entire mind will be working towards the same goal, supporting you and keeping you strong against temptations.
Keeping you motivated, one hour after another, one day after another, to stay strong and devoted to this decision. Motivation does wonders if it's constantly present and this album will make sure that it is. It will help you to overcome your guilt and to begin looking forward to the day when you will no longer struggle, when drugs will be only a matter of the past. Your drive to reach this moment sooner rather than later, will be so strong that it can easily become more important than your desire to get high – eliminating even the thought of drugs from your mind.
There's no magical solution to your problem, but admitting that you have one and doing everything you can to overcoming it, is a much better sign than you realize now.
Download our free app for iPhone/iPad today and listen immediately after your purchase- just search the App Store for Trinity Affirmations.
Take action now! Download this album and give yourself the best chance for a fresh start, a life free of drugs and full of real, tangible joys that you are now choosing to have!
Present Tense
I am free from my drug addiction
I am happy with who I am
I look inside myself for happiness
I am in control of my own life
I respect my body
I am loved by everyone around me
I find it easy to turn down drugs
I am not tempted at all by drugs
I have a natural ability to stay in control
I always make sure to only align myself with people who support me
Future Tense
I am becoming more free of my drug addiction by the day
I will become a drug-free individual
I am finding myself more in control of my own life by the day
I will be in control of my own life
I am becoming more happy about who I am
I will surround myself with people who support me
I will forgive myself for all I have done
I am turning into the happy person that I used to be
I am transforming into someone who can easily turn down drugs
I am becoming someone who loves themselves
Natural Tense
The only thing in control of my life is myself
I find it easy to turn down drugs
I deserve to be free of drugs
Being surrounded by positive people is natural to me
I have forgiven myself for all that I did while I was possessed by drugs
My life is free from drugs
I will stay free of drugs forever
People see me as someone who has successfully overcome drug addiction
People look up to me as someone who has wrestled with drug addiction and come out on top
Being free of drugs has been an improvement in my life