Overcome Sex Addiction Affirmations
Overcome your addiction to sex and enjoy a healthy sexual relationship using this transformational affirmations audio.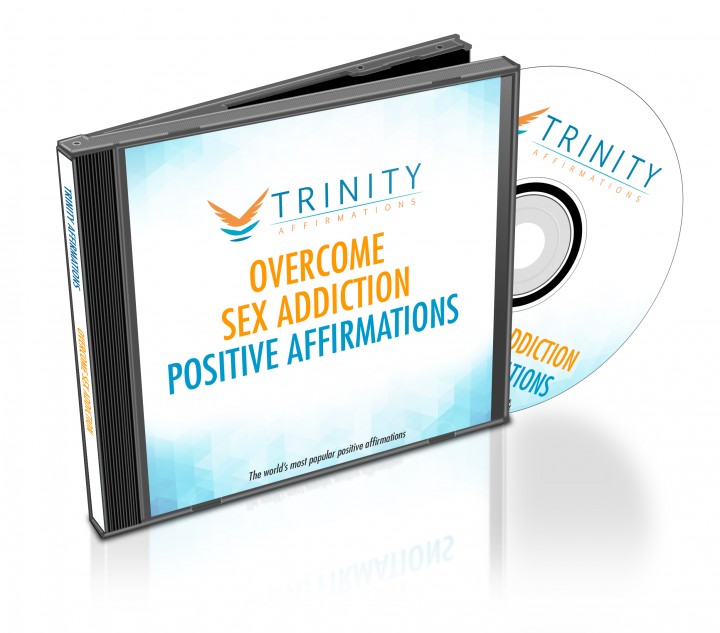 Do you keep having one sexual affair after another without making a real relationship with the other party?
Are you unable to control your sexual urges?
Do you feel guilty or ashamed because of your addiction to sex?
Do you want to break this cycle and to develop respect for yourself once again so that you can have and fully enjoy a healthy relationship?
About 6% of the entire world population suffers from some sort of sex addiction – an unusually high sex drive, when you are so obsessed with sex that you feel like you can't control your impulses and when sex is the only thing you think can make you feel good.
Unfortunately this kind of obsession can affect your life in so many negative ways – it's not likely that you can find a partner who could understand and support it; some people even lose the need for having a romantic relationship altogether because they just go from one sexual affair to another, letting their urge drive their actions.
And that's not the smartest thing to do in life.
Your sexual thoughts are compulsory, they disrupt your normal life (be it by intercourse or masturbation) and you can easily find yourself losing interest in anything that's not related to sex.
But if you're here, you already know that you need to change something. And this audio can help you!
There's nothing that can make you overcome sexual addiction as much as your own mind – a strong positive mental attitude towards your obsession is your safest road to success and this album will help you change the way you feel about sex and your need for it – for good!
What to Expect
Affirmations work to focus your mind on the goal you want to reach, to keep you motivated and to make sure that you stay positive – to keep the image of your life without sex addiction in front of your eyes until it becomes reality. This album will:
Help you understand that you're in control of your urges. You are probably already vaguely aware of it, but not very convinced and that's why you're giving in to your impulses so easily. This album will help you to take control and empower you to stay strong against temptations. You will understand that you're much more than an impulse driven human and you will finally be able to take back the power to make your own choices.
Make you focused on seeing others as persons, not as sexual objects. Affirmations will rewire your mind so that you will begin looking for human qualities in a person and connecting with them on a different, more personal level. You will notice that you're finding it more and more enjoyable to discover "a person behind the body" and that your relationships with people are becoming more fulfilling, bringing you another kind of excitement and joy.
Allow you to enjoy a whole other dimension of sex. The point of this album is not to make you lose your sexual desire, but to point it in a direction which will make your sexual experience much deeper and meaningful. Affirmations will help you to form and strengthen these thinking patterns and to enjoy sex at its best, with a partner you can connect with and to whom you're allowing to connect with you!
Download our free app for iPhone/iPad today and listen immediately after your purchase- just search the App Store for Trinity Affirmations.
You can change your sexual life for the better - much better - if you're really serious about it! Download this album now and allow yourself a choice and finally experience what a fulfilling experience it is, to have a real connection with your sexual partner.
Present Tense
I am free from sex addiction
I am dedicated to overcoming my addiction to sex
I am always in control of my sexual urges
I am no longer seeing others as sex objects
I am living a life free from sex addiction
I am developing a strong will power
I find it easy to say NO to my own sexual urges
I am 100% in control of my own life
I have a healthy attitude towards sex
I always take responsibility for my own actions
Future Tense
I am becoming more free of my sex addiction
I will become more in control of my sexual urges
I am finding myself more positive about overcoming my addiction
I am turning into someone who is in control of their urges
I am becoming someone with a strong will power
I will live a life free from sex addiction
I will take responsibility for my own actions
I am turning into someone who is in control of their life
I am transforming into someone with a healthy attitude towards sex
I will see people as human beings and not as sex objects
Natural Tense
I find it easy to control my sexual urges
Overcoming sex addiction is the easiest thing in the world
I have strong self control that allows me to overcome any habit or addiction
I have no need to sleep with loads of people, I can fulfil myself sexually with just one partner
I see the opposite sex as equals and not as sex objects
Others see me as someone who takes responsibility for their actions
My attitude towards sex and relationships is healthy and positive
People see me as someone who is in control of their own life
Taking control of my sexual urges and overcoming my sex addiction is something I am dedicated to
Being free of sex addiction has made a big improvement to my life