Overcome Shopping Addiction Affirmations
Quit compulsive shopping and take back control of your life and your finances with the help of this powerful affirmations album.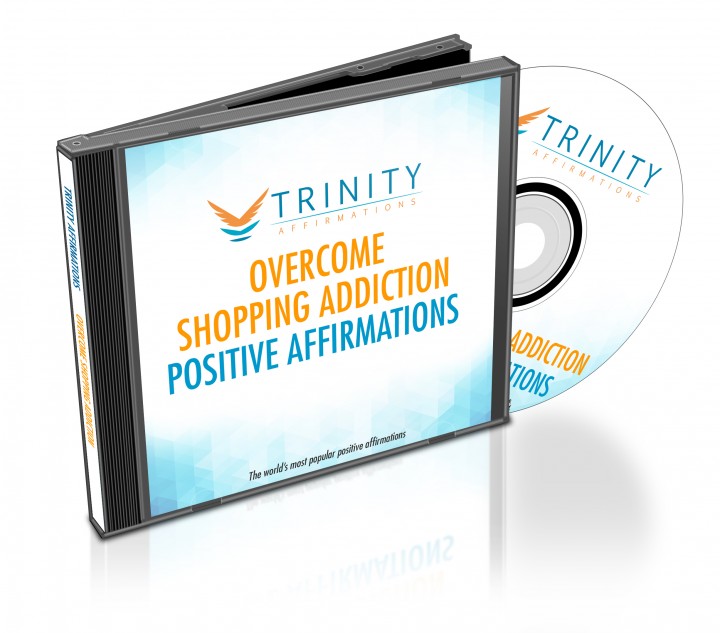 Do you recognize yourself when the term shop-a-holic comes up?
Are you noticing that you're less and less in control of your spending and shopping?
Is your home full of items you don't really need and practically never use?
Do you want to overcome this shopping obsession for good?
Shopping has never been made easier: there's almost no street that does not have shops in it, credit cards help you forget that there's also real money involved and thanks to the Internet, you don't even need to go out to buy what you want (or think you want).
Many people know how to use these convenient ways to shop in a practical way, but some go overboard and allow their passion to create a deep hole in their wallets, even to harm their relationships as their family members can't approve of it.
If recognize yourself in this, then it's time to do something about it. You can't allow your impulses to destroy your life – life is meant to be joyful and stress-free and this album can help you make a clean start and end your shopping addiction once and for all.
Consistent use of affirmations will make changes to the way you see shopping and rewire your mind, so that you're better able to resist the urge to spend and splurge.
What to Expect
This album was specifically designed to support you in your conscious decision to take back control of your finances, by:
Helping you to realize that you have a problem and that it's time to do something about it. This is something you're probably aware of every now and then, but also something that you're successfully ignoring when the urge strikes. This album will help you accept it and become completely aware of it, so your focus will no longer dissipate and your desire to change this behavior will be present in your mind constantly, not only when it's convenient.
Rewiring your mind so that you're able to clearly see the rational side of your compulsive shopping. It's easy to make excuses to yourself along the lines of "but I can't help it, I love shopping" while your subconscious is successful at masking the consequences. Affirmations will change these subconscious patterns and switch your focus to the real, financial side of it. You will have no more illusions about your behavior, naturally reducing the frequency and intensity of your impulses.
Helping you find your peace of mind and opening your eyes to a different kind of life joy. This album works to increase your self-esteem and willpower and at the same time it reduces the level of stress you may experience when you begin implementing your new lifestyle. It will help you realize that you're in charge, not only of your urges and finances, but of your entire life and empower you to take back control. You will feel lighter and more peaceful and you will feel proud of yourself for overcoming your destructive habit.
Download our free app for iPhone/iPad today and listen immediately after your purchase- just search the App Store for Trinity Affirmations.
If you've been waiting for a sign, this is it! Download this album to empower yourself to put your decision into action and leave the habit of compulsive shopping behind you – for good!
Present Tense
I am free from shopping addiction
I am motivated at all times to control my urges and expenses
I am in control of my budget as I buy only the things I really need
I am strong and in control of my cravings
I am releasing the need to buy things
I am free to make my own choices
I find it easy to change my bad habits
I can choose if I will spend any money today and every day
I am a wonderful human being and I am free from all restrictions
I effortlessly eliminate all negative self-talk and I feel healthier and happier with each passing day
Future Tense
I am becoming more in control of my shopping impulses
I will become a financially responsible person
I am finding myself more at ease when I ignore my urge to shop
I am turning into someone who is feeling good about themselves and who is always relaxed and free to choose
I am becoming naturally calm and positive
I will make healthier choices in my life
I will fill my days with activities far more fulfilling than shopping
I am becoming totally in control of my life and my choices
I will get rid of the clutter in my home
I am becoming more and more happy with myself with each passing day
Natural Tense
Staying away from shopping comes naturally to me
I enjoy feeling relaxed and in control of my impulses
Being financially responsible is the most natural thing in the world
Being frugal is my natural rite
My body and mind are completely calm and relaxed
Nothing except myself has control over me
I am welcoming the positive change that overcoming compulsive shopping has brought into my life
Only the things that are essential to improving my life and the lives of my loved ones are worth spending money on
I trust that I will be taken care of no matter what
Being responsible and free to make my own choices, has made me a better person and it has improved my life in so many ways